Multi-Platinum Duo Nelson Ready Comprehensive Best-Of, Share 'Too Many Dreams'
The album will feature hits from their two Geffen releases and notable songs from their subsequent records.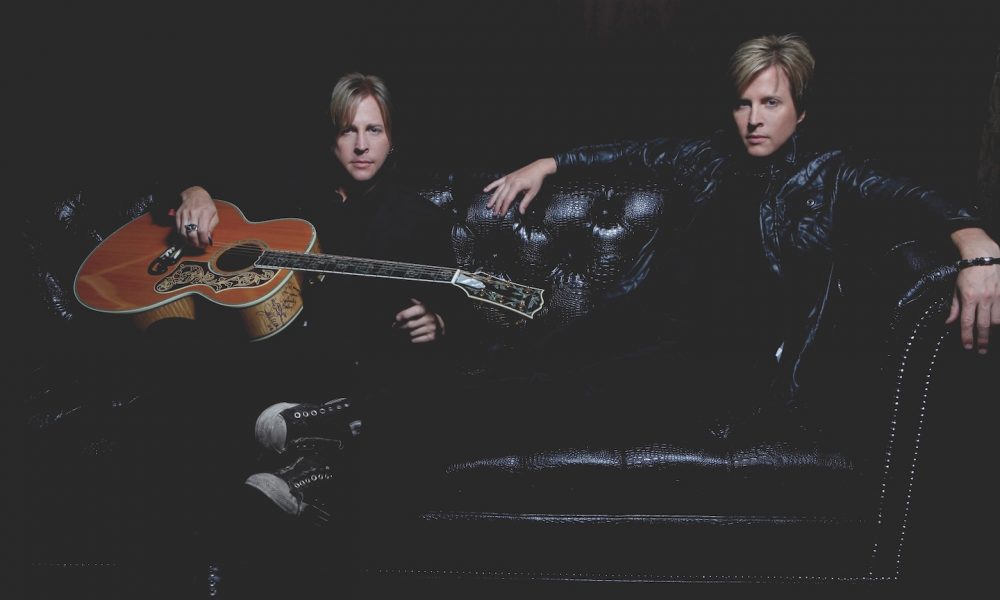 Multi-platinum band Nelson, twins Gunnar and Matthew Nelson, sons of Rock and Roll Hall of Fame inductee Rick Nelson, will release the comprehensive compilation Greatest Hits (And Near Misses) on July 8. Available on CD and digitally via UMe, the album will feature their US No.1 smash of 1990, "(Can't Live Without Your) Love and Affection" and other hits from their two album releases on Geffen, but also other notable songs from their subsequent records.
To introduce the retrospective, now available for pre-order, the duo today (20) share "Too Many Dreams," previously only officially available in Japan as a 1991 single and as a bonus track on After The Rain (Japanese Edition). The song is making its digital debut.
Too Many Dreams (2022 Remaster)
The brothers enjoyed massive success with their 1990 No.1 and subsequent singles from the album After The Rain, which itself has been certified double platinum by the RIAA. After "Love and Affection," they hit No.6 on the Hot 100 with the album's title track and mined two further Top 30 singles from the set, "More Than Ever" and "Only Time Will Tell." The album stayed on the Billboard 200 for 64 weeks.
"I know that saying 'having a Greatest Hits record is a dream come true' sounds trite, but in this case it's totally accurate," says Gunnar. "I'm just another songwriter/artist whose dream to have a Greatest Hits record one day began in earnest at the age of 6. I truly love music, and I never rest until my work is the very best that it can be. Out of respect for my fellow music lovers and my musical mentors, I've always put everything I have into the songs that I hope will turn into the soundtrack of peoples' lives. I am SO proud of this Greatest Hits record, and all of the blood, sweat, and tears that it took through the decades to bring it to you now. It is the very best of the best that I have to give you."
When "(Can't Live Without Your) Love and Affection" topped the US singles chart, it marked the first time that one family had reached No.1 across three generations. Gunnar and Matthew's grandfather Ozzie Nelson achieved the feat in 1935 with "And Then Some," before their father, then known as Ricky Nelson, hit No.1 twice, with "Poor Little Fool" and "Traveling Man."
Fresh from Stone Canyon
Greatest Hits (And Near Misses) includes all the hits from Nelson's first album as well as "I Can Hardly Wait," plus three tracks from their underrated second full-length, 1995's Because They Can, "(You Got Me) All Shook Up," "Won't Walk Away," and "Cross My Broken Heart." Eight additional songs are also featured, exclusively licensed from the Nelsons and their Stone Canyon Records label, including numbers from Lightning Strikes Twice, and the newly-recorded acoustic version of "Keep One Heart," the original of which was on their Perfect Storm live album.
Adds Gunnar: "This is the very first time in history that we have been able to deliver a comprehensive career-spanning collection of Nelson's most shining moments. Now that our own Stone Canyon Records label has officially joined forces with Universal, we can finally pull out all the stops. Start to finish, this is an album that we're truly proud of…and the very first thing any music fan should pick up if they ever wondered what Nelson is all about."
Pre-order Greatest Hits (And Near Misses), which is released on July 8.