My Morning Jacket Set To Release Bonnaroo 2004 'Return to Thunderdome' Set
The record will be available beginning June 9.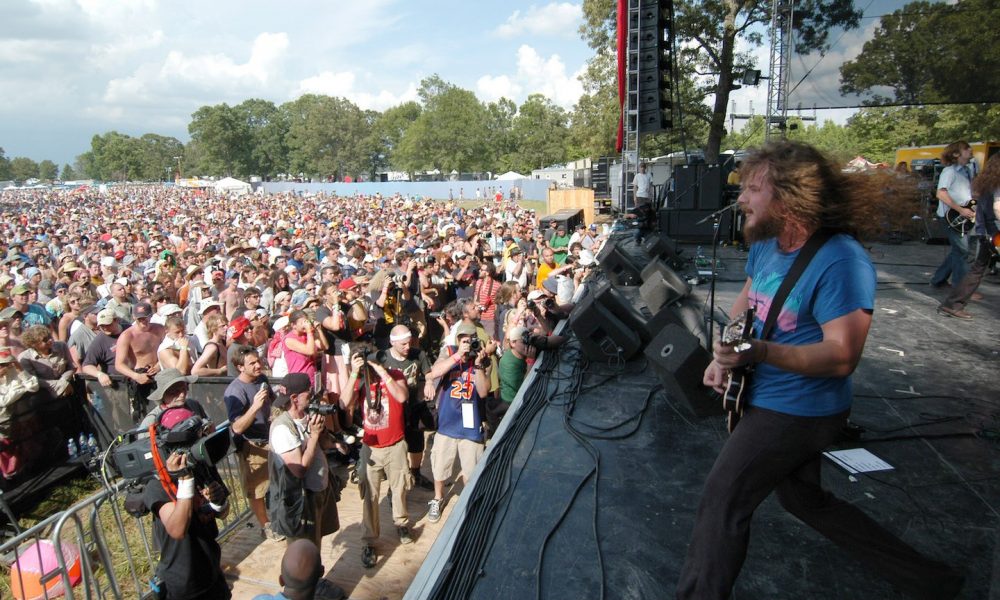 My Morning Jacket has announced the third installment in its MMJ LIVE vinyl series, MMJ Live Vol. 3: Bonnaroo 2004 (Return to Thunderdome), arriving via ATO Records on Friday, June 9.
Recorded on the Which Stage at Bonnaroo Music & Arts Festival in Manchester, TN on June 12, 2004, the 12-song collection will be available at all DSPs and as 2xLP 140g Coke bottle clear vinyl (with gatefold jacket and digital download card). Pre-orders are available now. On March 30, One Big Family members will get exclusive access to preorder a limited edition digital deluxe of MMJ Live Vol. 3: Bonnaroo 2004. The offer includes a digital collectible album with cover art and photos, high-quality audio files, and early access to upcoming exclusive content.
MMJ Live Vol. 3: Bonnaroo 2004 captures one of the most iconic sets in both My Morning Jacket and Bonnaroo history, a now-legendary performance that saw ominous dark clouds roll in just as the band took the stage. Though torrential rain quickly followed, the band proceeded to unleash a landmark run through such classics as "Mahgeetah," "Lowdown," "Cobra," and "One Big Holiday," the latter of which is available to stream now.
"It seems like only yesterday we were playing in the hot n sweaty rain-soaked Thunderdome down at the ol roo…but WOW it's been nearly 20 years!" Jim James exclaims. "We are so excited to revisit and share this pivotal moment for the band and beautiful moment in time with the universe with you all again!"
My Morning Jacket also recently announced plans for an upcoming US headlining tour. The dates begin May 14 at Mobile, AL's Saenger Theatre and then continue through a two-night return to Morrison, CO's famed Red Rocks Amphitheatre on August 25-26.
My Morning Jacket and the non-profit REVERB are partnering for the third consecutive year to reduce the environmental footprint of their tour and take action on the climate crisis. In addition to a comprehensive tour sustainability program, the band will be supporting REVERB's climate portfolio which funds projects that measurably reduce greenhouse gas pollution, address climate justice, and directly decarbonize the music industry.