'Already Platinum': Slim Thug's Classic Neptunes Team-Up
The unexpected pairing between the slab-rider and the skateboarders made for a one-of-a-kind record.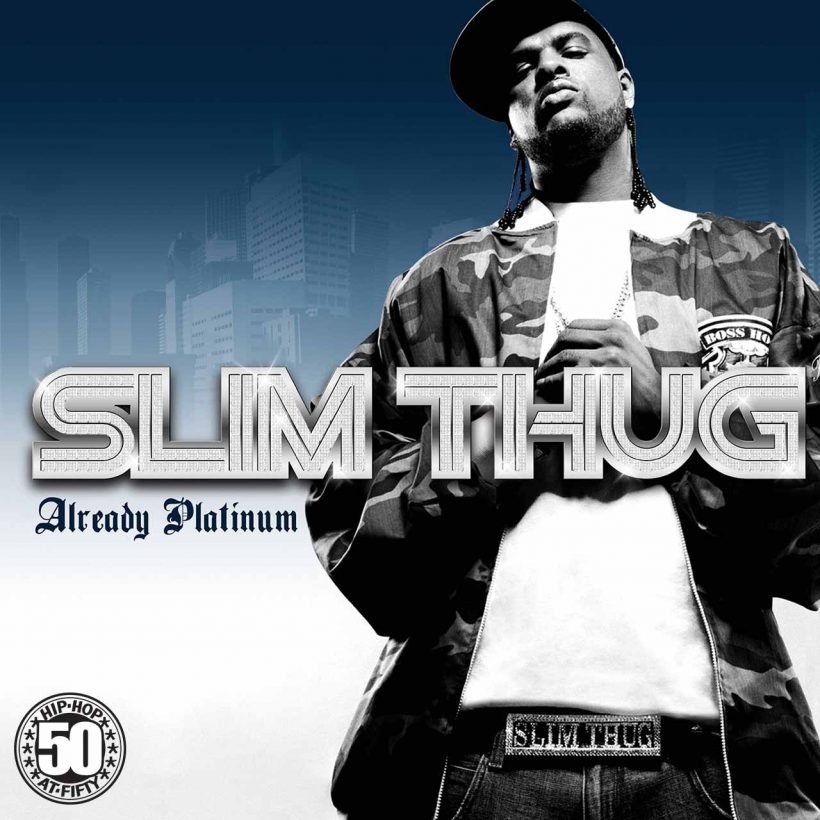 When his major label debut Already Platinum dropped in 2005, the silver-tongued slopped-up devil known as Slim Thug wasn't literally a platinum artist, but he might as well have been. Houston has always had a uniquely self-sufficient rap scene, a place where rappers learned to build a stable career while tuning out the fickleness of mainstream trends.
As a rapper on-the-rise in the late 90s, Slim was first affiliated with Swishahouse, the chopped-up collective spearheaded by DJs Michael "5000" Watts and OG Ron C. (While DJ Screw and company dominated Houston's Southside, Swishahouse anointed themselves the "Kings of the North.") Though Thug would be closely linked throughout his career to Swishahouse members like Paul Wall and Mike Jones, he broke out on his own after realizing he could make just as much and maybe more on his own terms as an independent artist. That sense of agency allowed Thug to navigate the divided city more easily, and allowed him to look outside of Houston altogether, both in terms of commercial potential and musical possibilities.
Listen to Slim Thug's Already Platinum now.
While Thug's smooth flow and deep register is quintessentially Houston, almost as if his voice was naturally slowed down, his delivery was far more straightforward than the screwed-up flows of Z-Ro or Fat Pat. He presented himself not unlike 50 Cent or Pusha T, a melodic gangster with an ear for unexpectedly funky beats who could still throw down and talk smack with the best of them. It was that mix of pop sheen and street grit that likely attracted The Neptunes to Slim. Thug became the production duo's latest Clipse-like passion project amid their early-aughts rap radio dominance. Hailing from Virginia Beach, Pharrell and Chad Hugo split the difference between North and South, and they navigated over the Mason-Dixon line with ease, working with N.O.R.E. and Busta Rhymes as effortlessly as Ludacris and T.I. Almost just as easily, they could go from mainstream pop collaborations with Britney Spears to the latest up-and-coming rapper without losing any credibility. That made them ideal partners for someone like Slim Thug, adding a big-budget polish to his sound without fundamentally betraying it.
Thug already had a national breakthrough as one-third of the triumvirate behind the stone-cold Houston classic "Still Tippin'," but Already Platinum sounded like almost nothing else coming out of the city. It was built on a foundation of the type of thick but whimsical Neptunes beats that almost force your body to bang a rhythm out on the table. Those beats – and the Neptunes fame – was a double-edged sword: Online leaks forced Thug and his producing partners to scrap the tracklist and start anew multiple times over. Several of the album's original cuts, including a version of "I Ain't Heard Of That" featuring JAY-Z, would only be officially released in 2015 as part of the Already Platinum Reloaded deluxe edition.
Slim Thug - I Ain't Heard Of That
Despite the leaks (or perhaps because of them), Already Platinum was anticipated like few other major label debuts of its day. You could almost split the album evenly in two. One half is classic Houston trunk music, with smooth chopped-and-screwed beats courtesy of Swishahouse regular Mr. Lee on "Diamonds" and "Boyz N Blue." On "Three Kings," Bun B and T.I. roll through to figuratively pass the torch and anoint Thug as one of the next pillars of the South. The other side is booming pop-rap like only The Neptunes could do, with blocky and drum-driven beats on tracks like "Click Clack" and "Like a Boss." Thug's molasses flow is a natural fit with funky Jazze Pha beats, but he demonstrates a particular talent for limerick-like hooks that pair well with the Neptunes' tightly-wound loops. Pharrell's vocal appearance on "Already Platinum" makes for a unique tag team, Williams' gentle voice playing foil to Thug's slowed flow.
Thug would turn back toward Houston on subsequent albums, re-embracing the city that made him with songs like the iconic posse cut "Welcome 2 Houston." But for a brief moment, the unexpected pairing between skateboarder and slab-rider made for a one-of-a-kind record. Luckily, Already Platinum wasn't a sell-out or a swerve; as the title testifies, the success he was in search of was inside him the whole time.