'On Air' Album Celebrates Rolling Stones' Radio Days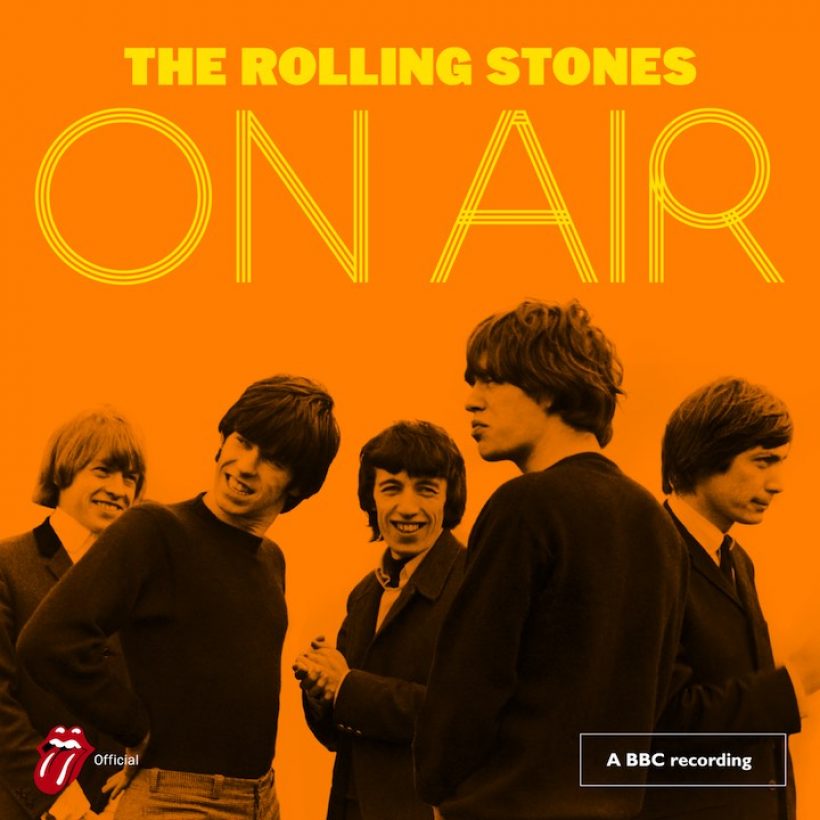 The new collection capturing the formative years of the Rolling Stones as they've rarely been heard before is out now. The Rolling Stones — On Air is a compilation of radio recordings made by the group between 1963 and 1965 for BBC shows of the time such as Saturday Club, Top Gear, Rhythm and Blues and the Joe Loss Pop Show.
On Air is available on CD, double CD deluxe edition, heavyweight vinyl and special limited edition coloured vinyl. It follows the recent publication by Virgin Books of a book of the same name by author and uDiscover writer Richard Havers.
Eight tracks performed for the various shows were never recorded by the Stones for a commercial release; seven more made their debut on air before being released on albums or EPs. That underlines the fact that as their stature as major artists grew ever greater, the Stones were such frequent visitors to the BBC that they were constantly striving to perform a wide selection of material. The lead track from the collection is a version of their first single, Chuck Berry's 'Come On,' recorded for Saturday Club in 1963. Here's the Stones' version of 'Roll Over Beethoven' as performed for the same show:
Highlights of the album include 'Fannie Mae,' first recorded by blues artist Buster Brown in 1959, Tommy Tucker's 'Hi Heel Sneakers' and Bo Diddley's 'Cops And Robbers.' There's also the chance to hear vibrantly live radio renditions of such early Jagger-Richards co-writes as '(I Can't Get No) Satisfaction,' 'The Last Time' and 'The Spider And The Fly.'
More than 50 years after they were recorded, the tapes have been through an "audio source separation" process at Abbey Road Studios in London, to rebalance and remix the source material into a fuller sound.
Order The Rolling Stones – On Air here. 
The Rolling Stones – On Air track listing:
Come On Saturday Club, 1963
(I Can't Get No) Satisfaction Saturday Club, 1965
Roll Over Beethoven Saturday Club, 1963
The Spider And The Fly Yeah Yeah, 1965
Cops And Robbers Blues in Rhythm, 1964
It's All Over Now The Joe Loss Pop Show, 1964
Route 66 Blues in Rhythm, 1964
Memphis, Tennessee Saturday Club, 1963
Down The Road Apiece Top Gear, 1965
The Last Time Top Gear, 1965
Cry To Me Saturday Club, 1965
Mercy, Mercy Yeah Yeah, 1965
Oh! Baby (We Got A Good Thing Goin') Saturday Club, 1965
Around And Around Top Gear, 1964
Hi Heel Sneakers Saturday Club, 1964
Fannie Mae Saturday Club, 1965
You Better Move On Blues in Rhythm, 1964
Mona Blues In Rhythm, 1964
Bonus Tracks (deluxe edition):
I Wanna Be Your Man Saturday Club, 1964
Carol Saturday Club, 1964
I'm moving On The Joe Loss Pop Show, 1964
If You Need Me The Joe Loss Pop Show, 1964
Walking The Dog Saturday Club, 1964
Confessin' The Blues The Joe Loss Pop Show, 1964
Everybody Needs Somebody To Love Top Gear, 1965
Little By Little The Joe Loss Pop Show, 1964
Ain't That Loving You Baby Rhythm And Blues, 1964
Beautiful Delilah Saturday Club, 1964
Crackin' Up Top Gear, 1964
I Can't Be Satisfied Top Gear, 1964
I Just Want to Make Love To You Saturday Club,  1964
2120 South Michigan Avenue Rhythm and Blues, 1964
Format:
UK English