Paul McCartney's Landmark Solo Releases Come Together In 'I II III' Boxed Set
The announcement of the new set precedes Paul's 80th birthday on June 18.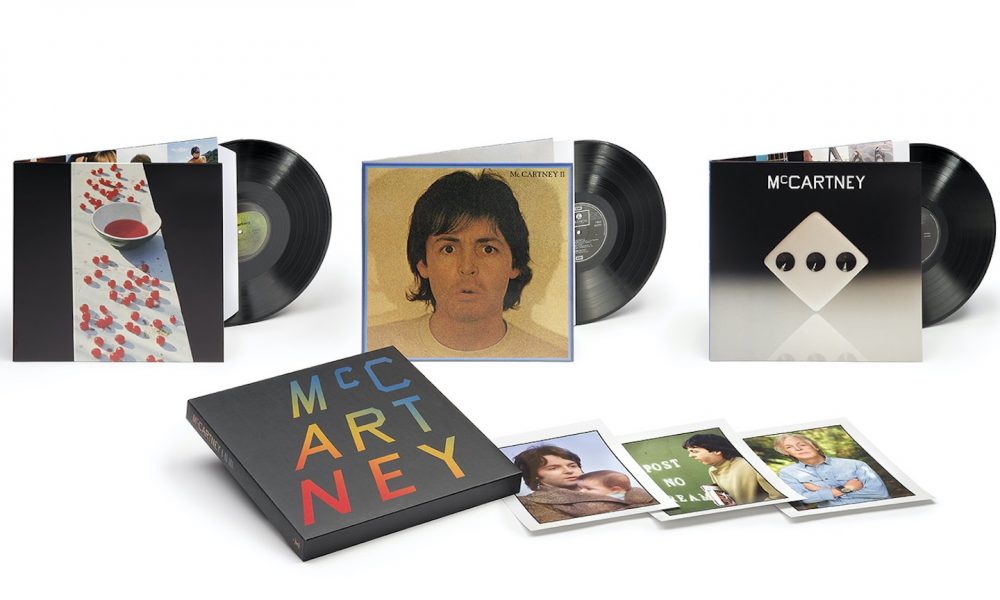 Paul McCartney, who is preparing for his much-anticipated performance at Glastonbury Festival on Saturday, June 25, will have the revered solo albums McCartney, McCartney II, and McCartney III released together for the first time as a limited edition boxed set on August 5. The announcement precedes Paul's 80th birthday on June 18.
The McCartney I II III boxed set will be available in three formats: in limited edition color vinyl, a black vinyl edition, and on CD. Each includes three special photo prints with notes from Paul about the albums. The newly created cover art for the set, and typography for the slipcase, are by Ed Ruscha.
The storied albums bookend 50 years of peerless solo work by McCartney, each of them entirely written, performed, and produced by the beloved singer-songwriter himself. McCartney, released in April 1970, was recorded chiefly at his home in St. John's Wood, north London, and featured the immortal "Maybe I'm Amazed" along with other much-loved tracks such as "Every Night," "Junk," "Man We Was Lonely," and the brief, introductory serenade to his wife, "The Lovely Linda." The LP spent three weeks at No.1 in the US, where it is certified double platinum, and was hugely successful worldwide, winning widespread admiration as a forerunner of the "lo-fi" alternative genre.
Temporary Secretary (Remastered 2011)
After a decade of unparalleled achievement with his band Wings, McCartney returned to the solo format for McCartney II, which arrived in May 1980. He began the project on his and Linda's farm in Scotland, with later sessions at their home in Sussex, where he again played every instrument, including lead and bass guitar, electric piano, keyboards, and synthesizers. Whereas no singles were released from McCartney, the 1980 album featured the US chart-topper "Coming Up," the UK Top 10 ballad "Waterfalls," and the experimental "Temporary Secretary," much-admired for its trend-setting electronic treatment. The album itself went to No.1 in the UK and was a Top 5 favorite around the world.
Paul McCartney - Women And Wives (Official Lyric Video)
McCartney III, Paul's 18th solo album, was released in December 2020 and showed an artist still at the peak of his creative powers. Packed with winning melodies and memorable instrumentation, it included highlights such as "Find My Way," "The Kiss of Venus," and "Women and Wives," now a live favorite after its debut at Paul and his band's opening show in Spokane, Washington in late April on the Got Back tour. The set became his first UK No.1 album for more than 30 years and topped Billboard's Top Album Sales Chart. These three landmark albums now come together for the first time in celebration of a uniquely gifted musical genius.
Pre-order McCartney I II III, which is released on August 5.