Paul McCartney Shares 'Find My Way' Video As 'McCartney III' Released To Huge Acclaim
Fans can also enjoy a new edition of the YouTube Originals series 'Released,' in which the former Beatle talks to comedian-actor Chris Rock.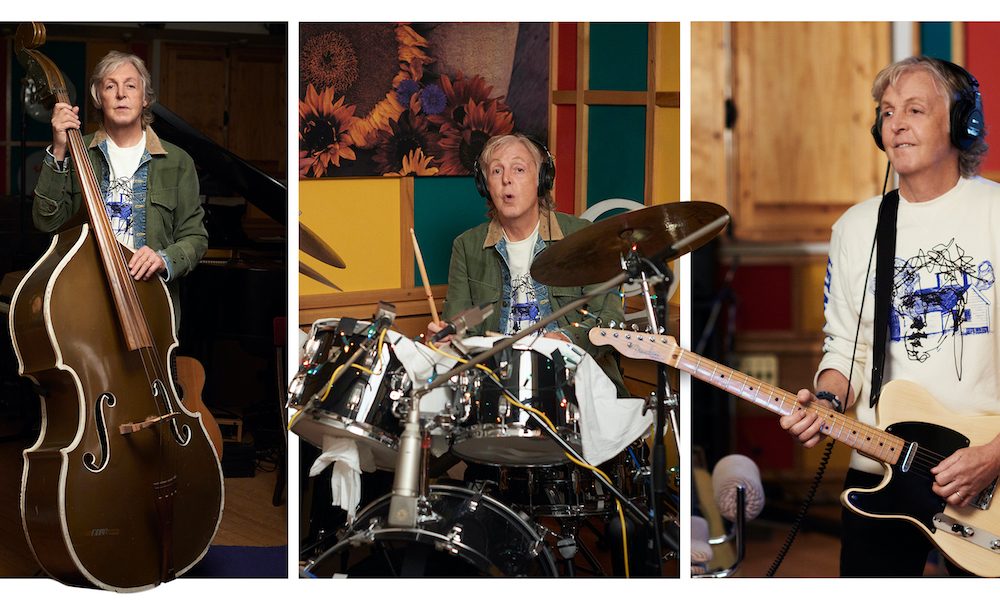 Paul McCartney has shared the music video for the spirited, uptempo "Find My Way" from his highly-anticipated new album McCartney III, which is released today (18). The clip often uses a split-screen effect to demonstrate how Paul plays all the instruments himself throughout the record.
Critical reaction to McCartney III has been hugely positive, both in the UK and internationally. "Melodic charm, craftsmanship and open-minded optimism make this solo album a real treat," writes Helen Brown in The Independent. "This is the most straightforwardly enjoyable and certainly the most personal McCartney album since 2005's haunted, twilit Chaos and Creation in the Backyard," opines Alexis Petridis in The Guardian.
"It's the warmest and friendliest of quarantine albums," says Rob Sheffield in Rolling Stone. Connecting it to McCartney's storied 1971 LP and to Taylor Swift's new record, he says: "It's basically Ram meets Folklore." The review notes that Paul has "never wanted to settle for being a nostalgia artist – that's always set him apart from his generational peers. He takes pride in moving forward."
Fans can now also enjoy an all-new, 13-minute edition of the YouTube Originals series Released, in which the former Beatle talks about the record with comedian-actor Chris Rock. In the show, McCartney discussed how he made it at home during "rockdown."
"On this album," he tells Rock, "I was writing a song and it suddenly got very Beatley. So I'm questioning myself, 'should I not go down this route? It's going to be too like a Beatles song.' You have a little mini-argument with yourself, you say 'Look. Just write it'…it's called 'Seize The Day,' and it's Beatley, but The Beatles don't exist anymore, Chris. They broke up!
"I was talking to somebody the other day, I said 'It's what I do, it's the way I write songs,'" he goes on. "If I like something that's going a bit Beatley, I'm just going to let it be!" Paul also talks about his ambition to live to 100, the age at which British citizens traditionally receive a telegram from the Queen. "You've got to have a plan, right?"
McCartney also talks about songs in his catalog that he wrote while he was happy, including such early Beatles numbers as "And I Love Her" and "Can't Buy Me Love" and, by contrast, how he wrote "Yesterday" after realising that "people like sad songs."
Asked by Rock about his favorite song on McCartney III, Paul says that it may be the track "Women And Wives," whereupon he goes to the piano to sing and play part of it. The piano and vocal style, both on the album and this live album, are quite reminiscent of his approach to his Beatles classic "Lady Madonna."
The delightfully broad range of styles on the album goes from the driving, acoustic-based opener "Long Tailed Winter Bird" to the whimsical "Lavatory Lil," and from the rock guitar-fuelled "Slidin'" (with a riff and an energy somewhat reminiscent of Wings' "Letting Go") to the charming, pastoral close of "Winter Bird/When Winter Comes."
McCartney III is out now and can be bought here.
Listen to the best of Paul McCartney on Apple Music and Spotify.