Posthumous Gord Downie Record Set For October Release
'Away Is Mine' will feature the late Tragically Hip frontman's final recordings.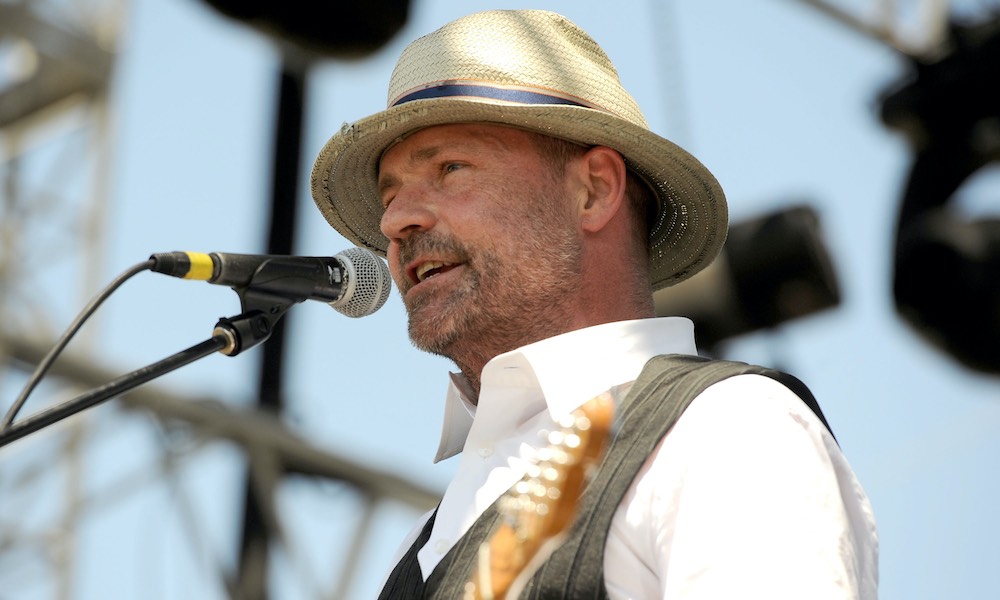 A collection of Gord Downie's final recordings will be made available to fans next month in the form of the 20-track album Away Is Mine, out October 16 via Arts & Crafts. The double LP includes ten songs from the late Tragically Hip frontman – recorded in both electric and acoustic settings. Today, songs "Hotel Worth," and "Useless Nights" are available to stream ahead of the album.
Downie, who passed away on October 17, 2017, following a battle with brain cancer, was a founding member of the beloved Canadian rock band, The Tragically Hip. Over the course of their three-decade-long career, The Hip, as they were known, stood as one of the best-selling Canadian acts in their country, releasing 13 studio albums (nine of which hit No.1), and receiving 16 Juno Awards. In America, the revered group also had eight charting albums on the Billboard 200, and several singles on the Mainstream Rock Top 50, including 1993's "Courage," 1989's "New Orleans is Sinking," and 1998's "Poets."
Downie also enjoyed a prolific solo career and released six albums during his lifetime, beginning with 2001's Coke Machine Glow. Over the years, his work included a variety of collaborations, including an entire album with the Sadies, as well as projects with Buck 65, F__ked Up, and Alexisonfire.
Away Is Mine, meanwhile, represents the final ten songs that Downie recorded – all captured months before his death in July 2017 at The Tragically Hip's studio in Bath, Ontario. Downie was joined by guitarist and co-writer Josh Finlayson (of Toronto band Skydiggers), while the sessions were recorded by engineer Nyles Spencer (who also is credited on Downie's 2017 LP, Introduce Yourself).
The album is described as "a contemplation on Gord's life, written with his deft hand and forever inscrutable sense of humor, even as he locked eyes with the Great Inevitability."
In a statement, Finlayson shared that "there really wasn't a plan to make a record…. I knew this was a great way to spend time with Gord, listening to music, talking about music, talking about things that we'd always talked about. And this just evolved pretty organically."
The artist's brother, Patrick Downie, added that Away Is Mine "won't be his last release, but these are the final ten songs Gord sang before he passed away. The last time he ever sang into a mic. That's pretty special to us."
Away Is Mine will be available October 16. Scroll down to view the tracklist and preorder it here.
Away Is Mine tracklist:
Disc One:
1. Hotel Worth
2. Useless Nights
3. I Am Lost
4. About Blank
5. River Don't Care
6. The Least Impossible
7. Traffic Is Magic
8. Away Is Mine
9. No Solace
10. Untitled
Disc Two:
11. Hotel Worth (Acoustic)
12. Useless Nights (Acoustic)
13. I Am Lost (Acoustic)
14. About Blank (Acoustic)
15. River Don't Care (Acoustic)
16. The Least Impossible (Acoustic)
17. Traffic Is Magic (Acoustic)
18. Away Is Mine (Acoustic)
19. No Solace (Acoustic)
20. Untitled (Acoustic)