Watch Public Enemy's Animated Video For 'Lost At Birth'
The visuals for the 'Apocalypse 91…' track turn the band into colorful cartoons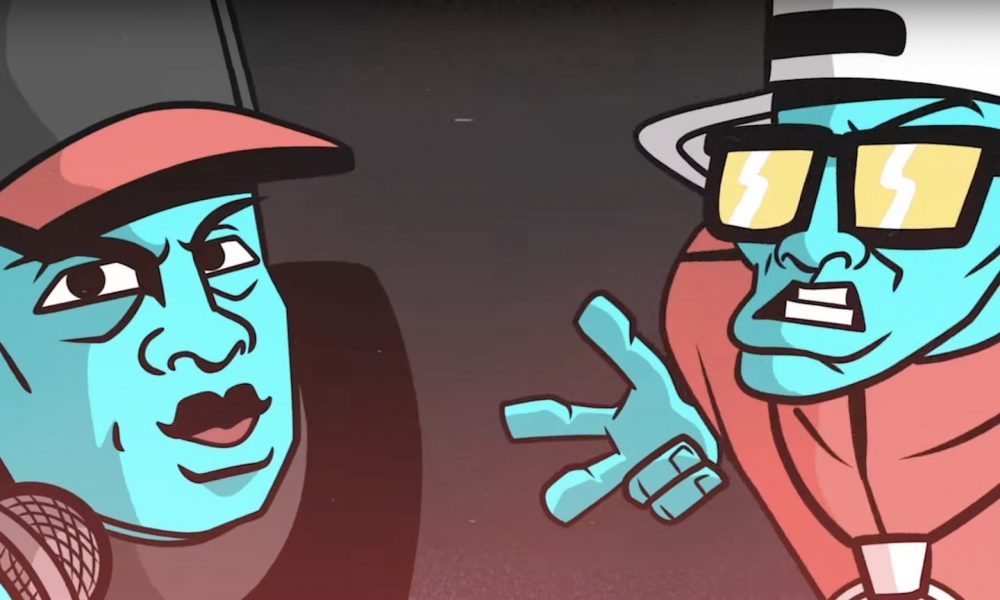 Public Enemy has shared a new animated video for its classic track "Lost At Birth," taken from the landmark album Apocalypse 91… The Enemy Strikes Black.
The hip-hop legends' fourth album was originally released in 1991 and was given a deluxe reissue last October to mark its 30th anniversary.
The animated video for "Lost At Birth" transforms the members into colorful cartoons and sets them up in a battle to reclaim a city from a swarm of oversized, insect-like monsters. Public Enemy takes on its enemy using vinyl records, sending them flying through the air towards its opponent.
"The future holds nothing else but confrontation," an ominous voiceover declares at the start of the video.
Upon its original release, Apocalypse 91… The Enemy Strikes Black hit No.4 on the Billboard 200, going on to be nominated at the Grammys. It spawned the hit single "Can't Truss It," which was certified gold and entered the Top 10 on the Billboard Hot 100, the Hot R&B/Hip-Hop Songs, and Dance Singles charts simultaneously.
The record also featured a collaboration with heavy metal act Anthrax on a remix of Public Enemy's seminal 1988 release "Bring Tha Noise (w/ Anthrax)," which opened the doors for and inspired a new generation of artists to combine rap and metal, including Rage Against The Machine and System Of A Down.
Ahead of the release of the 30th anniversary reissue of Apocalypse 91… Public Enemy shared a number of music videos that had never previously been available online, alongside videos for some of the group's classic tracks remastered in HD formats for the first time. "By The Time I Get To Arizona," "Nighttrain," and "Shut Em Down" – all taken from the 1991 record – were among the iconic songs to receive the remastering treatment.
Apocalypse 91… The Enemy Strikes Black has been cited as one of the greatest albums of the golden age of hip-hop. It struck a more minimal tone in its production than some of its predecessors but maintained the group's searing sociopolitical commentary in both its tracks and the videos that would later accompany them.
Buy or stream Apocalypse 91… The Enemy Strikes Black (Deluxe Edition).