Pusha T Shares 'White Lines (Cocaine Bear Remix)'
The track is a remix of Melle Mel's 1983 hit 'White Lines (Don't Do It).'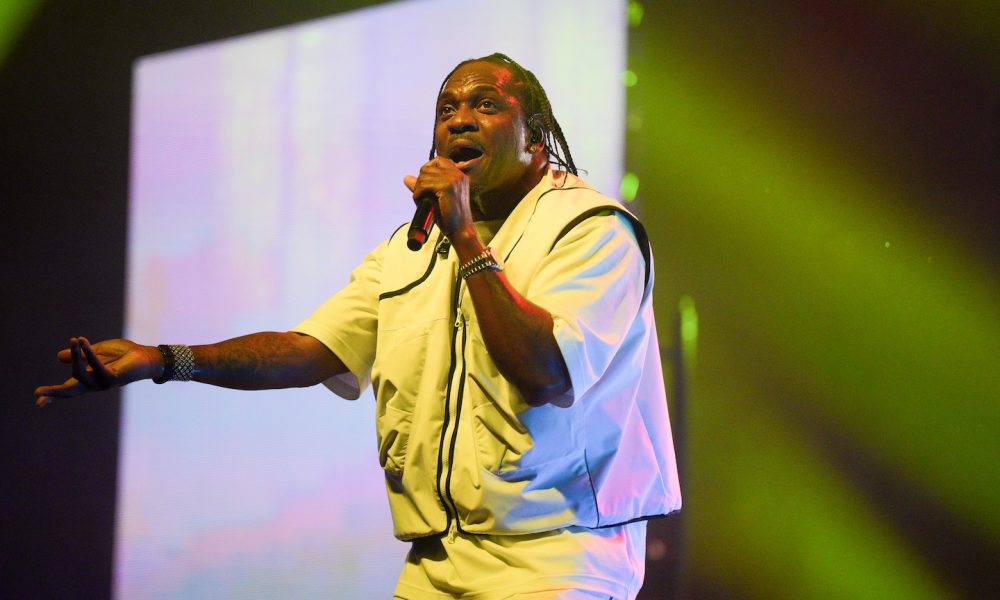 Pusha T has shared a new track, "White Lines (Cocaine Bear Remix)," a spin on Melle Mel's 1983 hit "White Lines (Don't Do It)." The track is featured in the new movie Cocaine Bear.
Shop the best of Pusha T's discography on vinyl.
Pusha T, who is often called "The King of Coke Rap," shows off some dazzling bars on the track, spitting, "All white all winter, even snow in the summer/ The high fallin' from the sky/ Are you the hunted or the hunter?"
White Lines (Cocaine Bear Remix) by Pusha T
Back in October, Pusha T unleashed the highly-anticipated vinyl release of It's Almost Dry, which many proclaimed as the rap album of 2022.
Before that, Pusha T offered a show-stopping performance at the BET Hip-Hop Awards with a slickly villainous medley from It's Almost Dry, followed by a surprise reunion of The Clipse. It's Almost Dry debuted in April of 2022 to rapturous fan and critical acclaim, peaked at No.1 on Spotify Global, and No.1 on Apple Music in over 52 countries worldwide, and at No.1 on the Billboard 200 album chart, a career-first for the multi-platinum, Grammy-nominated hip-hop legend.
In September of 2022, Pusha once again linked up with Arby's for a promotional campaign. Push released country-inspired video for"Rib Roast," a diss track throwing jabs at McDonald's McRib sandwich and bigging up Arby's Real Country Style Rib sandwich.
Pusha gets fiery, dismissing McDonald's mystery meat compared to Arby's. In collaboration with the chain, Pusha also dropped Arby's Real Country Style Collection, a limited-edition merchandise line, including tees, jackets, and bandanas.
Ironically, Pusha was allegedly credited as the composer of McDonald's "I'm Lovin It" jingle, which debuted in 2003 and was performed by Justin Timberlake. Speaking on his involvement in the ad with Hot 97's Ebro Darden, marketing executive Steve Stoute says, "You know who did that? Pusha T. That's crazy that PUSHA T WROTE the song to McDonald's."
Listen to the best of Pusha T on Apple Music and Spotify.