Queen Performs 'Love Of My Life' In Rio In Episode 38 Of 'The Greatest Live'
This week's episode involves an emotional live performance on the band's classic song from 'A Day In The Races.'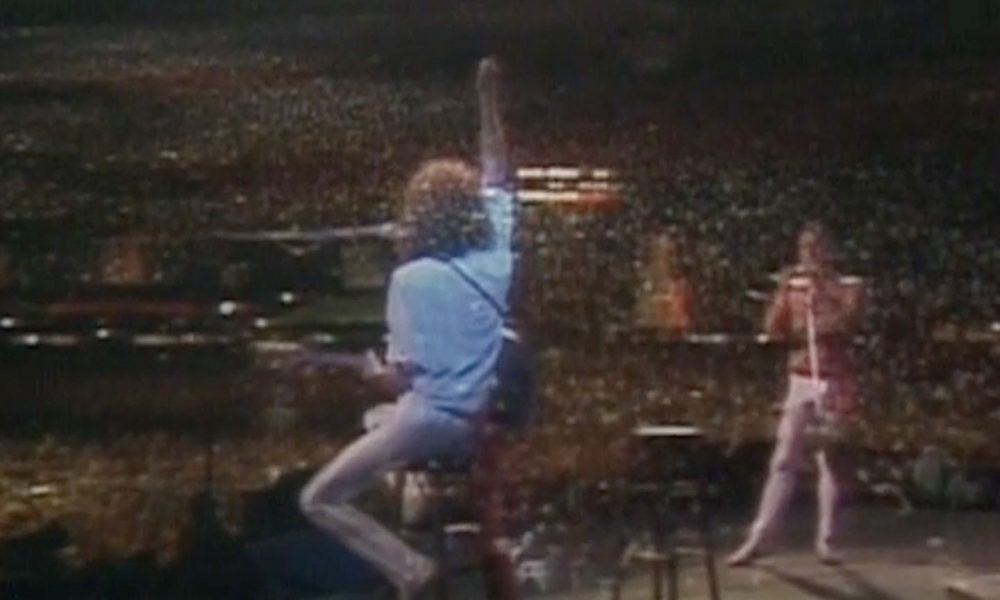 Queen's classic song "Love Of My Life" is the focus of this week's episode – No. 38 – of the band's yearlong archival video series "The Greatest Live," centered around the band's emotional performance of the song at 1985's Rock In Rio Festival in Brazil.
Today, Rock In Rio is an institution – but Queen blazed the trail back in 1985 as headliners of the inaugural festival, performing to more than 400,000 fans over two nights. This week's episode revisits one of the standout moments from those shows, as Brian and Freddie's acoustic take on "Love Of My Life" sparks a community singalong. You can watch the new episode in full below.
Queen The Greatest Live: Love Of My Life (Episode 38)
Watched by a human sea of 400,000 fans, Queen's two-night stand as headliners of 1985's inaugural Rock In Rio represented rock 'n' roll communication on the grandest scale imaginable. In a venue like the City Of Rock – a 2.7-million-square-foot behemoth purpose-built for the festival in Brazil – intimacy seemed impossible. But while their setlist was packed with rowdy rock anthems, this latest episode of "Queen: The Greatest Live" shows the band's unique ability to make even the biggest stadium show feel personal with a ballad that spoke to every last soul.
Originally featured on 1975's A Night At The Opera album, the studio version of "Love Of My Life" was intricately orchestrated and featured Queen's signature flood of vocal harmonies. But as their performance at Rock In Rio reminds us, the ballad became an entirely different proposition live, with Brian rearranging the song for twelve-string acoustic guitar and taking the stage with Freddie Mercury for a stripped-back duet.
As Brian explained in an interview, the song had already proved a crowd-pleaser on previous trips to South America. "I think it's the moment we first realised they knew "Love of My Life." Not only knew it but would sing it. And not only would they sing it but would sing it with a passion that brought tears to our eyes."
Now, as Brian introduces "Love Of My Life in Rio" – "You want to sing with us?" – the response is deafening, letting Freddie take on the role of choirmaster as he conducts the crowd, basking in their energy, bowing and blowing kisses. And when he takes the lead, his lyrics now seem unbearably poignant ('When I grow older, I will be there at your side'), in the hindsight knowledge that the Freddie-fronted lineup was nearing the end as a live band.
But that unforgettable night at Rock In Rio, Queen were indomitable, holding the sprawling South American crowd in the palm of their hand. "You did great!" shouts Brian as the song concludes. "You sing very nicely…"
Watch every episode of 'The Greatest Live' on Queen's official YouTube channel.