Listen To R.E.M.'s Previously Unreleased Demo Of 'Revolution', From 'Monster' Reissue
The new, expanded, 25th anniversary edition of 'Monster' is set for release on 1 November.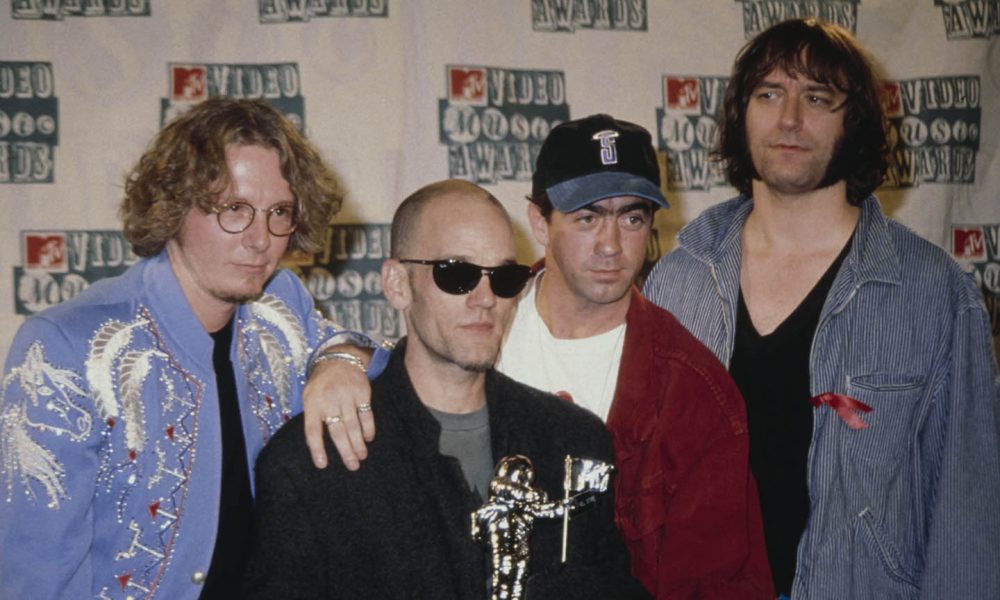 R.E.M. have shared a previously unreleased demo version of 'Revolution' This version of the song will appear on the special deluxe edition of Monster which is being released to mark the landmark album's 25th anniversary. You can check 'Revolution' out below.
R.E.M. - Revolution 4-21 (Demo)
'Revolution' didn't end up making it on to Monster but it later appeared on the soundtrack to the 1997 Batman & Robin movie starring George Clooney, Chris O'Donnell, Arnold Schwartzenegger and Uma Thurman.
Set for release on 1 November, the five-CD, one-Blu-ray deluxe box set will include the original album, a special 2019 remix from Monster producer Scott Litt; a CD of previously unreleased demos from the album and a complete live 1995 performance captured in Chicago.
As uDiscover Music previously reported, the collection will be packaged in a five-and-a-half-inch portfolio book, featuring liner notes by journalist Matthew Perpetua—with new insight from band members—and archival photographs. An expanded edition of Monster, offering the original album and the 2019 remixed version, will also be available on two 180g vinyl LPs or two CDs, both featuring reimagined cover art by long-time R.E.M. designer Chris Bilheimer. The remastered album will also be available as a standalone 180g vinyl LP, with Bilheimer's original Monster art.
Digital editions of the album will mirror the complete deluxe audio content—remastered, remixed and live— available across all streaming and download platforms. In this remix, original Monster producer Scott Litt offers a completely fresh take on the song, giving fans a new way to experience the single which launched Monster around its original release.
When they made Monster, R.E.M were looking for a sonic shake-up. While the band's two previous albums, Out Of Time and Automatic For The People, were full of ballads, acoustic rock songs and intricate arrangements, the group was ready to record something grittier, brasher and highly playable on stage. In his liner notes, Perpetua writes that Monster "had no precedent in the band's catalogue," adding that R.E.M had "never been this distorted and dirty, or this glam or this flirty." As guitarist Peter Buck recalls, "We were trying to feel like a different band … We wanted to get away from who we were."
Monster is out on 1 November and can be bought here.
Format:
UK English