Ringo Starr Talks 2022 Tour, 'Get Back' Film, Rock Roots, Charlie Watts
'I had a party in the 70s,' Ringo remembered, 'and Charlie came, and so did John Bonham, so we've got three drummers just hanging out.'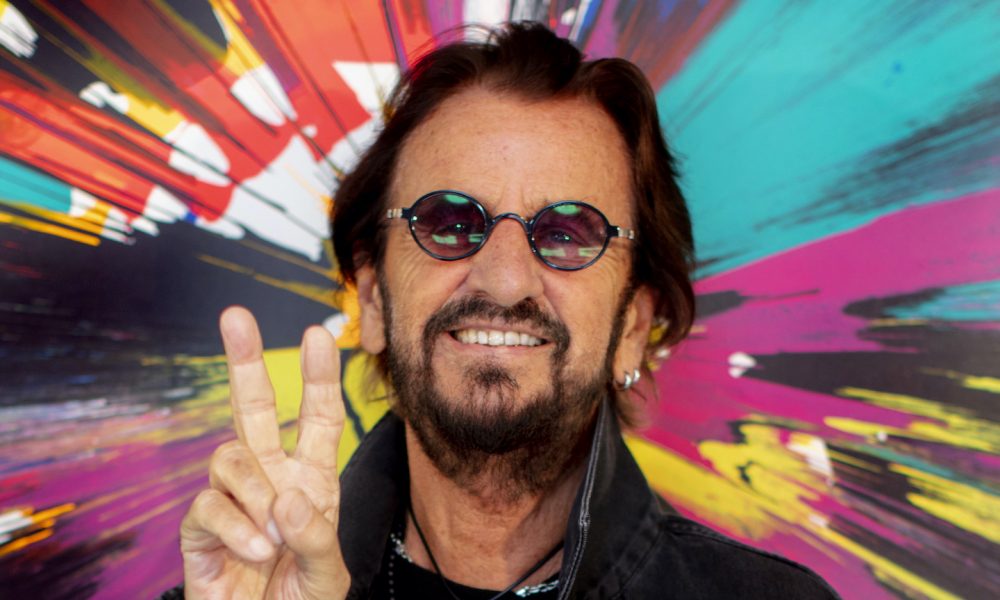 Ringo Starr has marked today's (24) release of his Change The World EP by talking about why he covered "Rock Around The Clock," his memories of Charlie Watts, 2022 touring plans, and his latest thoughts on director Peter Jackson's upcoming The Beatles: Get Back series on Disney+.
Asked whether his recurring message of "peace and love," notably via his birthday gatherings, in person and more recently online, have had an impact, Starr said: "When I started the peace and love moment for my birthday in 2008 on the streets of Chicago, we had like 100 people, and now we actually have peace and love moments in 28 countries around the world.
"So slowly but surely, you know, we're like the pebble in the ocean, it's rippling out. And you can only do what you do and that's what I do, peace and love."
Ringo discussed the motivation to record a cover for the EP of Bill Haley and His Comets' rock'n'roll staple "Rock Around The Clock," a song central to his early musical memories. "I was sitting here," he said, "I made an EP and I'm in the middle of it and I love the EP because it's four tracks and I do it in this room…the drums are in the bedroom, it's a small studio, and I don't know, it's just thinking about tracks for the EP.
"I went through my head about memories. I had my seventh birthday in the hospital and I had my 14th birthday in a hospital. I was still there when my 15th birthday was coming up and I didn't want to spend it in the hospital, and so my mother talked to the doctors and everything. I'd been there over a year and was doing pretty good, so they decided they'd let me out. And first of all, I went down to London with my stepdad and my mom to see his folks and then we came back to Liverpool and then my grandma and grandad took me to the Isle of Man.
"And it was incredible," he continued, "because I went to see the Rock Around The Clock movie and it was full of crazy British holidaymakers with 'Kiss Me Quick' hats and a little out of their minds. And I'm sitting there, you know I've been in hospital [so] I don't know too much about what's going on lately. And they ripped up the cinema. I mean they just threw the chairs, ripped them out, and I go, 'Wow, this is great!," he laughed.
"I remember that moment like it was yesterday, and I thought, 'I'm going to do 'Rock Around The Clock,'' because it's my EP and I can do whatever I like. I first did a brushes version of it, like old school, and then I thought, 'Nah, put the sticks on!' And then I rocked, and then I called Joe Walsh and he rocked and it's a separate solo. You listen to cover versions of 'Rock Around The Clock' and everybody plays that same solo."
During the Zoom press conference, Starr was also asked for his memories of another much-loved drummer, Charlie Watts, who died on August 24. "Charlie was a great guy, a lot of fun, and had a harder band than I to keep together," he laughed. "We lived close to each other in London and bumped into each other on King's Road, or we'd find ourselves together at a dinner or a gig.
"But I had a party in the 70s and Charlie came, and so did John Bonham, so we've got three drummers just hanging out. Bonham got on the kit, and since they weren't attached to the ground like they are on stage, Charlie and I are holding the bass drums for him as he played. What a photo that would have been.
'We'll miss Charlie, he was a beautiful human being'
"But in the 70s, I had policies and you'll never find any photos because I wouldn't let you take photos in my house. I always think that would have been a great shot to have you know. So yeah, we'll miss Charlie, he was a beautiful human being."
Of his Covid-delayed touring plans, Ringo revealed: "We had to stop the first tours, the May, June [2020] tour and in my naivety, I'm on the Internet saying, 'Hold on to your tickets because I'm going to do the exact same tour next year.' And of course, we didn't.
"I'm not going out this year, but I've got the tour lined up next year," he added, "and they've sent me the itinerary already. But you know, it's impossible to say now if it's on. I'm saying in my heart it's on, but let's see where we are."
Finally, the drummer gave his latest thoughts on the now three-part The Beatles: Get Back series, coming to Disney+ in November. "We're laughing, fooling around, and being musicians," he said. "I mean, you have to think from 'Get Back' on January 5 to the end of January, within a month, we'd made a record, and we'd done that roof gig, and we played live again. There's a great piece in the film for me, where Paul goes, 'Who wants to play live?' and you can hear me in the background going, 'I do,'" he said with a laughs.
"I think everyone will enjoy it, because you see this band work really hard, and [how we] went through really emotional up and downs to get to where we got, every time. That's just how it was, four guys in a room. You're going to have a few ups and downs. So that's all I can say about that. Peter Jackson is our hero, he's done a great job. He's even redoing bits now, he's fine-tuning."
Buy or stream the Change The World EP.