Roxy Music's Seminal Self-Titled Debut Receives Super Deluxe Reissue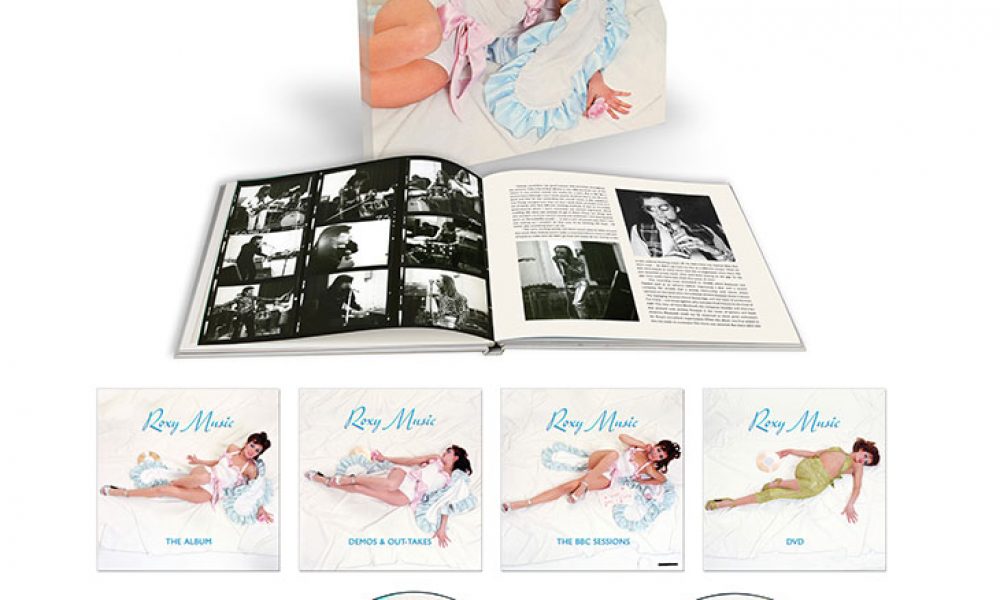 Roxy Music's seminal self-titled debut album from 1972 is to receive a super deluxe reissue, scheduled for release through UMC on 2 February 2018.
The new Roxy Music will be available in a range of formats. Remixed in 5.1 DTS 96/24 and Dolby AC3 Sound by lifetime admirer Steven Wilson, the four-disc 12" x 12" super deluxe edition features previously unreleased demos, outtakes, BBC radio sessions and rarely-seen live footage, in addition to a 136-page book including rare and unpublished photographs and an essay by Richard Williams of The Guardian, who first wrote about the group for Melody Maker in 1971. The album will also be available as a deluxe 2CD set with a 24-page booklet, and on 180g vinyl.
The original Roxy Music is presented in the 1999 Bob Ludwig master, while the remainder of the audio has been mastered by Frank Arkwright at Abbey Road. The DVD includes promos and BBC TV appearances, as well as rare footage of Roxy Music performing at the Bataclan Club in Paris in November 1972: the only surviving visual document of this line-up live on stage.
When Roxy Music was originally released, on 16 June 1972, the band had less than 10 gigs to their name, they had no two tracks the same in their repertoire and critics simply couldn't pin down their influences. As Richard Williams wrote at the time: "If Roxy Music go very much further, they'll be one of the great success stories of modern time."
Forty-five years later, with the group's involvement, fans have the opportunity to assess the album and listen as Roxy Music evolved and developed. The box set provides a thrilling insight into the world of Roxy Music in 1971/72, starting with the demo tape that caught the attention of Richard Williams, and which ultimately led to the band landing a deal with Island Records.
Speaking today about the band's debut, guitarist Phil Manzanera says, "At 21, my musical dreams came true, recording this album with these wonderfully talented and unique band members. Magical times, magical music."
Roxy Music - Re-Make/Re-Model (Live At The Royal College Of Art)
Saxophonist Andy Mackay recalls: "Late '71/'72 Roxy was our Arts Lab. The place where we exchanged ideas and dreams freely and created and explored a new sound landscape. We stepped into Command Studios with a complete album in our heads (and half the next one) and it only needed the tape to start running… no album was as easy to record again."
Looking back on Roxy Music, vocalist Bryan Ferry reflected: "We never really felt accepted, I can see how the old guard would have felt threatened by it, because it was so jammed full of ideas and a massive amount of energy. We hadn't paid our dues, not in the same way. And we're still not a part of it, not really, even to this day. That's been very hard over the years, to try and make it work without being one of them. The 'them' is always different, but we're not part of it. It's been one of the triumphs that we've managed to stay sane. Or sane-ish. We're a part of it all, somehow, but still on the outside."
The super deluxe edition of Roxy Music will be released on 2 February. Scroll down to read the full tracklist and order the box set here.
CD1: Roxy Music
'Re-Make/Re-Model'
'Ladytron'
'If There Is Something'
'Virginia Plain'
'2 HB'
'The Bob (Medley)'
'Chance Meeting'
'Would You Believe?'
'Sea Breezes'
'Bitters End'
CD2: Demos & Outtakes
Early Demos: April/May 71
'Ladytron'
'2 HB'
'Chance Meeting'
'The Bob (Medley)'
Album Outtakes:
'Instrumental'
'Re-Make/Re-Model'
'Ladytron'
'If There Is Something'
'2 HB'
'The Bob (Medley)'
'Chance Meeting'
'Sea Breezes'
'Bitters End'
'Virginia Plain'
CD3: The BBC Sessions
Peel Sessions: 4 January 1972
'If There Is Something'
'The Bob (Medley)'
'Would You Believe?'
'Sea Breezes'
'Re-Make/Re-Model'
Peel Sessions: 25 May 1972
'2 HB'
'Ladytron'
'Chance Meeting'
'Virginia Plain'
'If There Is Something'
BBC In Concert: 3 August 1972
'The Bob (Medley)'
'Sea Breezes'
'Virginia Plain'
'Chance Meeting'
'Re-Make/Re-Model'
DVD
Roxy Music remixed in 5.1 by Steven Wilson
Promo Videos:
'Re-Make/Re-Model': The Royal College Of Art, 6 June 1972
'Ladytron': The Old Grey Whistle Test, 20 June 1972
'Virginia Plain': Top Of The Pops, 24 August 1972
'Re-Make/Re-Model': Full House, 25 November 1972
'Ladytron': Full House, 25 November 1972
'Would You Believe?': French TV, Bataclan, Paris, 26 November 1972
'If There Is Something': French TV, Bataclan, Paris, 26 November 1972
'Sea Breezes': French TV, Bataclan, Paris, 26 November 1972
'Virginia Plain': French TV, Bataclan, Paris, 26 November 1972
Format:
UK English