'Scott Pilgrim Vs. The World' Soundtrack Set For Deluxe 10th Anniversary Reissue
A bonus-filled, 4 LP box set includes previously-unreleased music from Beck and Metric ft. Brie Larson.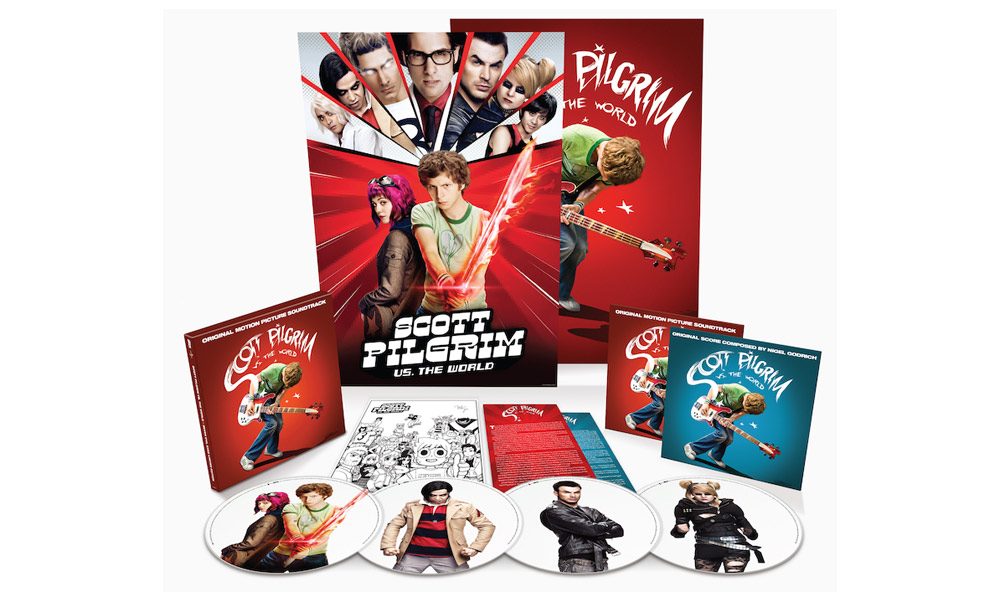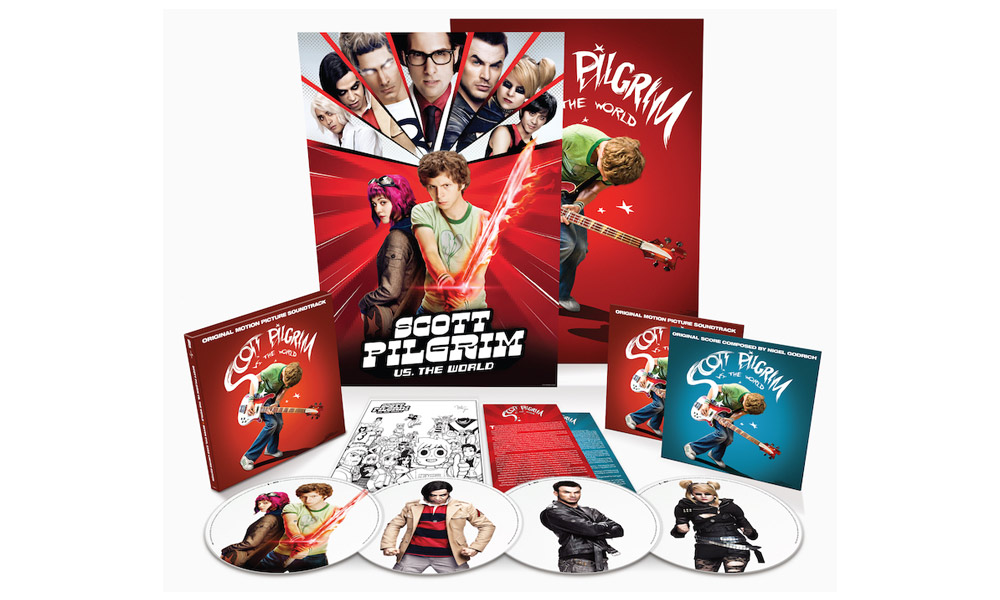 This year marks the tenth anniversary of Edgar Wright's cult classic, Scott Pilgrim vs. the World, which follows fictional Toronto musician Scott Pilgrim (Michael Cera) as he fights to win the love of Ramona Flowers (Mary Elizabeth Winstead), by going head-to-head with her exes in a series of Battle of the Bands competitions. Its equally-beloved soundtrack, meanwhile, features an acclaimed collection of original songs and rock classics. Now, a deluxe, tenth-anniversary edition of the album, available March 26, will feature 24 minutes of previously-unreleased music, plus Nigel Godrich's inspired score.
Curated by Wright and Godrich, the deluxe Seven Evil Exes Limited Edition Box Set includes four vinyl picture discs – each featuring images of one of the "Seven Evil Exes" characters from the film, as well as Scott Pilgrim and Ramona Flowers, who grace the eighth side.
In addition to the original soundtrack, which offers music from The Rolling Stones, Broken Social Scene, Metric, and T.Rex, plus Beck-penned songs for the movie's fictional band, Sex Bob-Omb, the collection will include previously-unreleased demos by Beck, more performances by Sex Bob-Omb, plus the fan-favorite song "Black Sheep" by Metric, as sung by actress Brie Larson.
The box also includes a full-color film poster, a new note from Wright, and a coloring page by Bryan O'Malley, the author of the Scott Pilgrim graphic novel series – on which the film was based.
Scott Pilgrim vs. The World (Seven Evil Exes Edition) | VINYL UNBOXING
Godrich's score, which is making its debut on vinyl, will also be available as a standalone, 2-LP set. Additionally, fans can purchase a Ramona Flowers Edition of the original soundtrack, pressed on blue, green, and magenta vinyl, representing the colors of the character's hair throughout the film. All formats will be available on March 26.
Since its release, Scott Pilgrim vs. the World (Original Motion Picture Soundtrack) has been widely praised, including by Alternative Press and The Independent, which ranked it at No. 4 in its "40 Greatest Film Soundtracks of All Time" list. Track "We Are Sex Bob-Omb," won the 2010 Houston Film Critics Society Award for Best Original Song.
Scott Pilgrim Vs. The World (Seven Evil Exes Limited Edition) is available March 26. Scroll down to view the tracklist and preorder here.
Scott Pilgrim Vs. The World (Seven Evil Exes Limited Edition) tracklist:
Soundtrack: Disc One: SIDE 1
1. We Are Sex Bob-Omb – Sex Bob-Omb
2. Scott Pilgrim – Plumtree
3. I Heard Ramona Sing – Frank Black
4. By Your Side – Beachwood Sparks
5. O Katrina! – The Black Lips
6. I'm So Sad, So Very, Very Sad – Crash and the Boys
7. We Hate You Please Die – Crash and the Boys
8. Garbage Truck – Sex Bob-Omb
Soundtrack: Disc One: SIDE 2
1. Teenage Dream – T. Rex
2. Sleazy Bed Track – The Bluetones
3. It's Getting Boring By The Sea – Blood Red Shoes
4. Black Sheep – Metric
Soundtrack: Disc Two: SIDE 3
1. Anthems For A Seventeen Year Old Girl – Broken Social Scene
2. Under My Thumb – The Rolling Stones
3. Ramona (Acoustic Version) – Beck
4. Ramona – Beck
5. Summbertime – Sex Bob-Omb
6. Threshold (8 Bit) – Brian LeBarton
Soundtrack: Disc Two: SIDE 4 (Bonus Tracks)
1. Black Sheep (Brie Larson Vocal Version) – Metric
2. No Fun – Sex Bob-Omb
3. Garbage Truck – Beck
4. Threshold – Beck
5. Indefatigable – Sex Bob-Omb
6. Go! – Plumtree
7. Ramona (Acoustic Demo Idea 1) – Beck
8. Ramona (Acoustic Demo Idea 2) – Beck
9. Ramona (Acoustic Demo Idea 3) – Beck
10. Ramona (Mellotron Version) – Beck
11. Summertime – Beck
12. Enter Goddess – Nigel Godrich
Score*: Disc Three: SIDE 1
1. Universal Theme
2. Hillcrest Park
3. Fight!
4. Slick (Patel's Song) – Dan the Automator
5. Love Me Some Walking
6. Talk To The Fist
7. Rumble
8. Feel The Wrath
9. The Grind
Score*: Disc Three: SIDE 2
1. Hello Envy
2. Mystery Attacker
3. Second Cup
4. The Vegan
5. Bass Battle – Nigel Godrich/Jason Falkner/Justin Meldal-Johnsen
6. Sorry I Guess
7. Roxy
Score*: Disc Four: SIDE 3
1. The Ninth Circle
2. Katanayagi Twins Vs Sex Bob-Omb – Beck & Cornelius
3. This Fight Is Over
4. Giedon Calling
5. Level 7
6. Welcome To Chaos Theatre
7. We Are Sex Bob-Omb (Fast) – Beck/Nigel Godrich
8. Fast Entrance Into Hell
9. Chau Down
10. Game Over
11. So Alone
12. Round 2
Score*: Disc Four: SIDE 4
1. Death To All Hipsters – Nigel Godrich & Beck
2. A Different Guy
3. Boss Battle
4. Blowing Up Right Now
5. Aftermath
6. Bye and Stuff
7. Love – Osymyso
8. Ramona – Osymyso
9. Prepare – Osymyso
10. Ninja Ninja Revolution – Dan the Automator
*ALL SCORE TRACKS PERFORMED BY NIGEL GODRICH EXCEPT WHERE NOTED