The Shakur Estate Opens Tupac's Powamekka Café
The restaurant is open until June 30.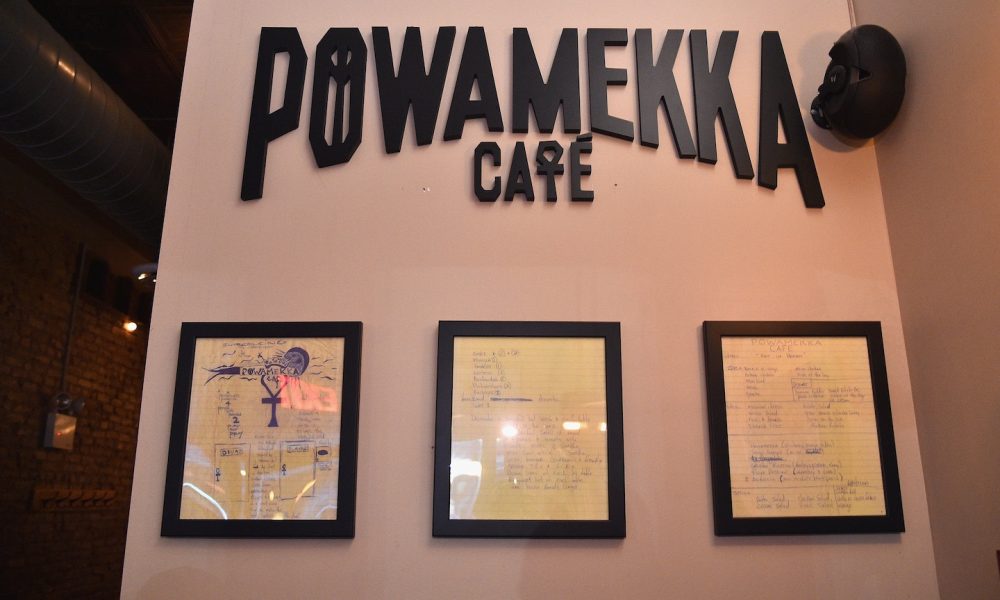 The Shakur Estate has opened a limited-edition Los Angeles location of Tupac's Powamekka Café, his original restaurant concept in partnership with Fixins Soul Kitchen located across from the Wake Me When I'm Free Museum at LA Live.
Over twenty-five years has passed since Tupac conceptualized Powamekka Café. A place for all to "play and parlay," the Powamekka Café, representing the finest in "down home Southern," was to serve as a place for friends and family to get together and "escape the worldz cold reality."
Now, Powamekka Café, Los Angeles, will once again give Tupac's friends, family, and fans a chance to revisit his vision. Straight from the handwritten pages of one of his many notebooks, currently on display at the exhibit, Tupac's concept is brought to life by including his favorite items from the menu he created including meatloaf, gumbo, and his cousin Jamala's fried chicken wings.
The Powamekka Café is located at 800 W Olympic Blvd A150, Los Angeles, CA 90015. It is open from June 16 – 30, Monday – Thursday, 11:00AM – 9:00PM, Fridays, 11:00AM – 11:00PM, Saturdays from 10:00AM – 11:00PM, and Sundays from 10:00AM – 9:00PM. Reservations are available via Open Table.
The groundbreaking Tupac Shakur "Wake Me When I'm Free" exhibit has extended its dates in Los Angeles through Summer of 2022.
Originally launched in January and scheduled to finish its Los Angeles run on May 1, the Shakur Estate-sanctioned exhibit has seen a slate of positive reviews and endorsements from celebrities, press and fans alike.
The exhibit also announced a new initiative to open its doors to students, offering free tickets to any public school groups (grade school, middle school, high school) and their chaperones for the remainder of the exhibit's time in Los Angeles. Visits must be scheduled in advance with the exhibit.
Part museum, part art installation, part sensory experience, WMWIF showcases Shakur's music, poetry, and never before seen artifacts in a 20,000 square foot curated space akin to a contemporary art museum. Guests transition through a myriad of surround sound spaces, rich with rarities embedded in technology.
Visit the Wake Me When I'm Free website for more information on the exhibit.