Silverstein's 'Discovering The Waterfront' Celebrates 18 Years With New Vinyl Edition
Marking the band's commercial breakthrough, the album rewarded the band with its first US Billboard 200 Top 40 success on first release in 2005.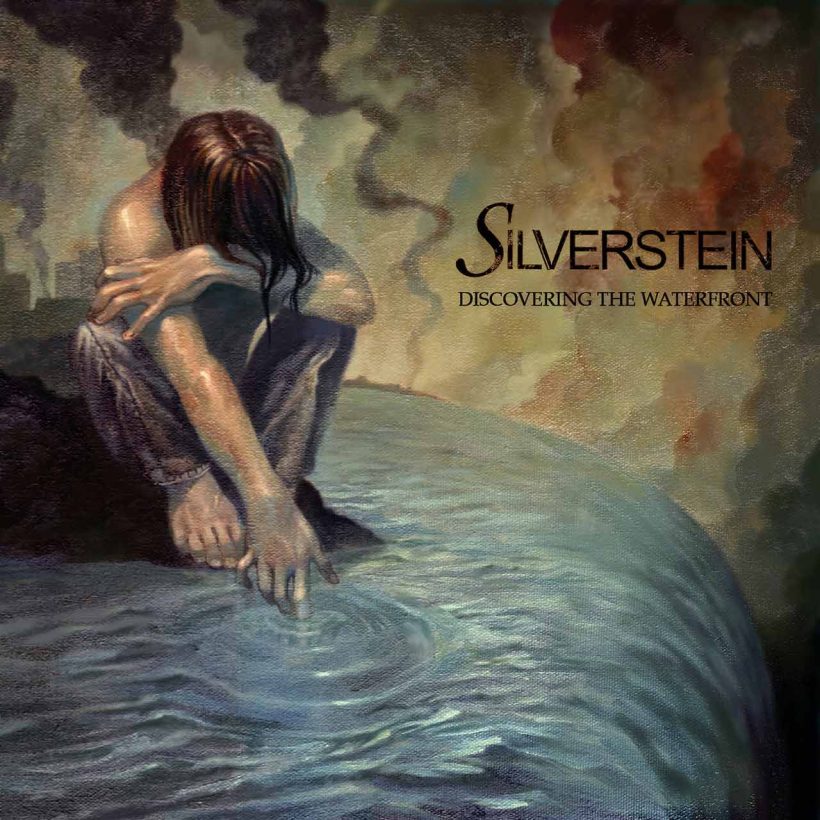 Eighteen years ago to this day, Canadian five-piece Silverstein released their sophomore album, Discovering the Waterfront. Featuring such enduring hits as "My Heroine" and "Smile in Your Sleep," the record launched a new era for the post-hardcore band – both creatively, as they shifted towards punk influences, and commercially, as they made their debut on the US charts.
Now, as the Juno-nominated band celebrates more than two decades together, the long out-of-print album will return to vinyl. In stores September 29 Discovering the Waterfront can be found on classic black vinyl, while select retailers will offer the LP in a variety of limited-edition colors including brown (via Urban Outfitters), green (via Revolver), green and brown marble (via Craft Recordings), and blue marble (via the band's official store).
The busy band is also gearing up for an extensive global tour this fall. Dates kick off October 14 and 15 in Shibuya City, Japan, with a two-night engagement at Cyclone. The band will continue through the end of the year with stops in Australia, the Philippines, and North America. Ahead of that, fans can catch Silverstein at Chicago's Riot Fest (September 15) and the Is For Lovers Festival in Mansfield, MA (September 17). Visit the band's official website for further information on all upcoming dates.
Silverstein - My Heroine (Official Video)
Formed in 2000 in Burlington, Ontario, Silverstein has long been at the forefront of the hardcore scene, thanks to their dynamic mix of melody and aggression – all blended with the unabashed earnestness of emo. When the five-piece – whose name was inspired by a shared fondness of the poet Shel Silverstein – joined Victory Records in 2002, they had already released two EPs ('Summer's Stellar Gaze' and 'When the Shadows Beam') and established a strong regional fanbase. Their acclaimed full-length debut, When Broken Is Easily Fixed, followed a year later and offered a bold introduction to the band, thanks to tracks like "Giving Up" and "Smashed into Pieces."
After more than a year of non-stop touring with bands like Rise Against, Bayside, and Hawthorne Heights, Silverstein was eager to begin work on their follow-up. Their first of several records with Grammy-winning producer Cameron Webb (Motörhead, Kelly Clarkson, Disturbed), Discovering the Waterfront found the band broadening their sound, as they integrated the urgency of punk rock and the catharses of hardcore with lyrical songwriting and infectious melodies.
The result was a dynamic album that was chock-full of anthemic hooks, including the pop-punk opener "Your Sword versus. My Dagger," "Call It Karma," and single "Smile in Your Sleep." Throughout, Shane Todd demonstrated the breadth of his vocal abilities – particularly in tracks like "My Heroine," in which he guided listeners through a rollercoaster of emotional balladry and ferocious breakdowns. Todd also displayed his sensitive side in the reflective "Discovering the Waterfront," which featured string arrangements and a performance by Yellowcard violinist, Sean Mackin.
The band's stylistic shift paid off: Discovering the Waterfront was embraced by fans and served as their commercial breakthrough in the US. Marking Silverstein's debut on the Billboard 200, the record peaked at No.34, while it landed at No.3 on the Independent Albums chart. By the year's end, it had sold over 100,000 copies and ranked among the Top 50 best-selling Independent Albums of 2005. Today, those figures have more than quadrupled.
The album also drew plenty of acclaim, earning Silverstein a 2006 Juno nod for New Group of the Year as well as rave reviews. Typical of the critical acclaim.  AllMusic hailed the album as "Power pop for the new millennium – and a remarkably mature sound for a band that has only been together for a few years. . . . Highly recommended."
Speaking to the latest reissue, the band declares: "Our long out-of-print sophomore album, Discovering the Waterfront, has finally returned to vinyl! We still cherish this album and celebrate it any chance we get, so we're glad our fans can pick up a new physical copy. We've been doing this for over 23 years, but never forget our roots. Whether you heard Discovering the Waterfront back then, or just discovered it now, we appreciate you listening."
In the years following the album's release, Silverstein (whose current line-up includes vocalist Shane Told, guitarists Paul Marc Rousseau and Josh Bradford, bassist Billy Hamilton, and drummer Paul Koehler) has played thousands of shows around the world (including multiple mainstage runs with the Vans Warped Tour) and released over a dozen studio, live, and compilation albums, including the popular Arrivals & Departures (2007) and the Juno-nominated A Beautiful Place to Drown (2020). Last year, the band released their 11th studio album, Misery Made Me.