Snoop Dogg Releases 'Global Edition' Of 'The Algorithm'
The album features 15 additional tracks from UMG artists around the world.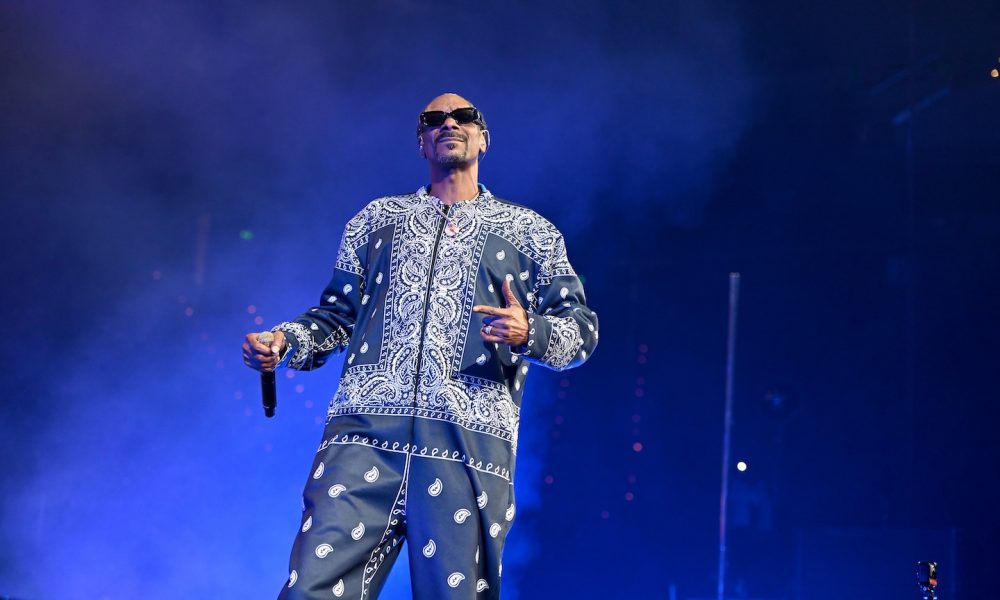 Snoop Dogg has taken the massive 32-artist, 25-track Snoop Dogg Presents: The Algorithm worldwide with the release of Algorithm (The Global Edition).
The new configura­tion reprises the original album's 25 tracks – and then adds 15 unique newly-recorded bonus remixes drawn from those tracks. Each new take highlights one or more artists from the eclectic Universal Music Group (UMG) roster from around the world, bringing the album cast to nearly 50 hip-hop and R&B stars.
"Algorithm is such a special project to me for so many reasons," said Snoop Dogg upon the album's release three weeks ago on November 19. "I'm excited to bring this album to my fans all across the world as my first under Def Jam Records. Together with a few old friends and the introduction of some of the label's next generation artists, we are changing the game by bringing feeling back into music."
Buy or stream The Algorithm (Global Edition).
The Algorithm Global Edition Tracklist:
1. Intro – Snoop Dogg
2. Alright –Redman & Method Man ft. Nefertitti Avani
3. No Bammer Weed – Snoop Dogg
4. New Oldie –Eric Bellinger, Snoop Dogg & Usher
5. Make Some Money – Fabolous & Dave East ft. Snoop Dogg
6. Anxiety – Malaya
7. Like My Weed – Jane Handcock
8. Applying Pressure – YK Osiris ft. Snoop Dogg
9. Go To War – Blxst & Snoop Dogg
10. I Want You – October London
11. GYU – AUGUST 08 ft. Ty Dolla $ign & Bino Rideaux
12. Inspiration – Malaya
13. Big Subwoofer – MOUNT WESTMORE, Snoop Dogg, Ice Cube, E-40 & Too $hort
14. Murder Music – Snoop Dogg, Benny The Butcher, Jadakiss & Busta Rhymes
15. Been Thru – HeyDeon
16. Qualified – Snoop Dogg ft. Larry June & October London
17. Everybody Dies – CHOC
18. By & By – Jane Handcock
19. Diamond Life – Snoop Dogg & DJ Cassidy ft. Mary J Blige
20. Whatever You On – Jane Handcock
21. Make It Last – Nefertitti Avani
22. No Smut On My Name – Snoop Dogg ft. Battle Loco & Kokane
23. Get My Money – Snoop Dogg ft. ProHoeZak
24. Steady – Camino ft. D Smoke & Wiz Khalifa
25. Outro – Snoop Dogg
26. Alright – Redman & Method Man ft. Nefertitti Avani & Aczino (MEXICO)
27. Alright – Redman & Method Man ft. Nefertitti Avani & Joe Flizzow (MALAYSIA)
28. Alright – Redman & Method Man ft. Nefertitti Avani & SAAY (S. KOREA)
29. No Bammer Weed – Snoop Dogg ft. Näääk (SWEDEN)
30. New Oldie – Eric Bellinger, Snoop Dogg ft. Glenn Lewis (CANADA)
31. Make Some Money – Fabolous, Dave East ft. Snoop Dogg & EAZ (SWITZERLAND)
32. Make Some Money – Fabolous, Dave East ft. Snoop Dogg & Lucasraps (S. AFRICA)
33. Applying Pressure – YK Osiris ft. Snoop Dogg & Lani Mo (SWEDEN)
34. I Want You – October London ft. Cory (FRANCE)
35. Murder Music – Snoop Dogg, Benny The Butcher, Jadakiss & Busta Rhymes ft. Gué (ITALY)
36. Murder Music – Snoop Dogg, Benny The Butcher, Jadakiss & Busta Rhymes ft. Potter Payper (UK)
37. Qualified – Snoop Dogg ft. Larry June, October London & Yung Raja (SINGAPORE)
38. No Smut On My Name – Snoop Dogg ft. Battle Loco, Kokane & KEZ (GERMANY)
39. No Smut On My Name – Snoop Dogg ft. Battle Loco, Kokane & Phonixthecool (S. AFRICA)
40. Get My Money – Snoop Dogg ft. ProHoeZak & MC Zaac (BRAZIL)