The Roots Announce 'Do You Want More?!!!??!' 25th Anniversary Deluxe Vinyl Release
The cornerstone Roots album will be made available on vinyl in a deluxe 3LP and 4LP package to be released on March 12.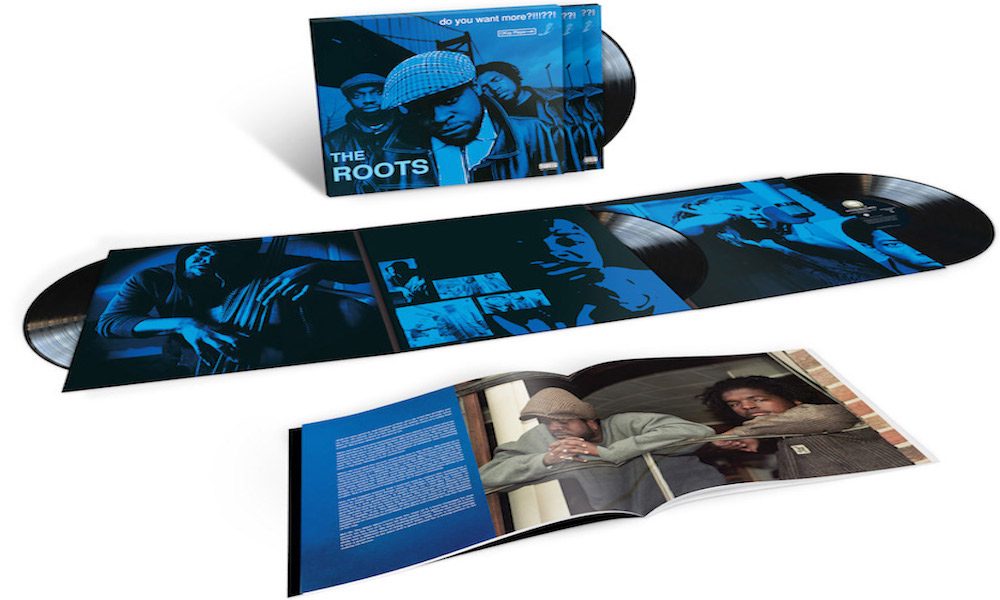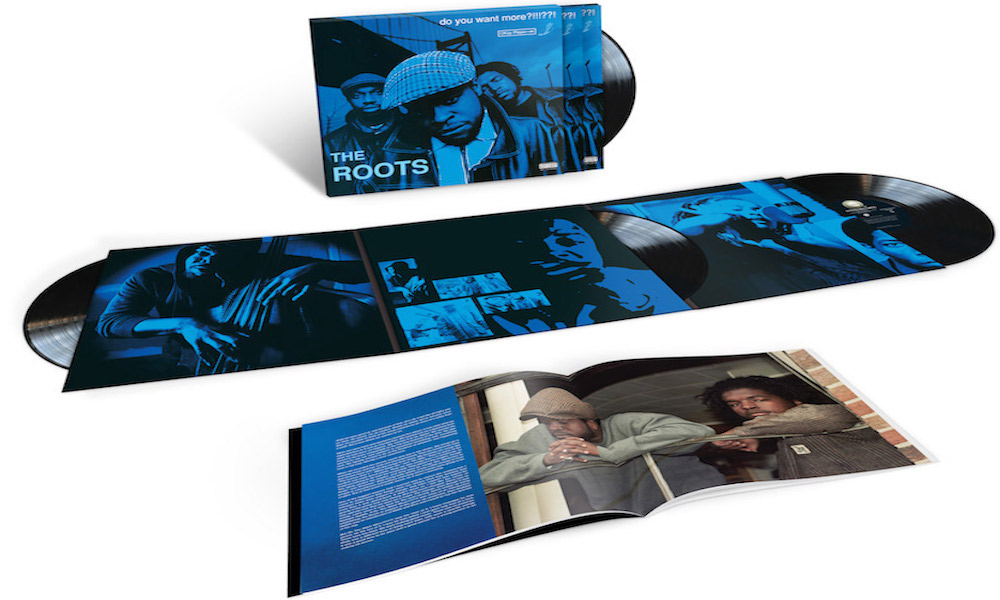 In honor of its 25th anniversary, The Roots' classic sophomore album Do You Want More?!!!??! will be released on vinyl l in a deluxe 3LP and 4LP exclusive package on March 12 via UMe/Urban Legends.
The exclusive 4LP package of the album will be released as the original 2LP album remastered from original tapes. It will feature additional material in the form of bonus tracks curated by Questlove for the anniversary release.
The vinyl is packaged in a lift-top box with a euro sleeve and is completed with a foil finish. Inside appears a booklet with rare photos and essays courtesy of Questlove and Black Thought in addition to track-by-track commentary. In addition to the physical releases, the Do You Want More?!!!??! 25th-anniversary package will also be accompanied by a digital deluxe.
The Roots will be releasing portions of the additional material in the lead up to the release of the 3LP and 4LP packages. On January 22, they released "Silent Treatment (Street Mix)" on streaming services, adding a fresh take on their classic 90s rap ballad. Releases of "Lazy Afternoon (Alternate Version)" and "In Your Dreams (I'm Every MC)" are forthcoming.
Silent Treatment (Street Mix)
Released January 17, 1995, Do You Want More?!!!??! is the second studio album and major-label debut from the original The Roots crew, including Scott Storch. Released to critical acclaim, the Chicago Tribune wrote that the album is "an impressive display of skills, intelligently arranged and performed."
Throughout Do You Want More?!!!??! the collective's lyricism is quick-witted and razor-sharp. The project showed The Roots experimenting with genre in a way that labeled them as one of the most creative acts in hip-hop thanks to their fusion of live instrumentation and jazz into their underground hip-hop sound.
Do You Want More?!!!??! will be available on March 12 and can be pre-ordered here
Do You Want More?!!!??!
Side A
A1 Intro / There's Something Goin' On
A2 Proceed
A3 Distortion To Static
A4 Mellow My Man
A5 I Remain Calm
Side B
B1 Datskat
B2 Lazy Afternoon
B3 ? vs. Rahzel
B4 Do You Want More?!!!??!
Side C
C1 What Goes On Pt. 7
C2 Essaywhuman?!!!??!
C3 Swept Away
C4 You Ain't Fly
Side D
D1 Silent Treatment
D2 The Lesson Pt. 1
D3 The Unlocking
Bonus Tracks
Side E
E1 Proceed II Feat. Roy Ayers
E2 Proceed III
E3 Proceed IV (AJ Shine Mix)
E4 Proceed V (Beatminerz Mix)
E5 Silent Treatment (Kelo's Remix)
Side F
F1 Silent Treatment (Beatminerz Remix)
F2 Silent Treatment (Black Thought's 87 You And Yours Mix)
F3 Silent Treatment (Question's Mix)
F4 Silent Treatment (Street Mix)
Side G
G1 In Your Dreams Kid (I'm Every MC)
G2 The Ultimate (Original '94 Version)
G3 ……(dot dot dot…on & on)
G4 Pffat Time
Side H
H1 Swept Away (Original Draft)
H2 It's Coming
H3 Lazy Afternoon (Alternate Version)
H4 Distortion To Static (Freestyle Mix) [Clean]
H5 Distortion To Static (Quest Jim Mix) [Clean]