The Tragically Hip Announce Brand New Album, 'Saskadelphia'
The new record's title comes from a term coined by the band in a nod to the extensive touring they were doing in the early 1990s.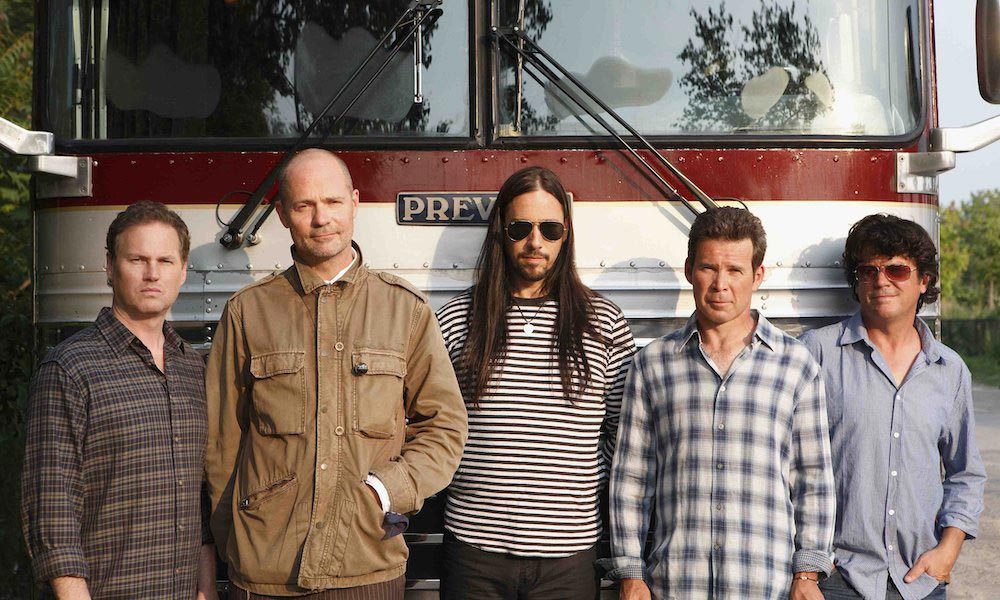 Celebrated Canadian band The Tragically Hip announce a brand-new album, Saskadelphia, out Friday, May 21.
Saskadelphia (Universal Music Canada/UMe) is made up of six previously unreleased tracks written in 1990. Five recorded in that same year during the Road Apples sessions in New Orleans, and one live track, "Montreal (Live from The Molson Centre, Montreal, 7 Dec 2000)," written at the same time, but for which the original recording is yet to be found.
With no shortage of material and higher ups at the American record label resisting the band's call to release a double album, countless tracks were left behind on the studio floor. And so one album, Road Apples, heads out into the world, a rung on The Tragically Hip's climb to legend status, while the rest of the tracks are tucked into boxes and moved out of sight. Until now.
A June 2019 article in The New York Times incorrectly listed the band among those who had lost tapes in a 2008 fire in the backlot of Universal Studios that triggered the memories of these tracks' existence.
"We felt we must have lost something too," says drummer Johnny Fay, "so, we began asking questions and eventually found our boxes of two-inch tapes with no labels. It became like a forensic process, looking for the handwriting of engineers we had worked with, like Bruce Barris or Mark Vreeken."
As it turned out, all of The Tragically Hip's materials had been relocated to Canada in 2001, and so in summer 2020, these abandoned souvenirs from the past were opened, revealing tapes.
"We knew we had a lot to look for because we recorded a lot back then. We didn't know what was there," Fay adds, "so this meant baking them and listening to them as they were being transferred, hearing them for the first time in 30 years. It was crazy."
Welcome to Saskadelphia: the record that stayed in the wings as Road Apples hit the stage. The title, a term coined by the band in a nod to the extensive touring they were doing in the early 1990s, was the original working title for Road Apples before it was rejected by those same label execs as being "too Canadian."
From lead single "Ouch," which greets listeners with the familiar roaring vocals of late singer and lyricist Gord Downie, to "Not Necessary," a song whose fiery sound is layered with gentle and emotional lyrics – are pure, undistilled The Tragically Hip, as Rob Baker (guitar), Gord Downie (vocals, guitar), Fay (drums), Paul Langlois (guitar) and Gord Sinclair (bass) lay the groundwork for their unmistakable sound.
"I went 'Wow' when I heard "Ouch" after all this time," says Rob Baker. "We were a pretty good little band."
After rediscovering the tracks they wrote more than three decades ago, The Tragically Hip knew they had to share the music with fans.
Consequently, Saskadelphia is a bittersweet record. As Sinclair puts it, "We are, sadly, never going to have the chance to put out new stuff. For us, in our minds, this is new." Langlois calls it nerve-wracking but hopes fans old and new appreciate "the sound of a band on fire." Baker is curious about the reaction, while Fay recalls how things used to be.
"When we made a record," he says, "we would be able to sit with it for a while after it was mixed and mastered. It was this golden time of two months or so, where we could play it for friends, but had no idea how it would do. We were just happy because it was a time capsule of that period of our lives, though we had probably moved on and played other gigs. It's one of those things that, when you're a band, you want as many people to hear your music as possible. You never really know, but it's nice to be able to get it out at the end of the day. It's part of our DNA."
The Tragically Hip are set to receive the 2021 Humanitarian Award Presented by Music Canada at the 50th Annual JUNO Awards on Sunday, June 6, in Toronto. Canadian Music Hall of Fame inductees and rock icons, Geddy Lee and Alex Lifeson of Rush will present the band with the award. The award recognizes outstanding Canadian artists or industry leaders whose humanitarian contributions have positively enhanced the social fabric of Canada and beyond.
Saskadelphia is out on 21 May. Scroll down to read the full tracklist and pre-order it here.
"Ouch"
"Not Necessary"
"Montreal" (Live from The Molson Centre, Montreal, Dec 7th, 2000)
"Crack My Spine Like a Whip"
"Just As Well"
"Reformed Baptist Blues"