Trombone Shorty Announces 2019 European Tour
Trombone Shorty will take his big band to Europe for the first time. He says his is "a spontaneous thing in the spirit of the way we grew up playing music".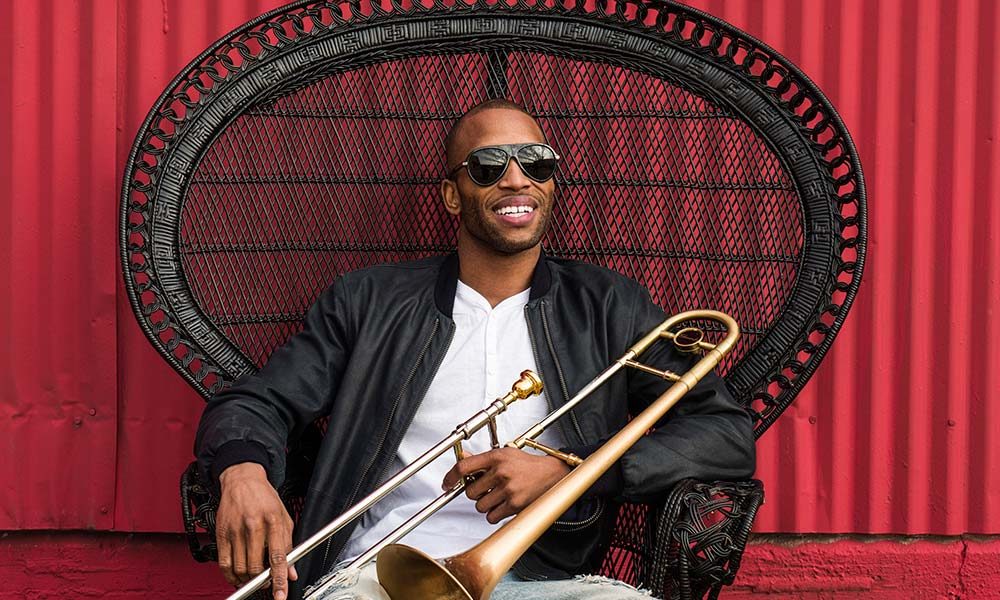 Though he's still only 32, it wouldn't be unfair or inaccurate to describe horn player extraordinaire Trombone Shorty as being long in the tooth. He's a bona fide veteran of the New Orleans music scene who performs "about 200 shows minimum a year", and has just announced a new run of European dates for March 2019.
"I played my first gig when I was four years old marching in the streets of New Orleans," he tells uDiscover Music. "And I got paid, too, because I put the money in a little shoebox to save up to buy some CDs." Barely able to stand up and carry his trombone – which he says "was at least two feet taller than I was and was so heavy it made me lean to the side" – the boy born Troy Andrews was given the nickname Trombone Shorty, which has stuck with him ever since, despite the fact that, as an adult, he stands six feet tall.
Today, in 2018, Trombone Shorty is one of the Crescent City's superstars. His last album, his 11th (and first for Blue Note), Parking Lot Symphony, topped the Billboard jazz albums chart, and his star-studded CV includes collaborations with Foo Fighters, U2, Lenny Kravitz and Mark Ronson. His combustible live performances have become unmissable events, and his 2019 European tour is set to take in England, Belgium, Germany, France, Holland, Poland, Switzerland, Italy and Spain.
Trombone Shorty - Parking Lot Symphony (Trailer)
The softly-spoken trombonist is deeply enthusiastic about his forthcoming trip. "I always look forward to playing in Europe," he says. "I love the idea of introducing new people to my music and to be able to play in front of all our fans that have been following us for a long time."
Shorty reveals that he'll be bringing an expanded version of his group, Orleans Avenue, with him: "When I go out of the country, there's usually just seven of us, but I'm going to bring my big band with me this time – two singers, a percussionist, two drummers, two guitar players, three horns, and myself. I've never travelled with that group over to Europe before."
Despite his dalliances with other types of music, which include funk, rock and hip-hop, Shorty confesses he is a jazz man at heart who likes to improvise. Even his setlist is open to experimentation. "My band knows that I'm known for not sticking to it, so when I call for a different song right in the middle of the gig they'll be ready to play it," he discloses. "It's really a spontaneous thing in the spirit of the way we grew up playing music on the streets of New Orleans, when some of the older musicians taught us how to read audiences and do different shows in different settings."
As the people of Europe will no doubt discover next March, Shorty is a consummate showman who always gives 100 per cent. A ticket to one of his shows ensures an authentic taste of New Orleans during Mardi Gras, even if you're in Manchester, Berlin or Warsaw. Euphoria is guaranteed.
Scroll down for the full tour dates, and buy tickets here.
Friday, 15 March 2019: Gorilla, Manchester, UK
Saturday, 16 March 2019: O2 Forum, London, UK
Monday, 18 March 2019: AB Ballroom, Brussels, Belgium
Tuesday, 19 March 19: Zoom, Frankfurt, Germany
Wednesday, 20 March 2019: Paradiso, Amsterdam, Netherlands
Thursday, 21 March 2019: Olympia, Paris, France
Saturday, 23 March 2019: Festsaal Kreezberg, Berlin, Germany
Sunday, 24 March 2019: Palladium, Warsaw, Poland
Tuesday, 26 March 2019: Kaufleuten, Zurich, Switzerland
Wednesday, 27 March 2019: Alcatraz, Milan, Italy
Friday, 29 March 2019: Razzmatazz, Barcelona, Spain
Format:
UK English