Tupac Shakur Receives Star On Hollywood Walk Of Fame
'From the first time he stepped foot on this stage of the Apollo Theater at 13 years old, before anyone recognized his name, he knew he had the dream to have a star here on the walk of fame.'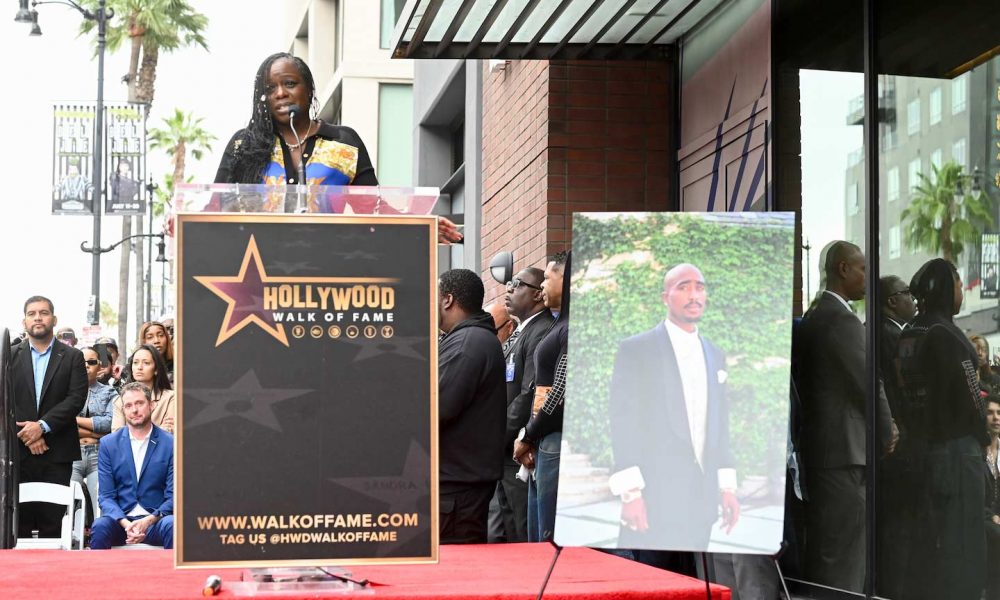 Tupac Shakur has been honored posthumously with a star on the Hollywood Walk of Fame. This morning, June 7th, the rapper's family and friends gathered on Hollywood Boulevard to unveil the new star and celebrate their loved one.
Emceeing the event, radio personality Big Boy began the ceremony by stating, "He defied the distinction between art and activism." He continued, "Though his career lasted just five years, Tupac Shakur remains one of the most complex and prolific artists of his generation with over 75 million records sold worldwide."
Big Boy was followed by Sekyiwa "Set" Shakur, Tupac's sister, who accepted the award on her brother's behalf. In an emotional speech, she explained, "From the first time he stepped foot on this stage of the Apollo Theater at 13 years old, before anyone recognized his name, he knew he had the dream to have a star here on the walk of fame." She continued, "Today, we're not just honoring a star in the ground, but we're honoring the work and the passion that he's put into making his dreams come true. His heavenly star will shine a little brighter today. And once again, he has made us all extremely proud. We love you, Tupac." 
🔴 LIVE: Tupac Shakur Hollywood Walk of Fame Ceremony | PEOPLE
Tupac's star is the 2,758th star awarded by the Hollywood Chamber of Commerce and will be classified under the recording category. Other speakers included Allen Hughes and Jamal Joseph, the director and executive producer of the recently released FX docuseries Dear Mama: The Saga of Afeni and Tupac Shakur, which focused on the relationship between the rapper and his mother.
Taking the mic, Hughes said, "How fitting in the year of hip-hop's 50th anniversary that the art form's most transcendent star is finally being placed on the Hollywood Walk of Fame. Tupac Amaru Shakur has become a global symbol of rebellion – a symbol as visible and important as Malcolm X and Che Guevara and an inspiration to activists today."