U2 Announce Dates For 'UV Achtung Baby Live At Sphere' In Las Vegas
The first-of-its-kind live music experience will see the legendary band launch the world's most cutting edge venue, Sphere @ The Venetian.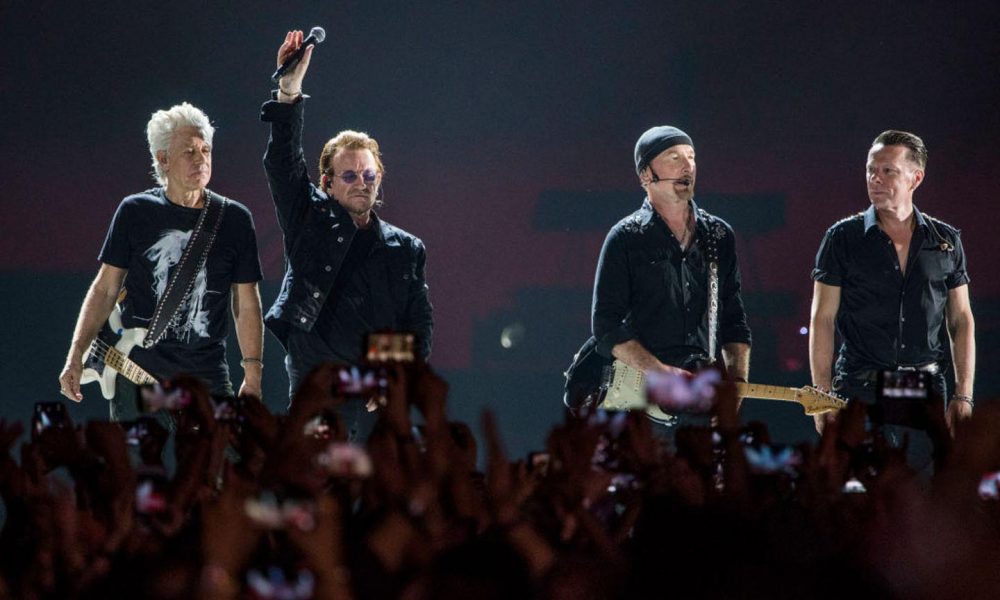 U2'S:UV Achtung Baby Live At Sphere', a first-of-its-kind live music experience will see the world's biggest rock band launch the world's most cutting-edge venue, Sphere at The Venetian in Las Vegas.
The long-awaited confirmation of thedates comes after U2 dropped the ultimate sneak peek – to a mass global audience – with a Super Bowl commercial back in February to let fans know that the band will return to the stage later this year for a special run of shows marking their first live outing in four years. For complete date, ticket and Vibee VIP & Hotel Package information visit the U2 page at Ticketmaster.
Shop the best of U2's discography on vinyl and more.
'U2:UV Achtung Baby Live At Sphere' is the band's latest ambitious creative project and will see them work once again with longtime U2 creative collaborator and show director Willie Williams.
It follows the massive success of the band's acclaimed Joshua Tree 30th anniversary stadium tour which was seen by over 3.2 million fans worldwide and their 2018 eXPERIENCE + iNNOCENCE indoor tour which played to a combined audience of 1 million across Europe and North America.
U2:UV Achtung Baby Live At Sphere (Extended Super Bowl Trailer)
U2 have always – since their earliest days, including the industry-defining ZOO TV Tour which broke the mold in 1991 – consistently pushed the boundaries of live performance, with ground-breaking stage shows that embrace the latest in technology and innovation. The announcement that the band will be the first musical act at Sphere, the next-generation entertainment medium that dominates the Las Vegas skyline, is fitting for a show from the world's most thrilling live band.
Bono, The Edge and Adam said, "U2 hasn't played live since December 2019 and we need to get back on stage and see the faces of our fans again. And what a unique stage they're building for us out there in the desert… We're the right band, Achtung Baby the right album, and Sphere the right venue to take the live experience of music to the next level… That's what U2's been trying to do all along with our satellite stages and video installations, most memorably on the ZOO TV Tour, which ended in Tokyo 30 years ago this Fall. Sphere is more than just a venue, it's a gallery and U2's music is going to be all over the walls."
The Edge added, "The beauty of Sphere is not only the ground-breaking technology that will make it so unique, with the world's most advanced audio system, integrated into a structure which is designed with sound quality as a priority; it's also the possibilities around immersive experience in real and imaginary landscapes. In short, it's a canvas of an unparalleled scale and image resolution and a once-in-a-generation opportunity. We all thought about it and decided we'd be mad not to accept the invitation."
U2: UV Achtung Baby Live At Sphere: dates announced:
FRIDAY, SEPTEMBER 29
SATURDAY, SEPTEMBER 30
THURSDAY, OCTOBER 5
SATURDAY, OCTOBER 7
SUNDAY, OCTOBER 8.
Listen to the best of U2 on Apple Music and Spotify.