Watch U2 Mini-Documentary On The Making Of Three Videos For 'One'
The 15-minute feature includes interviews with directors Anton Corbijn, Mark Pellington, and Phil Joanou, as well as behind-the-scenes footage.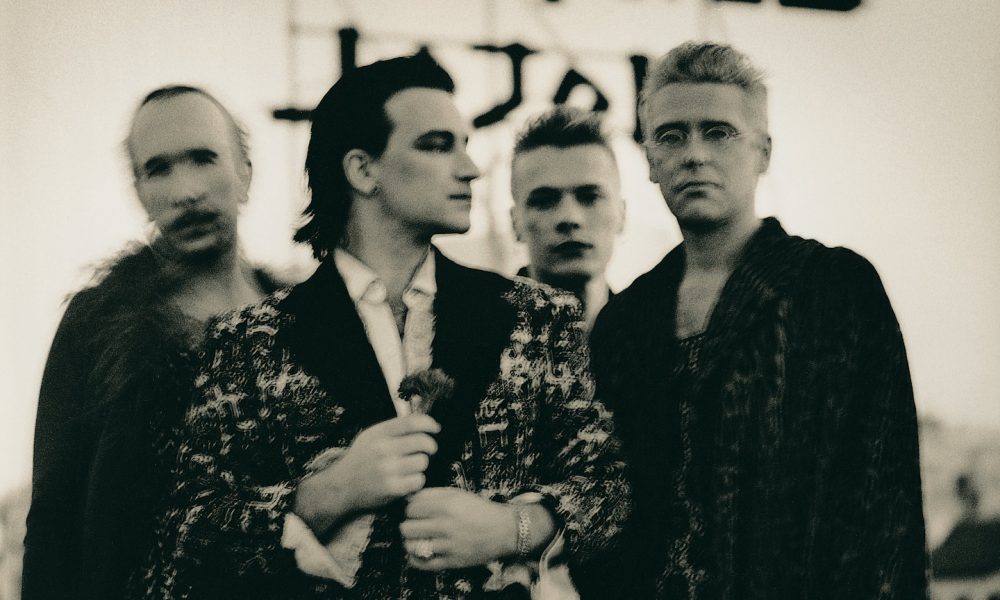 To accompany the release of the 30th anniversary editions of their landmark Achtung Baby album, U2 have shared a mini-documentary on their official YouTube channel about the making of the videos for one of its much-loved centrepieces, "One."
The 15-minute feature includes interviews with the directors of the song's music videos, Anton Corbijn, Mark Pellington, and Phil Joanou, as well as behind-the-scenes footage of each of the promos that were created for the song.
The documentary opens on New Year's Eve, 1989 with footage of U2's fourth and final show at the Point Depot in their home town of Dublin, featuring special guest B.B. King. At the end of an epic decade, the band and their team needed rest and recuperation, after which they decamped to Hansa Studios in Berlin to "dream it all up again" with producer-collaborators Brian Eno and Daniel Lanois.
U2 The Story Of One Remastered HD
There's footage of those sessions, which were by common agreement so fraught that the band questioned their very future. But then the song "One" arrived, and as the video's narration describes it, became "the turning point, the new beginning, and the start of the dream."
"One" was released as a single from Achtung Baby in February 1992, and U2 chose to donate proceeds from the new track to various Aids charities. They asked their trusted friend and longtime photographer Anton Corbijn to come up with ideas for a video, and the new clip includes archive footage of him talking about it along with scenes from its making. From the time, The Edge speaks about the band's realisation that the clip's footage of the band in drag risked being misinterpreted and "resexualising" the Aids issue, leading them to pull the video.
The feature then tracks the creation of the subsequent videos for "One" by Pellington, featuring footage of buffalos, and Joanou, the latter the director of U2's Rattle and Hum film. Joanou describes filming the band performing live on a Super-8 camera and making that clip in three days, before a closing performance of the song from the Zoo TV tour.
"One" became a No.1 hit in Ireland and Canada and topped Billboard's Alternative Airplay and Mainstream Rock charts. It went gold in the UK and Denmark and platinum in Italy and was a Top 10 success in the UK, US and around the world.
Pre-order the 30th anniversary editions of Achtung Baby.