uDiscover Hosts Limited Edition Box Set Of Chuck Berry's 'Great Twenty-Eight'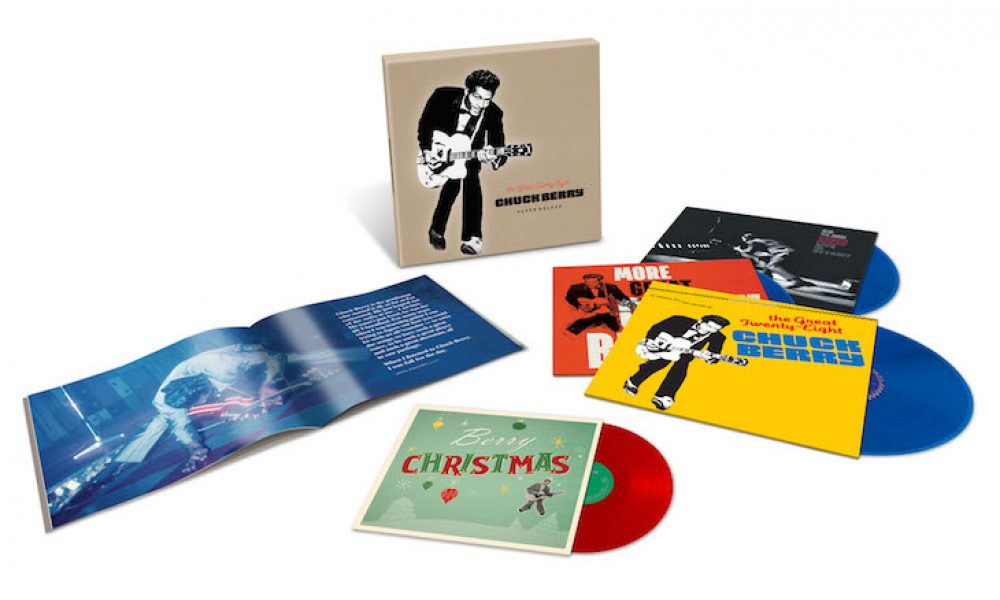 As we near the end of the year in which he passed away aged 90, the groundbreaking brilliance of rock 'n' roll innovator Chuck Berry will be commemorated by Geffen/UMe's release next month of The Great Twenty-Eight: Super Deluxe Edition. It's a lavishly expanded new box set version of the compilation released in 1982.
On 15 December, the album will be available as a limited edition, five-disc box set on "Chess Blue" vinyl, limited to just 500 copies worldwide and, we're proud to announce, available exclusively here via uDiscoverMusic.com. A standard black vinyl edition of the set will be widely available from 26 January 2018.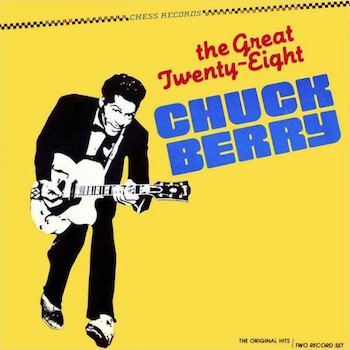 The Great Twenty-Eight: Super Deluxe Edition will be housed in a textured box, with the original two-LP compilation augmented by two additional albums and an EP. More Great Chuck Berry features 14 further hits, rarities and b-sides by the great man, while a rare live release, Oh Yeah! Live In Detroit, recorded in 1963, will be making its vinyl debut.
The collection is completed by the newly-created ten-inch EP, Berry Christmas, featuring four of his festive songs on "Rudolph-Red" vinyl. 'Run Rudolph Run,' 'Merry Christmas Baby' and 'Christmas' are joined on the disc by 'Spending Christmas,' also making its first appearance on vinyl.
The super deluxe edition also includes a handsome 12″ x 12″ book, with an introductory essay by Keith Richards and a new essay by bestselling author and SiriusXM host Alan Light, to complement Michael Lydon's liner notes from the original version of the retrospective. There are also reminiscences from DJ Lee Alan, plus Berry's complete US single, album and EP discographies, reproductions of Berry's original LP cover art  and rarely-seen photographs.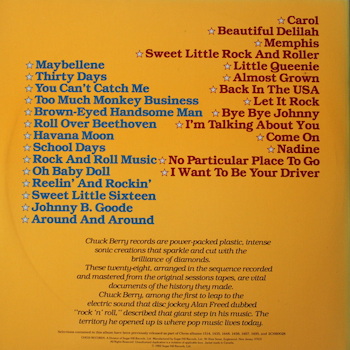 After its 1982 release, The Great Twenty-Eight became the most widely-appreciated of the countless compilations of Berry's work, so much so that it was No. 21 on Rolling Stone's "500 Greatest Albums of All Time" list. "When  The Great Twenty-Eight  was released in 1982," writes Light in his new notes, "it was immediately recognised as one of the essential albums in rock 'n' roll history.
"Enter this edition of  The Great Twenty-Eight, with 30 more Chuck Berry recordings—the Great Fifty-Eight, as it were—fleshing out the story of rock 'n' roll's poet laureate while also demonstrating, through the addition of a riveting live album from 1963, his power as a stage performer…the opportunity to spotlight additional facets of his music is the greatest contribution to his history that this collection offers."
Pre-order The Great Twenty-Eight: Super Deluxe Edition here. 
Format:
UK English