Velvet Underground's 50th Anniversary Celebrated With Career-Spanning Vinyl Box Set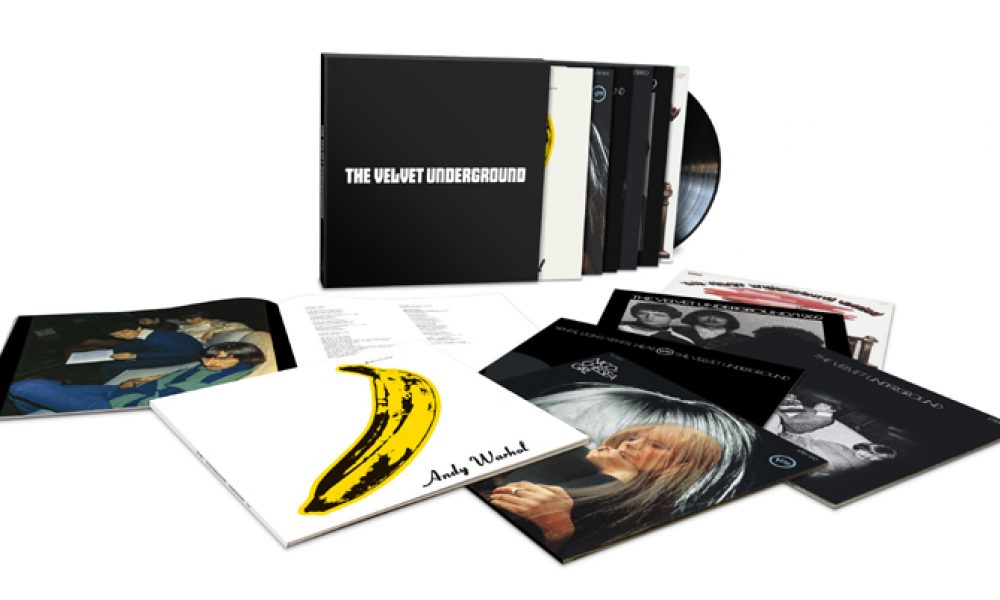 To celebrate The Velvet Underground's 50th anniversary, Verve Records/UMe is releasing The Velvet Underground, a limited-edition career-spanning box that collects all four of the pioneering band's studio albums in addition to Velvets collaborator Nico's debut LP, Chelsea Girl, and a reconstruction of the fabled "lost" 1969 album, making the latter available on vinyl for the first time.
The six albums are housed in a special black slipcase will be pressed on 180-gram black vinyl and feature stereo mixes and meticulously reproduced original cover art. The box will also include an exclusive 48-page booklet, featuring vintage photos, lyrics and a new foreword penned by founding member Maureen "Moe" Tucker. Limited to 1000 copies worldwide, the box set is set for release on 23 February 2018.
Assembled by Grammy-winning reissue producer Bill Levenson, The Velvet Underground incorporates six classic records from the band's vintage heyday including 1967's The Velvet Underground and Nico, their landmark debut, produced by the band's mentor Andy Warhol and includes such Velvets classics as 'Sunday Morning,' 'I'm Waiting for the Man,' 'Venus in Furs' and 'Heroin.' Nico's 1967 full-length solo debut Chelsea Girl, features songwriting and instrumental contributions from Velvets members Reed, Cale and Morrison as well as a young Jackson Browne. 1968's explosive White Light/White Heat, was the group's final album with co-founder Cale was followed by 1969's relatively restrained, introspective The Velvet Underground; and 1970's Loaded, which was the band's commercial breakthrough as well as its final studio album, with such beloved Reed anthems as 'Sweet Jane' and 'Rock & Roll.'
To honor the band's half a century legacy, Levenson has loving recreated the Velvet Underground's much-mythologized "lost" album, 1969, specially for this set. Nearly 50 years later, much remains unclear about these mysterious recordings. While there's been reports that the album was intended to be the band's fourth record only to be rejected by MGM, it's also possible they were scrapped by the band or possibly shelved by them for being ahead of its time. Whatever the real story is, these songs, recorded just after their lauded self-titled album, which include many gems like 'Foggy Notion,' 'Ride Into The Sun,' and 'I Can't Stand It,' help to tell the band's enigmatic story and shine a light on their creative restlessness and rapid evolution. For this new vinyl recreation, Levenson has assembled the album using 1969 and 2014 mixes. Although these recordings have been previously released, they've never been represented on vinyl in this expansive 2LP format. Side four of the second LP is rounded out with bonus tracks recorded in 1968 including 'Hey Mr. Rain' and 'Stephanie Says.'
The Velvet Underground's gritty, fearless creative vision remains unique and unmatched. Although the band met with little commercial acceptance during its existence, the seminal New York foursome of Lou Reed, John Cale, Sterling Morrison and Maureen Tucker, along with Doug Yule, is now considered one of most important rock and roll bands of all time, laying the groundwork in the '60s for punk, alternative, avant-garde, psychedelic rock, post-punk and shoegaze. The Velvets' revolutionary body of work stands as a one of rock's most distinctive catalogs and today their influence looms larger than ever.
The Velvet Undergound vinyl box set is released on 23 February. Scroll down to read the full tracklisting and pre-order it here.
Disc 1: The Velvet Underground and Nico
'Sunday Morning'
'I'm Waiting For The Man'
'Femme Fatale'
'Venus In Furs'
'Run Run Run'
'All Tomorrow's Parties'
'Heroin'
'There She Goes Again'
'I'll Be Your Mirror'
'The Black Angel's Death Song'
'European Son'
Disc 2: Nico: Chelsea Girl
'The Fairest of the Seasons'
'These Days'
'Little Sister'
'Winter Song'
'It Was A Pleasure Then'
'Chelsea Girls'
'I'll Keep It With Mine'
'Somewhere There's a Feather'
'Wrap Your Troubles In Dreams'
'Eulogy To Lenny Bruce'
Disc 3: White Light/White Heat
'White Light/White Heat'
'The Gift'
'Lady Godiva's Operation'
'Here She Comes Now'
'I Heard Her Call My Name'
'Sister Ray'
Disc 4: The Velvet Underground
'Candy Says'
'What Goes On'
'Some Kinda Love'
'Pale Blue Eyes'
'Jesus'
'Beginning To See The Light'
'I'm Set Free'
'That's The Story Of My Life'
'The Murder Mystery'
'After Hours'
Disc 5: 1969
'Foggy Notion' (original 1969 mix)
'One Of The Days' (2014 mix)
'Lisa Says' (2014 mix)
'I'm Sticking With You' (original 1969 mix)
'Andy's Chest' (original 1969 mix)
'I Can't Stand It' (2014 mix)
'She's My Best Friend' (original 1969 mix)
'We're Gonna Have A Real Good Time Together' (2014 mix)
'I'm Gonna Move Right In' (original 1969 mix)
'Ferryboat Bill' (original 1969 mix)
'Coney Island Steeplechase' (2014 mix)
'Ocean' (original 1969 mix)
'Rock & Roll' (original 1969 mix)
'Ride Into The Sun' (2014 mix)
'Hey Mr. Rain' (version one)
'Guess I'm Falling In Love' (instrumental version)
'Temptation Inside Your Heart' (original mix)
'Stephanie Says' (original mix)
'Hey Mr. Rain' (version two)
'Beginning To See The Light' (early version)
Disc 6: Loaded
'Who Loves The Sun'
'Sweet Jane'
'Rock & Roll'
'Cool It Down'
'New Age'
'Head Held High'
'Lonesome Cowboy Bill'
'I Found A Reason'
'Train Round The Bend'
'Oh! Sweet Nuthin'
Format:
UK English