The Verve's 'Urban Hymns' Gets Even More Epic With 6-Disc Box Set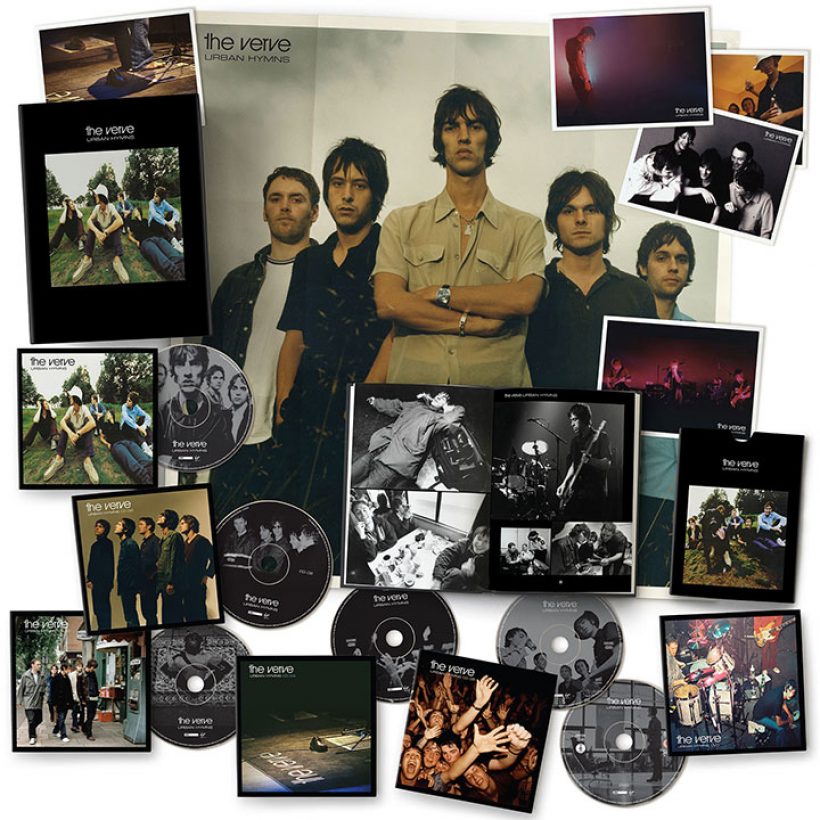 Twenty years since Urban Hymns took The Verve from beloved cult band to globe-straddling heroes, the album receives a six-disc super deluxe box set reissue.
Boasting the remastered album alongside period B-sides and a flood of previously unreleased live recordings – including the group's landmark hometown performance at Haigh Hall, Wigan, on 24 May 1998 – the 5CD+DVD box set is due for release on 1 September. 2CD and 3LP versions of the reissue are also being made available, while the uDiscover store is selling a limited edition 12" single ('Bitter Sweet Symphony' [alternate version]/'The Drugs Don't Work' [live from 9.30 Club, Washington, DC]) that brings some serious Verve rarities on to wax.
Before the release of Urban Hymns, The Verve had built a loyal following off the back of their first two albums, A Storm In Heaven and A Northern Soul. Then Britpop truly took hold in the UK and the group turned to writing songs that expanded on their already epic vision. With the likes of the widescreen 'Bitter Sweet Symphony', 'The Drugs Don't Work', 'Lucky Man' and 'Sonnet', The Verve incorporated a new style of songwriting to sit alongside their established groove-laden style, while 'The Rolling People' and 'Catching The Butterfly' tapped into the neo-psychedelic soundscapes the band had perfected since their debut album.
By the time the album came out, on 29 September 1997, Britpop was essentially over and Urban Hymns stood as the perfect soundtrack: introspective without being morose; ambitious without being excessive.
The Verve - Bitter Sweet Symphony
"It was this beautiful, natural hybrid that can only be done by people who haven't been taught music and someone who's writing songs from the heart and soul," frontman Richard Ashcroft recalls today. "You take that and then add the real complexity and detail to these songs that are actually, in some respects, basic. That's how you get that quality and songs that work so well in the mainstream, but also have this depth and timelessness."
Capturing this unique period in both the band's career and British rock history, The Verve: Photographs By Chris Floyd is being published in September 2017 and offers an up-close-and-personal document of the group's transition into megastars. Limited copies of the book will also be sold through the uDiscover store, while stocks last.
The Verve's Urban Hymns reissue will be released on 1 September. Scroll down to read the deluxe box set tracklisting, and order the reissue here.
The full Urban Hymns: Deluxe Edition tracklist is:
CD1: Urban Hymns (remastered album)
'Bitter Sweet Symphony'
'Sonnet'
'The Rolling People'
'The Drugs Don't Work'
'Catching The Butterfly'
'Neon Wilderness'
'Space And Time'
'Weeping Willow'
'Lucky Man'
'One Day'
'This Time'
'Velvet Morning'
'Come On'
CD2: B-sides
'Oh Lord I Guess I'll Never Know'
'Country Song'
'Bitter Sweet Symphony (James Lavelle Remix)'
'So Sister'
'Echo Bass'
'Three Steps'
'The Drugs Don't Work' [original demo]
'The Crab'
'Stamped'
'Never Wanna See You Cry'
'Bitter Sweet Symphony (MSG Version)'
'The Longest Day'
'Lucky Man (Happiness More Or Less)'
CD3: B-sides (continued), plus two session tracks issued in 2004
'Bitter Sweet Symphony' [extended version]
'This Could Be My Moment' [session track issued in 2004]
'Monte Carlo' [session track issued in 2004]
Previously unreleased BBC Evening Session, 27 August 1997
'Life's An Ocean'
'A Man Called Sun'
'The Drugs Don't Work'
'On Your Own'
'So Sister'
CD4: Live At Haigh Hall, 24 May 1998 (previously unreleased)
'This Is Music'
'Space And Time'
'Catching The Butterfly'
'Sonnet'
'The Rolling People'
'Neon Wilderness'
'Weeping Willow'
'The Drugs Don't Work'
'Lucky Man'
'Life's An Ocean'
'Velvet Morning'
'Bitter Sweet Symphony'
CD5: Previously Unreleased
Haigh Hall encore:
'One Day'
'History'
'Come On'
Further live material (Washington/Brixton/Manchester, 1997/98)
'A New Decade' [9.30 Club, Washington, DC, 3 November 1997]
'The Rolling People' [Brixton Academy, London, 16 January 1998]
'On Your Own' [Brixton Academy, London, 16 January 1998]
'History' [Brixton Academy, London, 16 January 1998]
'The Drugs Don't Work' [9.30 Club, Washington, DC, 3 November 1997]
'Slide Away' [Manchester Academy, Manchester, 11 August 1997]
'A Man Called Sun' [9.30 Club, Washington, DC, 3 November 1997]
'A Northern Soul' [9.30 Club, Washington, DC, 3 November 1997]
'Space And Time' [Brixton Academy, London, 16 January 1998]
'This Is Music' [Manchester Academy, Manchester, 11 August 1997]
'Weeping Willow' [9.30 Club, Washington, DC, 3 November 1997]
'Stormy Clouds' (and 'Reprise') [Manchester Academy, Manchester, 11 August 1997]
DVD
The Video 1996-1998 documentary, first time on DVD
Previously unreleased Later… With Jools Holland appearance, 1 November 1997
'Lucky Man'
'Life's An Ocean'
'The Drugs Don't Work'
'Bitter Sweet Symphony'
Previously unreleased Live At Haigh Hall
'This Is Music'
'Space And Time'
'Catching The Butterfly'
'Sonnet'
'The Rolling People'
'Neon Wilderness'
'Weeping Willow'
'The Drugs Don't Work'
'Lucky Man'
'Life's An Ocean'
'Velvet Morning'
'Bitter Sweet Symphony'
'One Day'
'History'
'Come On'
Promo videos
'Bitter Sweet Symphony'
'The Drugs Don't Work'
'Lucky Man'
'Lucky Man (US version)'
'Sonnet'
Format:
UK English