Four Landmark War Child Charity Compilations To Receive Vinyl Reissues
'1 Love', 'Hope', 'Help! A Day In The Life' and 'War Child Presents Heroes' are all returning in March 2022.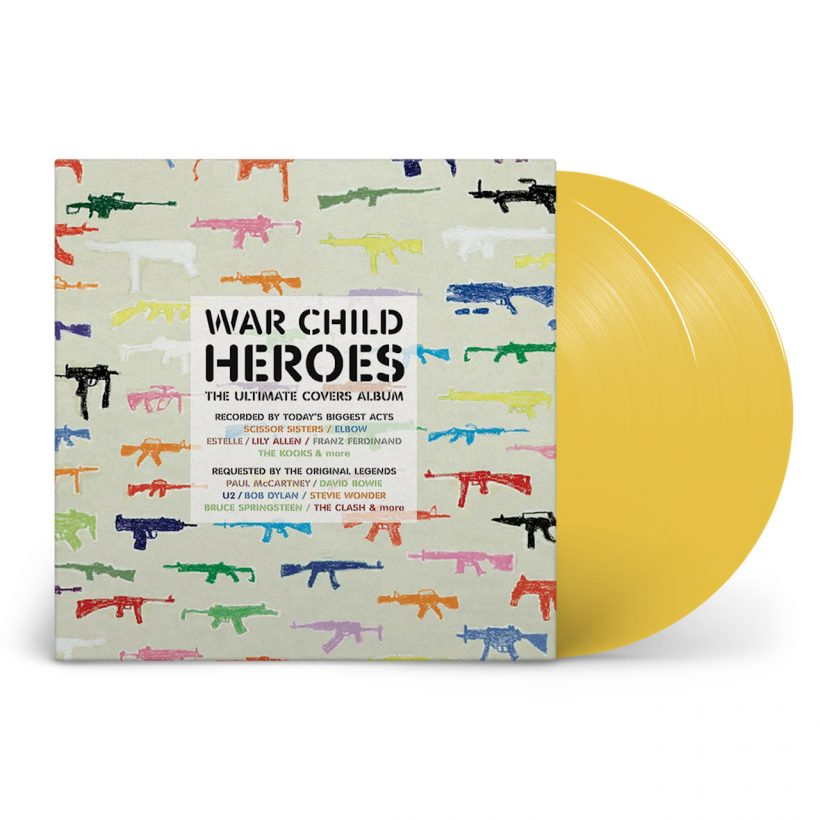 Four landmark compilation albums – 1 Love, Hope, Help! A Day In The Life and War Child Presents Heroes – which were originally released to raise funds for the War Child charity between 2002 and 2009 – will be reissued on vinyl through War Child Records/Virgin Music on March 25, 2022.
All four titles will be available on black and limited-edition colored vinyl and – as was the case with the original releases – all the proceeds from these new vinyl editions will directly fund War Child's life-saving work with children affected by conflict.
The prototype for these four albums was 1995's War Child-affiliated Help!, which provided aid to war-stricken areas, such as Bosnia and Herzegovina. All the songs were recorded in a single day, with those contributing including Paul McCartney, Paul Weller, Radiohead, Oasis, Blur, and the Manic Street Preachers. These ground-breaking releases was followed by 1 Love (2002), Hope (2003), Help!: A Day in the Life (2005) and War Child Presents Heroes (2009).
Help!'s recording was inspired by the concept behind John Lennon's "Instant Karma!", following through on the idea that records, like newspapers, should be released as soon as they are recorded. Help! was recorded on Monday, September 4, 1995, mixed the following day, and was in shops on Saturday, September 9. The original version release did not include any tracklist attached to the sleeve notes – the tracklisting was instead printed as a full page ad in the NME.
Originally released in 2002 in partnership with NME to celebrate their 50th anniversary and 50 years since NME printed the first-ever singles chart in the UK, the next War Child album, 1 Love saw the cream of British artists come together to pick their favorite number one to cover.
Having appeared on Help! , Oasis continued their support of War Child with an acoustic rendition of Slade's Christmas classic "Merry Xmas Everybody". Stereophonics chose "Nothing Compares 2 U" with Kelly Jones's gravelly vocal complementing this stripped-back version of the track written by Prince, performed by The Family, and taken to number one by Sinead O'Connor in 1990.
Elsewhere on 1 Love, Jimmy Eat World transformed The Prodigy's "Firestarter"; Elbow took on Thunderclap Newman with a low-fi cover of "Something In The Air" and there were contributions from Manic Street Preachers, Faithless and Dido, Badly Drawn Boy, and many more.
The next title, Hope was first released in partnership with The Daily Mirror in April 2003 as a response to the Iraq War, the artist community came together for War Child once more with some of the biggest names in music recording an album of exclusive tracks in just three weeks to raise vital funds to give hope to the children of Iraq.
George Michael contributed a beautiful cover of Don McLean's "The Grave" a song originally written in protest to the Vietnam War that has resonated with him as a 7-year-old and perfectly captured his sentiments about the Iraq crisis. Travis continued the anti-war theme with an acoustic version of "The Beautiful Occupation" and Paul McCartney added to the project with an alternate rendition of "Calico Skies" which contains a poignant verse about the futility of all wars.
Additionally, Hope featured decisive contributions from New Order, David Bowie, The Charlatans, and Beverley Knight, while the album was wrapped up by Yusuf/Cat Stevens who recorded his first pop song for 25 years with a new version of his 1971 hit "Peace Train" with South African choir the Incwenga Singers. The vinyl release of Hope features alternate artwork using the original concept designed by Nick Robertson that has never been used before.
To celebrate the tenth anniversary of the iconic Help! album a new generation of artists came together to create, at the time, the fastest album ever. They recorded Help! A Day In The Life on Thursday, September 8, 2005 which the record available for download just 32 hours later.
Bands delivered tracks from all around the world, Damon Albarn canceled a flight to China so Gorillaz could record their track, "Hong Kong". The Kaiser Chiefs recorded a cover version of "I Heard It Through the Grapevine" whilst on tour in Berlin and the Manic Street Preachers sent in their third contribution to a War Child album, "Leviathan", from South Wales.
Elbow recorded a new song called "Snowball", which lead singer Guy Garvey described as dealing with his outrage at the UK involvement in the Iraq conflict. Its first line: "The biggest mistakes will be forgiven but the snowball of white lies will crush our hearts."
Alongside the Manic Street Preachers and Radiohead, John Squire also returned from the original Help! album to design the cover of Help! A Day In The Life which also features illustrations from Paul Smith and Duncan Lloyd of Maximo Park.
War Child Presents Heroes, meanwhile, arguably remains the ultimate covers album – an unprecedented coming together of music's greatest ever legends and with their favorite artists of the time to support children whose lives have been torn apart by war. The album concept sees the biggest heroes in music history select a personal favorite track from their own back catalog and nominate an act from the next generation to create a modern reworking of that classic song.
Legends supporting the album include David Bowie, Bob Dylan, Brian Wilson, The Kinks, Roxy Music, Joy Division, The Clash, Ramones, Blondie, and Iggy Pop. And the artists taking on those covers includes Scissor Sisters, Elbow, Beck, The Kooks, Rufus Wainwright, Estelle, Hot Chip, The Hold Steady, and Lily Allen.