Yard Act Recruit Elton John For New Version Of '100% Endurance'
The closing track from 'The Overload' now comes with a very special guest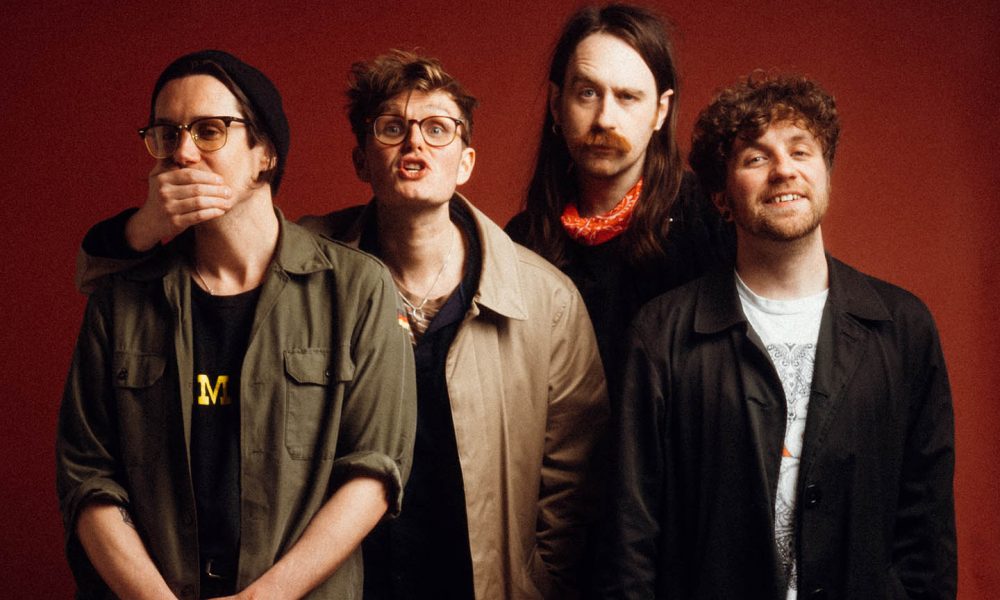 Yard Act have recruited Elton John for a new studio version of "100% Endurance," the last track on their critically acclaimed 2022 debut album, The Overload.
The unlikely collaboration came about after the iconic British pop star shared his love for the rising Yorkshire band in interviews. Phone calls between the two acts followed, with Yard Act taking the plunge and inviting John to the studio to play piano on a song with them.
"From the first moment I heard Yard Act, I fell in love with James [Smith, frontperson]'s lyrics, and the way he's delivered the song," John said in a press release. "Their sound is such a breath of fresh air. When James called and asked if I would come into the studio I instantly loved the idea. I started out as a session musician in the late 60s and I absolutely loved it then.
"It was such a thrill to be thrown in with musicians I'd never met before, it pushed me out of my comfort zone and I became a better musician. During lockdown I had the time on my hands to really start doing that in a concerted way again, and I fell in love with the challenge and the process all over again. They're a very special band, with a massive future ahead of them and I'm honored they've let me be a part of their journey."
Yard Act - 100% Endurance (Elton John Version)
Smith added: "After he'd laid down the piano and laid down the vocals, taking direction from us and trying everything we asked, Elton reiterated his love of sessioning on other people's tracks and said something very poignant to me and Ali – 'I love playing on other people's songs, especially these guys, because I started off as a session musician. The fascinating thing is you hear things so differently from other people, and when you hear what they hear, then it all makes sense.'
"That insight, that curiosity, and that approach to music is the reason he's still standing (after all this time). Elton is a diamond. It was an honor to collaborate with him. My mum is showing off to all her mates and mad s__t happens when you do art."
The collaboration is just the latest highlight in a big year for Yard Act. Upon its release in January, The Overload charted at No.2 on the Official UK Albums Chart and was officially the biggest-selling vinyl debut of the century. At SXSW in March, they were given the Grulke Prize for Developing Non-US Act playing at the festival, while they've also held a sold-out tour in February and March, supported Jack White, and appeared on The Tonight Show starring Jimmy Fallon.
In December, the band will play their biggest headline show to date at London's O2 Kentish Town Forum, capping a phenomenal year for the group.