Yard Act Share The Video For Abrasive New Single, 'Rich'
The new track is the final taster from the Leeds quartet's Island Records debut, 'The Overload, due out on January 21.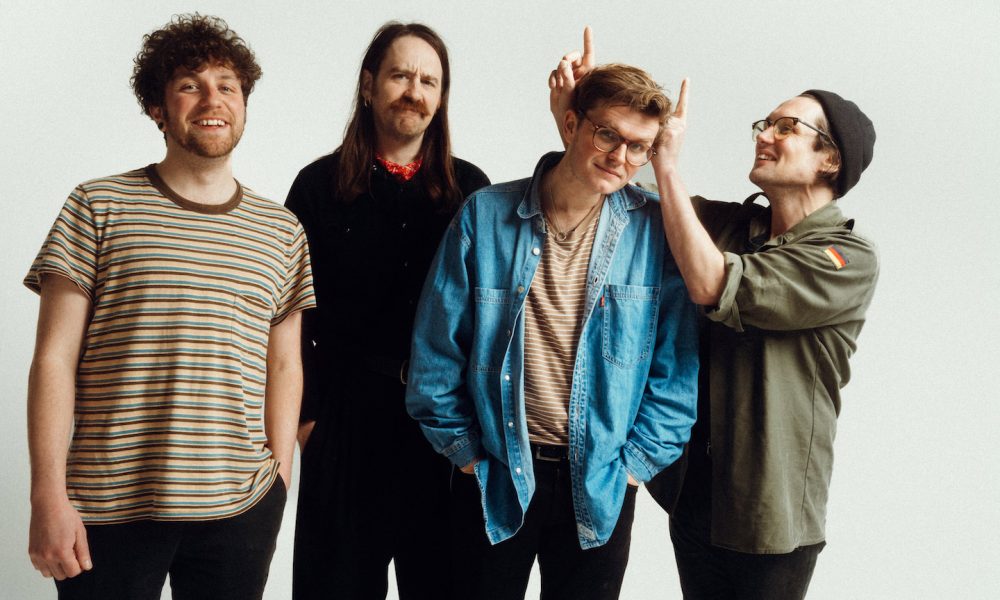 Leeds outfit Yard Act have today shared their new track and video "Rich" – the final taste of their feverishly anticipated debut album The Overload set for release on 21 January 2022 via Zen F.C. /Island. You can  check the video out below.
The Overload has been the subject of early glowing praise, receiving 5* reviews from Rolling Stone UK and DIY Magazine, 4.5 stars from Uncut, 4* and the coveted album of the month award from MOJO and 4* from Gigwise. Despite only releasing their debut single 'The Trapper's Pelts' in 2020, Yard Act have made a sensational impact, invigorating and revitalizing the UK's new bands scene in the process.
Alongside landing on the BBC Sound Of 2022 longlist this month, Yard Act also feature on the cover of DIY Magazine's Class of 2022 issue and the current cover of So Young Magazine.
Yard Act rounded off 2021 with a string of fully sold-out headline shows on their first ever UK tour – earning accolades such as The Observer's Artist Of The Week and a perfect 5* review in The Times along the way. Having already sold out their hometown Leeds show and Manchester headline in May 2022, Yard Act will play two huge shows at the O2 Academy and O2 Ritz in each city respectively. Information about all Yard Act headline shows, in-stores and the DIY Class Of 2022 tour are available from the band's official website.
Speaking about "Rich", James Smith explains: "'Rich' is the natural successor to "Payday". That's the end of the story right? Success! Status! Security! Except, there's always more money to be made, and you're deemed a failure if your life starts to head back in the direction it came from. It's about being so lost you're sure you know exactly where you are and how you got there. I also wrote "Rich" because I thought it would be quite funny if Yard Act made a s_t ton of money after I'd written an anti-capitalist concept album. It'll be funny if I'm singing "Rich" on stage when I've made my mint."
He elaborates: "At worst, it makes no sense, at best it comes off as pretentious, but that's the point I'm trying to make when I write anything really. Things only really make sense if you exclude the bits that don't back up the point you're trying to make. I'm a hypocrite just like everyone else. I don't have the answers and I'm just trying to do the best I can. It'll never be good enough though. Enjoy the ride, life is short and you never know what's round the corner."
The accompanying video for "Rich" is the band's fourth collaboration with director James Slater and his production team, following "The Overload", "Land Of The Blind", and "Payday" and further develops the world Yard Act have created and the characters that exist within it.
"The Overload" and "Payday" have been heavily supported across UK radio by the likes of BBC 6 Music ("The Overload" was added to the A-List and "Payday" is on the B-List now), Radio 1 (where "The Overload" was crowned the Introducing Tune Of The Week and received daytime airplay from everyone from Greg James to Arielle Free), and John Kennedy at Radio X (who featured "Payday" as a Hot One on the X-Posure show). The band also made their UK television debut in November, performing the album's title track and lead single on Later… with Jools Holland.
Spanning 11 entirely new tracks, The Overload is a record which rages with Yard Act's inimitable wit, musical dexterity and tasteful curation. Littered with Yard Act's signature dark humour and knowing cynicism, The Overload pokes fun at society without ever punching down from a place of superiority.
"Lyrically, I think it's a record about the things that we all do – we're all so wired into the system of day to day that we don't really stop and think about the constructs that define us," says Smith. "But also beyond that, it's kind of exciting, because there's still so much we don't understand; how a hive mindset is forged, how information spreads, how we agree and presume things without thinking. Some people think more than others, but a lot of this sloganeering – 'I'm on the left, I'm not wrong' – doesn't achieve anything. Gammons, Karens, Snowflakes, whatever – I find it all so boring. I'm just not into that."
Spearheaded by James Smith (vocals) and Ryan Needham (bass), the now four-piece, completed by Sam Shjipstone (guitar) and Jay Russell (drums), have built a sound that speaks inherently to their birthplace of Leeds, West Yorkshire, and yet ties together observations from all walks of modern British life – the small-town bloke in the local pub, the anti-capitalist stuck at a desk job, the tired activist in all of us torn between easy complicity and the desire to fight.
Having grown from relatively casual pub acquaintances to housemates, Smith and Needham found living together to be conducive to a high work rate, racking up demos in quick succession. Settling into a system of programming, looping and layering, the alchemy between the two created a base from which to build their narrative world. "Ryan is a vibe guy, whereas I overthink everything," laughs Smith. "It's been the greatest creative partnership I've ever had. When you find a groove that works, it just kind of looks after itself."
With just three hometown shows under their belt, world events intervened. But rather than letting the pandemic derail them Yard Act set up their own imprint, Zen F.C. and across the course of 2020 and into early 2021 released four increasingly coruscating, hilariously dark singles with 'The Trapper's Pelts', 'Fixer Upper', 'Peanuts' and Dark Days' all securing BBC 6 Music airplay, and despite circumstances, developing a remarkable, ever increasing fanbase.
Pulling off a debut album in a pandemic isn't easy, but somehow, Yard Act have made it work. Recording with Ali Chant (PJ Harvey, Perfume Genius, Aldous Harding) at his Bristol studio, those prolific demos have been sharpened down into something that speaks to the times we live in, creating a statement of intent that survives on nuance – a record of retro influences, recorded in a modern way. The Overload is a political record, but in the same way that all great observations of human nature are – a messy, complex, knowingly hypocritical snapshot of our current state of play.