Best Frank Sinatra Songs: An Essential Top 20
An introduction to a legend whose music was the soundtrack to the lives of millions.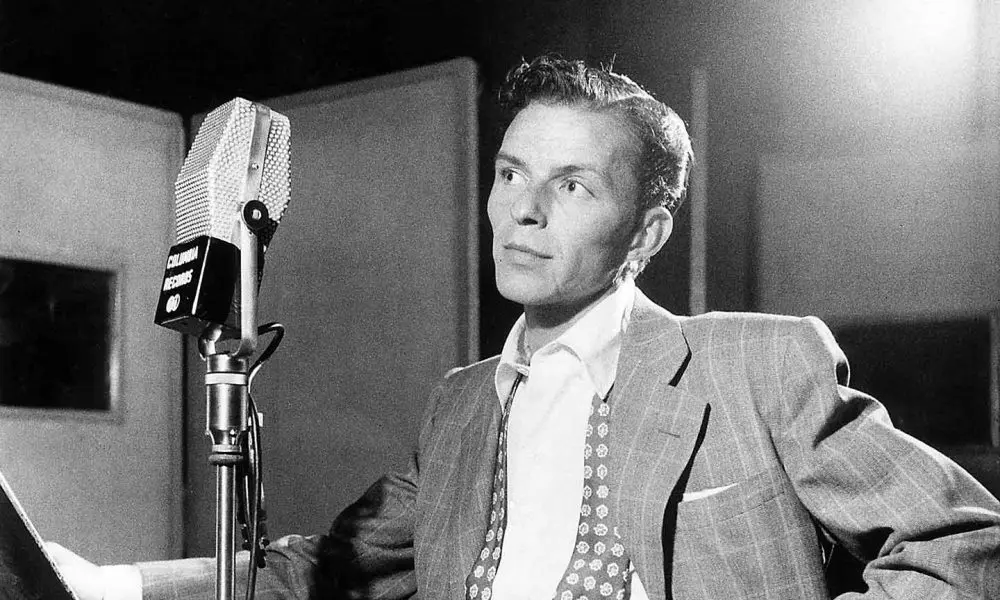 Frank Sinatra is a legend. His music was the soundtrack to the second half of the 20th century and the best Frank Sinatra songs resonate as strongly today as they ever did. He is the greatest popular singer there has ever been; the best interpreter of The Great American songbook; an actor and a man of style. He remains a cultural icon to both young and old.
Born in Hoboken, New Jersey, on December 12, 1915, Francis Albert Sinatra recorded well over 1,200 different songs – some on more than one occasion – and so this task is a major undertaking. But we've taken on the challenge of trying to distill his career. Impossible, you may think, and we would not disagree. But here we go…
The Classic Frank Sinatra Songs
These Frank Sinatra songs are so indelibly linked to Ol' Blue Eyes that they barely need an introduction. There's "Strangers In The Night": the title song for his 1966 album that went all the way to the top of the LP charts, helped by the fact that the single reached No. 1 on the Hot 100. But did you know veteran German bandleader, Bert Kaempfert, wrote the melody for "Strangers"?
"My Way" is more associated with Sinatra than any other song. It is, as DownBeat magazine later said, the song that "helped Frank reinvent himself." Composed as "Comme d'Habitude' (As Usual)," it was written by Jacques Revaux and Gilles Thibault, along with Egyptian-born French singer Claude Francois. Canadian singer Paul Anka came up with the English lyrics.
"New York, New York" was Sinatra's last song to feature on the Billboard Hot 100, entering the chart in the summer of 1980. From the point that Frank first began performing this song, just about everyone wanted to hear it at his concerts. And, for the rest of his career, Frank pretty much obliged, often using it as his closer. Written by John Kander and Fred Ebb, who also wrote Cabaret, it was the title song for the 1977 Martin Scorsese film of the same name. Although the Liza Minnelli/Robert De Niro film flopped, when Sinatra recorded it for his album Trilogy: Past Present Future in 1980, it quickly was heard all over the city, especially at ball games, and it soon became the Big Apple's unofficial theme song. It's been said that the song exemplifies both New York and Sinatra himself: it has swagger and bounce; it's soft and sassy, triumphal and tender.
Early Frank Sinatra Songs
Sinatra started out singing with the big bands in 1939, first joining Harry James in June of that year for "From the Bottom of My Heart," and going to record "All Or Nothing At All," which they cut on August 31, 1939 (it went to No. 1 in 1943 after being re-released by Columbia). That is our first song. Frank's first No. 1 was not, strictly speaking, a solo hit – and that's not just because Tommy Dorsey's name appeared on the label in the largest type. Tommy Dorsey and The Pied Pipers (along with Frank, using an arrangement by Fred Stulce, Tommy's alto sax player) recorded the song on May 23, 1940, three months after he joined the band.
Listen to our playlist of the best Frank Sinatra songs.
Frank went out on his own as a solo singer in December 1942. Within three months he was the Bobby Soxer's idol; within a year he was the original pop idol, with a string of hits to his name, many of which jostle for a place among the best Frank Sinatra songs.
In May 1945, Frank recorded two songs for a new film project entitled The House I Live In, as well as spending two days filming the 10-minute short film. The song was arranged by Axel Stordahl and recorded on VE Day in Europe. Frank's was not the original version of the song; the black gospel group The Golden Gate Quartet were featured singing the song in the 1944 movie Follow The Boys. Abel Meeropol wrote the lyrics in 1943, under the name Lewis Allan (he also wrote the words to Billie Holiday's "Strange Fruit"), while, in 1998, "The House I Live In" was inducted into the Grammy Hall Of Fame.
The 50s
There are few songs that are more closely associated with Sinatra than "Nancy (With The Laughing Face)," it reminds us all that Nancy was the name of his wife and eldest daughter, but did you know the song was co-written by comedian, Phil Silvers? At his second session for Capitol Records, in late April 1953, Frank cut a classic with Nelson Riddle arranging and conducting the orchestra: "I've Got The World On A String" proved to be prophetic.
1954 was a busy year for Sinatra. He was an Academy Award winner for his rendition of "Three Coins in the Fountain," which won as Best Original Song from the film of the same name. He also released Songs for Young Lovers, which had an indelible version of Cole Porter's "I Get a Kick Out of You."
Frank Sinatra - I've Got The World On A String
Sinatra began recording the tracks for his In The Wee Small Hours album in March 1954, too, and cut the (almost) title track almost a year later. (The song's full title is "In the Wee Small Hours of the Morning.") It remains one of the seminal songs of lost love. Sinatra specialized in these types of songs (and albums) throughout his career, with "I Couldn't Sleep a Wink Last Night," "I'll Never Smile Again," "Where Are You?," and Only the Lonely among the highlights.
Like In The Wee Small Hours, Songs For Swingin' Lovers! was arranged and conducted by Nelson Riddle, but is the polar opposite in style and feel. "I've Got You Under My Skin," recorded in January 1956, is arguably the greatest swinging love song ever made, and Frank's vocal on it is one of his greatest. As songwriter Jimmy Webb says: "Frank seems to have co-invented a style of big band accompaniment that just took off like some big rocket. I could see it on his face, on stage, when the band started to blow on 'I've Got You Under My Skin.' He knew we were going to a place where man had never gone before." It took 22 takes to nail it, and credit goes to Milt Bernhardt, who plays the famous trombone solo.
"Witchcraft," recorded in May 1957, made the US Top 10 in January 1958 and is one of those Frank Sinatra songs that suit him perfectly. This Cy Coleman and Carolyn Leigh song was nominated for a Grammy the following year, but was narrowly beaten by Domenico Modugno's "Nel Blu Dipinto Di Blu (Volare)." Sinatra would go on to win 13 Grammys during his storied career, and his contemporary Tony Bennett would win the Grammy Award for Best Traditional Pop Vocal Performance for his Sinatra cover album Perfectly Frank in 1992. Sinatra appeared on a TV show with Elvis shortly afterwards, and while the man from Tupelo sang "Witchcraft," Frank sang "Love Me Tender," we prefer Frank's version, with its wonderful Nelson Riddle intro that leads to the sublime opening: "Those fingers in my hair, that sly come hither stare…"
Frank Sinatra - Witchcraft (Welcome Home Elvis)
"Come Fly With Me" is the title track to Frank's album released in early 1958. It perfectly caught the mood of America: a country fully at one with itself, full of promise and hope – and with WWII firmly behind it. Billy May arranges "Come Fly With Me," and his slurping saxes and joie de vivre is evident throughout the record. Frank had also asked Jimmy Van Huesen and Sammy Cahn to write some travel songs and they came up trumps with "Come Fly With Me" and "It's Nice To Go Trav'ling." "Credit should be given to the writers Sammy and Jimmy – good songs bring out good singers," said Billy May.
Rodgers and Hart's "Lady Is A Tramp" feels like it was made for Sinatra, with its sassy, understated Riddle arrangement, while No One Cares was an album arranged by Gordon Jenkins – and it's a beauty that includes "Here's That Rainy Day," a song written by Jimmy Van Huesen and Johnny Burke, and recorded in March 1959. Frank nails this beautiful song from the little-known 1953 Broadway musical Carnival In Flanders.
Frank Sinatra - Come Fly With Me
"Angel Eyes" was recorded in March 1958 in the new Capitol Towers studio and shows how brilliantly the engineers had mastered the new facility. Of course, it helps that Frank is in perfect voice on the Matt Dennis and Earl Brent song; it remains a big favorite amongst Sinatra aficionados. Another wonderful Riddle arrangement is found on "The Nearness Of You." The Hoagy Carmichael song that had been sung by so many since he wrote it in 1938 is given the definitive reading by Frank for his 1960 album, Nice'n'Easy.
The 60s
The Concert Sinatra album, released in 1963, could almost have been called Frank Sings Richard Rodgers, as six of the eight songs come from Rodgers' pen and one or other of his writing partners, Oscar Hammerstein III or Lorenz Hart. For many, this is one of Frank's most fulfilling albums of his early Reprise career. The huge orchestra cushioned Frank's vocals, and Nelson's effective arrangements offer a unique setting for some of the best songs from the Great American Songbook. It was Nelson Riddle's favorite Reprise album and it's easy to hear why. It's worth buying just for "I Have Dreamed," one of the greatest songs to come out of Frank and Nelson's long and fruitful partnership.
Frank Sinatra - Angel Eyes (2018 Stereo Mix / Audio)
One of Sinatra's great interpretations came alongside Riddle a year later with "The Way You Look Tonight." The song came from the film Swing Time, but Sinatra made it his own. It's since become a standard at weddings as the first dance song, and it's an undisputed highlight on Sinatra Sings Days of Wine and Roses, Moon River, and Other Academy Award Winners.
"Tonight will not swing. Tonight is for serious," announced the sleeve notes of the wonderful September Of My Years. It came out just a couple of months after Sinatra '65 and marked a return to the thematically orientated albums of the Capitol years. Against the odds, and the background of beat music, it became Frank's most artistically and commercially successful album since starting his Reprise label – but only in America. It failed to even crack the album charts in Britain.
"Frank Sinatra sings of days and loves ago… September Of My Years" is what it says on the cover. The album stands as both a reflection of a life lived and, at the same time, looks to the future. In part, this is down to the material that Frank chose. By his standards many of the songs are new, but in Frank's hands they sound like they are standards. Arranged and conducted by Gordon Jenkins, it is a synthesis of their romantic talents. The settings allow Frank to be totally open with his feelings, illustrating what Frank had told Playboy in 1963: "When I sing, I believe, I'm honest. If you want to get an audience with you, there's only one way. You have to reach out to them with total honesty and humility."
"Somethin' Stupid" was a 1967 hit duet with Frank's daughter, Nancy Sinatra. (It hit No. 1 in the US and the UK in April 1967.) Nancy, of course, had her own incredible career, most notably with the hit "These Boots Are Made for Walkin'."
Frank's been called the ultimate saloon singer and "One for My Baby (And One More for the Road)," written by Harold Arlen and Johnny Mercer, is the ultimate saloon song. The version we've picked is the consummate live version from Sinatra At The Sands recorded in early 1966 with Count Basie's Orchestra. In December 1967, Sinatra worked with another jazz great, Duke Ellington, and made the album Francis A And Edward K. It includes "Indian Summer": the arrangement is reflectively modern and at the same time old fashioned, as befits a song from 1919 – it must have been the "Ellington Effect." Some have gone as far as saying it is one of the best songs Frank ever recorded for Reprise. Johnny Hodges' sax solo certainly adds to the overall effect, and so enthralled was Frank during the recording that, when the solo ends, he's half a second late coming in.
Frank Sinatra - Strangers In The Night
The Standards
Sinatra, of course, made a habit of making jazz standards his own. The list is long, but a few highlights are worth mentioning, like "My Funny Valentine," "I Get a Kick Out of You," "I've Got a Crush On You," and "People Will Say We're in Love." Whether it was Cole Porter, the Gershwins, Rogers & Hart, or someone else, the Chairman of the Board knew how to take their "I love you" sentiments and make it feel like you were hearing them again for the first time.
The Frank Sinatra Christmas Classics
It's hard to imagine Christmas without the voice of Frank Sinatra. The singer became inextricably linked to the holiday in the late 1940s when he released Christmas Songs By Sinatra, the first Frank Sinatra Christmas album, arranged by the redoubtable Axel Stordahl. It contained eight traditional holiday songs, beginning with "White Christmas" (a song he first recorded in 1944 as a single), alongside carols such as "O Little Town Of Bethlehem" – apparently one of Sinatra's favorites – and "Santa Claus Is Coming To Town." That said, the undeniable Sinatra classics you need to know are "Let It Snow," "Mistletoe and Holly," and "Have Yourself A Merry Little Christmas."
"Let It Snow" was written in July 1945 during a heatwave in Los Angeles by the New York-based trumpeter Stordahl, who was Sinatra's preferred arranger in the late 40s and early 50s. Pizzicato strings open "Mistletoe and Holly," a song that Sinatra co-wrote with Dok Stanford and Hank Sanicola. Featuring on-the-money charts by Gordon Jenkins and sugar-coated vocals by The Ralph Brewster Singers, it was recorded in July 1957 and released as a single by Capitol later that year.
The much-loved evergreen, "Have Yourself A Merry Little Christmas," meanwhile, was first sung by Judy Garland on the Meet Me In St. Louis movie soundtrack. Sinatra first covered it in 1948, but it wasn't until later in the 1950s that he would record what is regarded as his definitive take on the song. – Charles Waring
Think we missed one of the best Frank Sinatra songs like "Mam'selle," "That Old Black Magic," or "Fly Me To the Moon"? Let us know in the comments below.