How Well Do You Know Paul McCartney's 'Flaming Pie'?
The 1997 record is among Paul McCartney's finest. But what do you actually know about the album and its recording?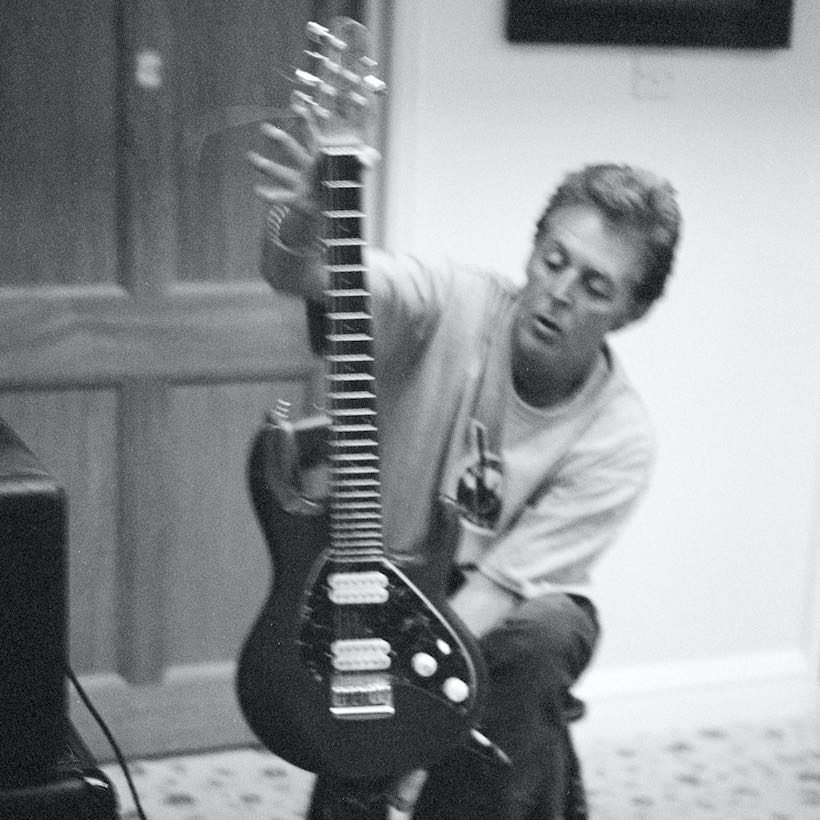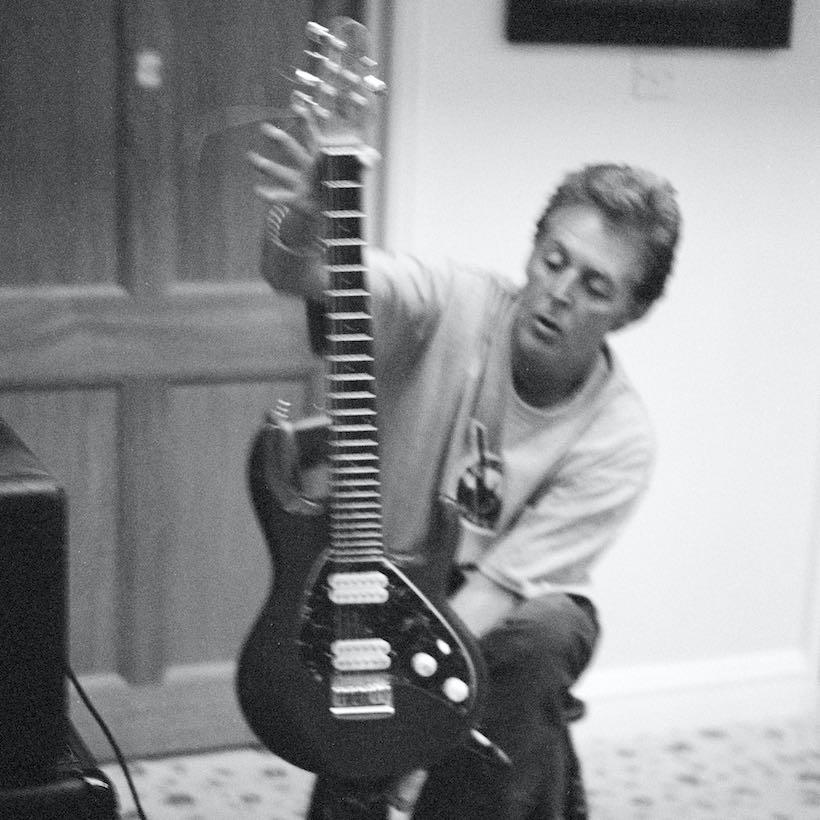 Paul McCartney's 1997 solo album Flaming Pie is among his finest. The record was written over the course of several years, and was a truly family affair. Contributions came from Linda McCartney, their son James, former Beatle Ringo Starr, and many more. But how well do you know the album? Test your knowledge with our Flaming Pie quiz below!
To get you in the mood, listen to Paul McCartney's Flaming Pie on Apple Music or Spotify for inspiration.

Flaming Pie will be released in multiple formats on July 31, 2020. Scroll down for the full tracklistings, and order it here.
DELUXE EDITION
Numbered cloth wrapped clam shell box
CD portfolio containing 5CDs and 2DVDs
128-page book containing previously unpublished images by Linda McCartney, expanded album artwork from the archives and the story behind the album – including track-by-track information, recipes and new interviews with Paul McCartney, Ringo Starr, Jeff Lynne, Steve Miller and key album personnel, written by Chris Heath.
Facsimiles of John Hammel studio notebook, Club Sandwich Magazine, Flaming Pie plectrum, and envelope containing handwritten lyrics for 8 tracks and The Flame newspaper
CD1 – Remastered Album
1. The Song We Were Singing
2. The World Tonight
3. If You Wanna
4. Somedays
5. Young Boy
6. Calico Skies
7. Flaming Pie
8. Heaven On A Sunday
9. Used To Be Bad
10. Souvenir
11. Little Willow
12. Really Love You
13. Beautiful Night
14. Great Day
CD2 – Home Recordings
1. The Song We Were Singing [Home Recording]
2. The World Tonight [Home Recording]
3. If You Wanna [Home Recording]
4. Somedays [Home Recording]
5. Young Boy [Home Recording]
6. Calico Skies [Home Recording]
7. Flaming Pie [Home Recording]
8. Souvenir [Home Recording]
9. Little Willow [Home Recording]
10. Beautiful Night [1995 Demo]
11. Great Day [Home Recording]
CD3 – In The Studio
1. Great Day [Acoustic]
2. Calico Skies [Acoustic]
3. C'mon Down C'mon Baby
4. If You Wanna [Demo]
5. Beautiful Night [Run Through]
6. The Song We Were Singing [Rough Mix]
7. The World Tonight [Rough Mix]
8. Little Willow [Rough Mix]
9. Whole Life [Rough Mix]
10. Heaven On A Sunday [Rude Cassette]
CD4 – Flaming Pies
1. The Ballad Of The Skeletons
2. Looking For You
3. Broomstick
4. Love Come Tumbling Down
5. Same Love
6. Oobu Joobu Part 1
7. Oobu Joobu Part 2
8. Oobu Joobu Part 3
9. Oobu Joobu Part 4
10. Oobu Joobu Part 5
11. Oobu Joobu Part 6
CD5 – Flaming Pie At The Mill
DVD1 – In The World Tonight
DVD2 – Bonus Film
1. Beautiful Night
2. Making Of Beautiful Night
3. Little Willow
4. The World Tonight [Dir. Alistair Donald]
5. The World Tonight [Dir. Geoff Wonfor]
6. Young Boy [Dir. Alistair Donald]
7. Young Boy [Dir. Geoff Wonfor]
8. Flaming Pie EPK 1
9. Flaming Pie EPK 2
10. In The World Tonight EPK
11. Flaming Pie Album Artwork Meeting
12. TFI Friday Performances
Plus downloadable 24bit 96kHz HD audio
COLLECTOR'S EDITION
All the contents of the Deluxe Edition plus:
Numbered cloth wrapped two-piece collector's box
4LPs including: exclusive remastered album cut at half speed across 2LPs; hand-stamped white label vinyl featuring home recordings; exclusive "The Ballad Of The Skeletons" 12" single with vinyl etching and poster
Exclusive marbled art print portfolio housing six Linda McCartney art prints
Watch the unboxing video here:
LP1 – Remastered Album
Side 1
1. The Song We Were Singing
2. The World Tonight
3. If You Wanna
Side 2
4. Somedays
5. Young Boy
6. Calico Skies
7. Flaming Pie
LP2 – Remastered Album
Side 3
8. Heaven On A Sunday
9. Used To Be Bad
10. Souvenir
Side 4
11. Little Willow
12. Really Love You
13. Beautiful Night
14. Great Day
LP3 – Home Recordings
Side 1
1. The Song We Were Singing [Home Recording]
2. The World Tonight [Home Recording]
3. If You Wanna [Home Recording]
4. Somedays [Home Recording]
5. Young Boy [Home Recording]
Side 2
6. Calico Skies [Home Recording]
7. Flaming Pie [Home Recording]
8. Souvenir [Home Recording]
9. Little Willow [Home Recording]
10. Beautiful Night [1995 Demo]
11. Great Day [Home Recording]
LP4 – The Ballad Of The Skeletons
Side 1
1. The Ballad Of The Skeletons
Side 2
Vinyl etching
3LP FORMAT
LP1 – Remastered Album
Side 1
1. The Song We Were Singing
2. The World Tonight
3. If You Wanna
Side 2
4. Somedays
5. Young Boy
6. Calico Skies
7. Flaming Pie
LP2 – Remastered Album
Side 3
8. Heaven On A Sunday
9. Used To Be Bad
10. Souvenir
Side 4
11. Little Willow
12. Really Love You
13. Beautiful Night
14. Great Day
LP3 – Home Recordings
Side 1
1. The Song We Were Singing [Home Recording]
2. The World Tonight [Home Recording]
3. If You Wanna [Home Recording]
4. Somedays [Home Recording]
5. Young Boy [Home Recording]
Side 2
6. Calico Skies [Home Recording]
7. Flaming Pie [Home Recording]
8. Souvenir [Home Recording]
9. Little Willow [Home Recording]
10. Beautiful Night [1995 Demo]
11. Great Day [Home Recording]
2LP FORMAT
LP1 – Remastered Album
Side 1
1. The Song We Were Singing
2. The World Tonight
3. If You Wanna
Side 2
4. Somedays
5. Young Boy
6. Calico Skies
7. Flaming Pie
LP2 – Remastered Album
Side 3
8. Heaven On A Sunday
9. Used To Be Bad
10. Souvenir
Side 4
11. Little Willow
12. Really Love You
13. Beautiful Night
14. Great Day
2CD FORMAT
CD1 – Remastered Album
1. The Song We Were Singing
2. The World Tonight
3. If You Wanna
4. Somedays
5. Young Boy
6. Calico Skies
7. Flaming Pie
8. Heaven On A Sunday
9. Used To Be Bad
10. Souvenir
11. Little Willow
12. Really Love You
13. Beautiful Night
14. Great Day
CD2 – Bonus Audio
1. The Song We Were Singing [Home Recording]
2. The World Tonight [Home Recording]
3. If You Wanna [Home Recording]
4. Somedays [Home Recording]
5. Young Boy [Home Recording]
6. Calico Skies [Home Recording]
7. Flaming Pie [Home Recording]
8. Souvenir [Home Recording]
9. Little Willow [Home Recording]
10. Beautiful Night [1995 Demo]
11. Great Day [Home Recording]
12. Beautiful Night [Run Through]
13. Whole Life [Rough Mix]
14. Heaven On A Sunday [Rude Cassette]
15. Great Day [Acoustic]
16. Calico Skies [Acoustic]
17. C'mon Down C'mon Baby
18. Looking For You
19. Broomstick
20. Love Come Tumbling Down
21. Same Love