'Pretty Girls Like Trap Music' By 2 Chainz Is How You Market a Rap Album
The rapper brought his 2017 record 'Pretty Girls Like Trap Music' to life on his own terms.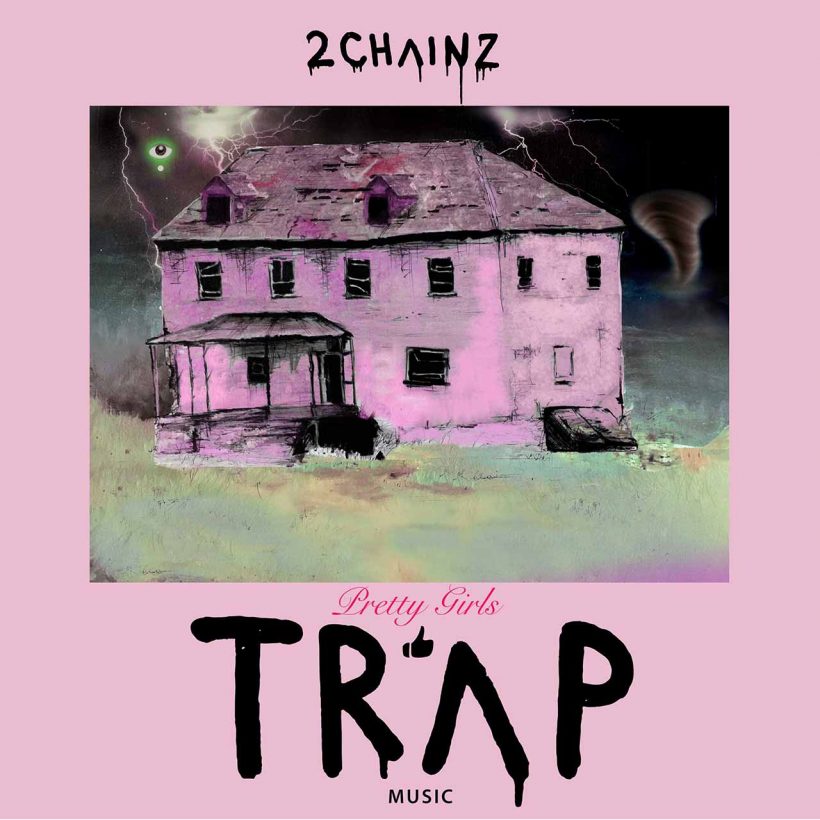 If you search '1530 Howell Mill Road' on Google, the image that pops up is completely mundane. It looks like a fine neighborhood – maybe bustling or maybe in a quaint part of town. But around this time in 2017, it was the epicenter of one of the best attractions in Atlanta.
That summer, this North West Atlanta home was transformed into 2 Chainz's Pink Trap House, a cotton candy pink-painted home with a pink stove on the lawn and pink car in the driveway, all in the name of 2 Chainz's fourth studio album, Pretty Girls Like Trap Music. It attracted thousands of people from morning to night in its initial two-week run from late June through early July. That Pink Trap House took the album experience and brought it to actual, factual life before everyone's eyes.
Listen to 2 Chainz's Pretty Girls Like Trap Music here.
The Trap House became an Instagram sensation; thousands of photos were tagged with the location. With the buzz around Atlanta's newest (albeit temporary) landmark, 2 Chainz and his team extended the lease on the house. Over the course of the next six months, the Trap House seemingly took on a life of its own. One day it was a church, the next – a free HIV clinic. It became the meet-up spot for plenty of Atlanta's youth, transforming the space into a venue for anyone and everyone to showcase their latest moves (see the magic of Ayo & Teo and #ThaKrew). Even six months past the album's release date, into the winter months, the Trap House transformed into Trap Wonderland and held a number of holiday activities for kids.
But 2 Chainz wasn't done just yet. Alongside treating hundreds of women to free manicures and pedicures at pop-ups in Atlanta and New York, he partnered with Spotify to create a playlist series that was curated by… well, pretty girls who liked trap. Nicki Minaj, Lauren London, Erykah Badu, Cardi B, Rita Ora, Karreuche Tran, and more set the vibe with a number of playlists on the streaming service. 2 Chainz didn't leave anything to the imagination with the impending release of his album, but it was his imagination that brought the album to life. He took the creative palette of how to promote an album to another level, and it served as the perfect set up for the best album of his career.
The album dropped after a year of Chainz re-establishing himself as one of the coldest MCs in hip-hop. A trifecta of mixtapes (Felt Like Cappin, Daniel Son Necklace Don, Hibachi for Lunch) was released in 2016 alongside his Lil Wayne collaborative album, Collegrove. Despite the public's early criticisms of 2 Chainz and his lyrics, the latter project saw him go bar for bar with Lil Wayne, who at one point was considered one of "the best rappers alive" and often times surpass him. Collegrove, like the other three aforementioned projects, felt fun and refreshing. However, none had the urgency or the feeling of a defining 2 Chainz moment. His flashes of excellence throughout 2016 felt like 2 Chainz running through a regular season in the NBA. There were times he'd have a strong enough game for the team victory ("Champions" with GOOD Music, "Big Amount" with Drake, "No Problem" with Chance The Rapper), but he didn't always have that star-making, posterizing performance on his solo records.
2 Chainz - Door Swangin (Official Music Video)
Pretty Girls Like Trap Music feels like that 49 point game in Game 4 of a playoff series that tied things back up. A game-changer. An opportunity to show the world he was still a contender. The conversation around 2 Chainz has always been that the mixtapes are better than the actual albums. Pretty Girls Like Trap Music leaves no doubt that 2 Chainz could hold strong to the mixtape slappers while still enamoring audiences with radio-ready charm.
There are moments when the Codeine Cowboy is back in the flesh through the anthemic "Sleep When U Die" ("Hard work beats talent, dope boy meets Khaled") or the sound system-rattling "Riverdale Rd" ("…From grams to Grammys"). But there are also moments where 2 Chainz captures a vibe for the masses who may not be in mixtape mode. "Good Drank" represents a wonderful marriage of ATL creativity through help from the city's stalwart Gucci Mane and the new flavor of Quavo. "It's A Vibe" provides a smooth, calm knock with 2 Chainz playing maestro to music's most ubiquitous R&B stars (Ty Dolla $ign, Trey Songz, Jhené Aiko). He closes the album with arguably one of the best tracks of his discography with "Burglar Bars" (with Atlanta legend Monica), substituting the swag for soul in perhaps the most open we've ever heard 2 Chainz. Quite honestly, it's a lane that fans would love to see him travel through down the line.
2 Chainz - Sleep When U Die (Official Music Video)
2 Chainz is a special kind of talent in hip-hop. He's the kind of artist who could go on a nationwide tour, break his leg, and still tear the house down each and every night. He's the kind of creative mind who cast his own mother as the main MC in his music video for "PROUD" off The Play Don't Care Who Makes It. He's the only person who could seemingly (and convincingly) host a television show on the most expensivest items that money can buy.
Pretty Girls Like Trap Music is undoubtedly one of his best albums to date, and also felt like a turning point in his career. He's reached a new creative plateau, and has pushed the envelope in hip-hop past the standard album rollout and into a new era of providing hip-hop music through an immersive experience. Musically, he's returned to peak form and it shows both in the music and on the charts (four platinum singles from this album alone). While most rappers contemplate slowing down at age 40, the man formerly known as Tity Boi remains hungry and welcomes his next challenge.
Listen to 2 Chainz's Pretty Girls Like Trap Music here.
Editor's note: This article was originally published in 2018.