The Evolution Of 5 Seconds Of Summer
How the four-piece Australian band went from Mayday Parade-inspired rock to Charlie Puth-produced pop in four albums.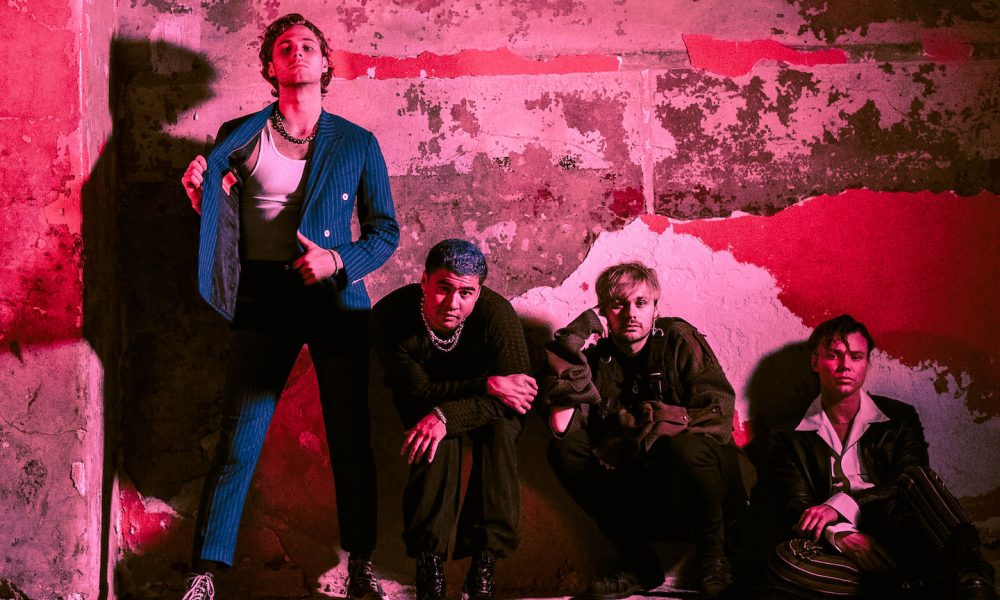 Before they were a multi-platinum selling band with an international fanbase of millions, 5 Seconds of Summer was the angst-driven passion project of four teenage boys in Sydney, Australia.
Guitarists Luke Hemmings and Michael Clifford, bassist Calum Hood, and drummer Ashton Irwin had all been students of the pop punk genre prior to coming together in 2011 – they'd learned about ditching their hometown and the uncertainty of love from Mayday Parade; discovered the art of striking a balance between humor and depth from Blink-182, and Green Day gave them a crash course in rebellion. These influences – merged with each member's own individual creativity – created the distinctive 5SOS sound.
In 2013, the group went out on tour with One Direction, delivering feverous, guitar-heavy performances of their independent and unreleased music – the rock show before the pop show. Their 2014 eponymous debut album showed they could hold their own in the pop punk scene, but their predominantly female fanbase and association with boy band culture gave them something to prove.
Their sophomore effort Sounds Good Feels Good (2015) was more rock than pop in hopes of winning over skeptics with louder guitars and heavier percussion. By 2018, the band realized they didn't have to ditch their rock roots to embrace pop and scored their third No. 1 album with Youngblood. Then, 2020's CALM struck a perfect middle ground between the two worlds, with the added influence of New Wave, 80s pop, and indie rock.
With four albums now under their belt as songwriters and musicians, 5 Seconds of Summer have nothing left to prove. This is how their biggest singles got them there.
5 Seconds of Summer (2014)
5 Seconds of Summer were introduced to the general public in early 2014 with their debut major label single, "She Looks So Perfect." Produced by Jake Sinclair (Fall Out Boy, Panic! at the Disco, New Politics) and Eric Valentine (Smash Mouth, All American Rejects, Taking Back Sunday) and written by Irwin, Clifford, and Sinclair, the high-powered track was the full pop punk package.
There were ripped skinny jeans, a deadbeat town to escape, and youthful animosity towards authority. They hit radio chanting "You look so perfect standing there / In my American Apparel underwear / And I know now that I'm so down" on the guitar-heavy chorus, standing out against the polished pop of Top 40. The song reached No. 24 on the Billboard Hot 100 and is certified 2x platinum by the RIAA.
"Pop punk was the quickest, most effective, highly emotional, lyrically convenient music for us to make, and it was the music we understood best," Irwin told BBC Radio 1 in 2019. They delivered on the highly emotional front with "Amnesia," the third single from 5 Seconds of the Summer, written by Good Charlotte's Joel and Benji Madden and produced by Louis and Michael Biancaniello with Sam Watters. The band's emotive, heartfelt performance on the almost entirely acoustic track was a chance for them to shine as vocalists. The song peaked at No. 16, their highest Hot 100 entry at the time, and is now certified 2x platinum.
5 Seconds of Summer - She Looks So Perfect (Official Video)
Sounds Good Feels Good (2015)
Sounds Good Feels Good's lead single "She's Kinda Hot" was a deeper dive into the pop punk scene, seeing the band team up with producer John Feldmann (All Time Low, Blink-182, The Cab). Clifford and Irwin wrote the gold-certified track with Feldmann and both Madden brothers. It peaked at No. 22 on the Hot 100 and earned them their second MTV Video Music Award.
"She's Kinda Hot" functioned as a reassuring anthem for 5SOS fans. "They say we're losers and we're alright with that / We are the leaders of the not coming backs," the band chants at full volume over bellowing drums and heavy electric guitar on the chorus. They declared themselves and their fans the "kings and the queens of the new broken scene."
As a rock group existing in the pop music world, the band also felt a bit like outcasts. In 2015, Clifford told USA Today: "We don't really have the mind-set of a boy band. Not saying all of them are alike, but we're not just in this to make some quick cash and get out. We want our fans to stick around for a long time and to evolve musically."
5 Seconds of Summer - She's Kinda Hot (Official Video)
Youngblood (2018)
Youngblood's gold certified lead single "Want You Back" signaled the band's growth as musicians. They fully embraced pop, but kept their guitars front and center. "It was always going to be a risk to go away, reinvent the band and come back and release this new stuff," Hood told Billboard. Created with pop producers Andrew Goldstein and Andrew Wells, "Want You Back" saw Hemmings, Hood, and Irwin joined in the writers room by Steve Mac, Asia Whitacre, and J. Kash. The comeback track peaked at No. 61 on the Hot 100, but the biggest hit of 5SOS's career was soon to come.
Hemmings opens "Youngblood" with the melancholy lyric: "Remember the words you told me / Love me 'til the day I die." The slight edge in his vocals throughout the song and the embodiment of the push and pull within relationships set the tone for Youngblood as a whole. Held together by Hood's sleek bass, "Youngblood" showed that 5SOS could inhabit pop radio (where the song reached No. 1) with their new sound and still rock out on stage on tour.
Written by Irwin, Hood, and Hemmings with pop experts Ali Tamposi and producers Andrew Watt (Post Malone, Justin Bieber, Miley Cyrus) and Louis Bell (Halsey, Taylor Swift, Khalid), the song reached No. 7 on the Hot 100 and is certified 2x platinum. It's also the first 5 Seconds of Summer song to surpass one billion streams.
5 Seconds of Summer - Want You Back (Official Video)
CALM (2020)
5SOS were only a year out from Youngblood when they released the first single from their fourth studio album CALM in 2019. "Easier" saw the band taking what worked from that era and revitalizing it with new influences and collaborators. The song's New Wave sound builds around their rhythm section. With Hemmings' vocals driving the song, there's an added element of evolution in their vocal production as well.
Familiar with the band's creative flow, Tamposi, Watt, and Bell return as songwriters and producers – but alongside credits from Clifford, Hood, Hemmings, and Irwin appears new collaborators Ryan Tedder and Charlie Puth.
"We've had more time to explore what we actually want from our music as artists," Irwin told BBC Radio 1. The platinum certified track reached No. 48 on the Hot 100 and set the table for a musical exploration into the sonic influence the band drew from artists like Nine Inch Nails, Depeche Mode, and Tears For Fears throughout CALM.
5 Seconds of Summer's propensity for staying in sync as the project of four musicians with distinct influences and skills is what has allowed them to consistently reconstruct their sound across their four albums. Learning from their work, rather than being anchored by it, Clifford, Hood, Hemmings, and Irwin are on pace for continued evolution.
5 Seconds of Summer - Easier
To celebrate their 10-year anniversary, 5 Seconds Of Summer will host a celebratory livestream today on December 3 at 5pm EST/2pm PST/10pm BST on their official Youtube channel.
Listen to the best of 5 Seconds of Summer on Apple Music and Spotify.