How 5 Seconds Of Summer Became Hot Property With Their Debut Album
With their self-titled debut album, 5 Seconds Of Summer inspired worldwide devotion and proved they were a pop-rock force to be reckoned with.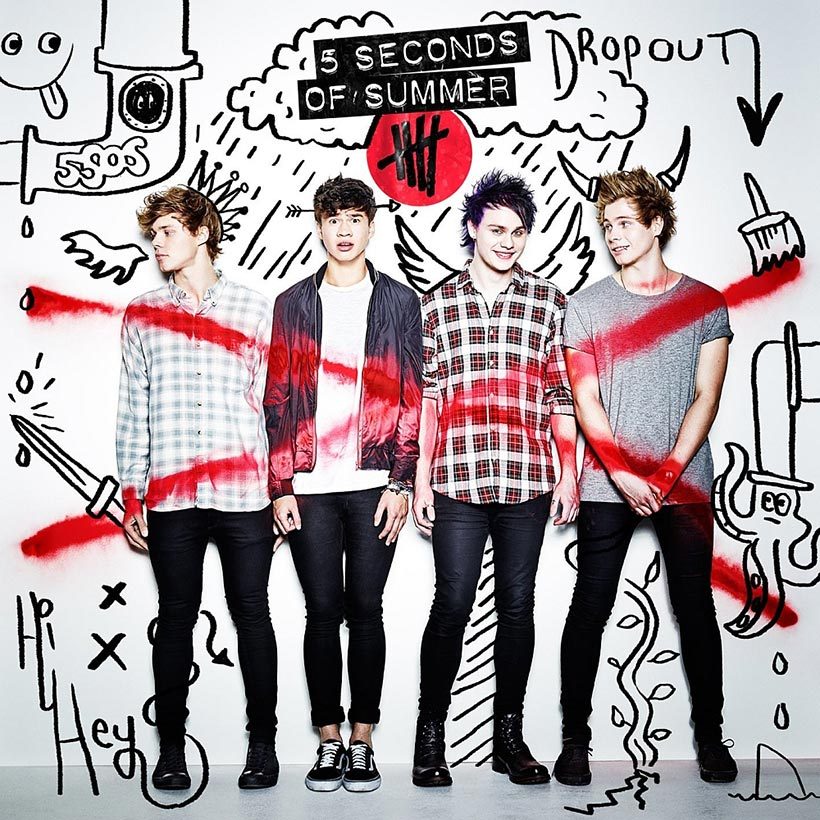 One Direction may have given them a head-start, but 5 Seconds Of Summer's nifty, self-titled debut album made one thing very clear: the Aussie heartthrobs were a bona fide pop-rock outfit more than capable of standing on their own.
Having formed while still at high school in 2011, 5SOS began their career as social-media sensations, with their YouTube-promoted covers of hits such as Mike Posner's "Please Don't Go" and Chris Brown's "Next To You" going viral and attracting high-profile fans such as One Direction's Louis Tomlinson.
Listen to 5 Seconds Of Summer's self-titled debut album now.
This latter association has since served the group well. After Tomlinson told his fans to "get behind them" via Twitter, the Sydney quartet ended up supporting Tomlinson's all-conquering boy band on their massive Take Me Home world tour during February and March 2013, with the itinerary including seven nights in 5SOS's hometown at the Allphones Arena.
A baptism of fire
Having survived this remarkable baptism of fire, 5SOS held their nerve and embarked on a sold-out headlining tour of Australia which led to the young group (who had then barely turned 16) signing a deal with Capitol Records and setting their sights on releasing their debut album.
Material certainly wasn't a problem. The band went on a songwriting trip to London prior to their One Direction trek and honed their craft working with a variety of artists, including Kaiser Chiefs' Nick Hodgson and Ivor Novello award-winning Take That/Olly Murs producer Steve Robson.
The latter stayed on board to oversee a couple of tracks from 5SOS's self-titled debut album, though the band entrusted the bulk of it to John Feldmann, an American producer whose success with alt.rock and pop acts ranging from Good Charlotte to Panic! At The Disco and blink-182 has ensured that he's remained in demand in recent years.
5 Seconds of Summer - She Looks So Perfect (Official Video)
Feldmann was the ideal candidate to help the young band realize 5 Seconds Of Summer, which announced its imminent arrival with the hit singles "She Looks So Perfect" and the Green Day-esque "Don't Stop," two insanely catchy pop-punk tracks that rewarded 5SOS with their first UK and Australian No.1s, and established their credentials as hitmakers of note.
Surviving in the eye of the hurricane
First released on June 27, 2014, 5 Seconds Of Summer's self-titled debut album soon revealed there was plenty more where that came from. Indeed, killer pop-punk nuggets "End Up Here," "Heartbreak Girl," and the witty, sardonic "Good Girls" ("Good girls are bad girls that haven't been caught") demonstrated that they'd morphed into a well-drilled guitar-pop outfit despite their young ages. Meanwhile, the more ambitious tracks such as the soaring "Everything I Didn't Say" and the heartstring-tugging ballad "Amnesia" suggested that 5S0S were already acquiring the smarts they needed to survive the long haul.
The more enlightened reviews greeting the album concurred, with Billboard praising 5SOS's "versatility" in tackling the melancholic "Amnesia" and respecting the fact that "despite being pals with the best-selling pop boy band, [5SOS] eschew One Direction's pop focus and stress the fact they play their own instruments." Heavy rock magazine Kerrang! also endorsed the young band as credible artistic contenders when they granted Luke Hemmings and company their prestigious Best International Newcomer award in 2014.
5 Seconds of Summer - Don't Stop (Official Video)
For now, though, 5SOS simply had to concentrate on surviving in the eye of the hurricane, which they did admirably, despite the Beatlemania-esque tsunami of attention that inevitably threatened to swamp them after their album debuted at No.1 on North America's Billboard 200 and topped the charts in 13 other territories.
To their credit, the young Sydney quartet have continued to grow up in public, with 2015's Sounds Good Feels Good and 2018's Youngblood, but they should have no qualms in recalling their debut album with pride. After all, if great pop music really is about teenage dreams, then 5 Seconds Of Summer is still pretty hard to beat.
5 Seconds Of Summer's self-titled debut album can be bought here.