'Aswad': How A Pioneering Band Put British Reggae On The Map
Profoundly influencing many other young Black British reggae musicians, 'Aswad' proved a landmark release.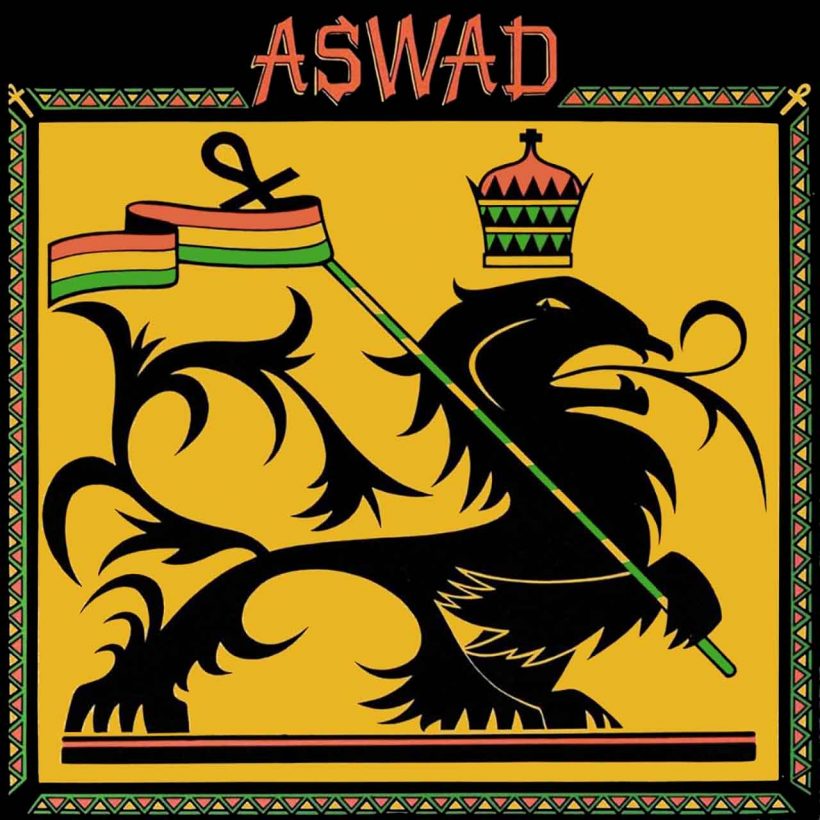 Aswad are best-remembered for the memorable reggae makeover they gave "Don't Turn Around," the Albert Hammond-Diane Warren penned B-side to the Tina Turner single "Typical Male," which they took to the summit of the UK singles chart in 1988. Although the group's mainstream commercial success only began in the 1980s, they had been active since 1975, when – inspired by their musical hero Bob Marley – they started playing together in Ladbroke Grove, a suburb of West London.
By the time of their UK No. 1, Aswad – whose name is Arabic, meaning black – had slimmed down to a core trio, but they began as a quintet, all with Caribean roots. The group were led by the soulful vocals of rhythm guitarist Brinsley "Chaka B" Forde, who shared the microphone with the band's drummer, Angus "Drummie Zeb" Gaye. The other members were lead guitarist Donald "Dee" Griffiths, George "Ras" Oban – famed for his rumbling, seismographic bass lines – and keyboardist Courtney "Khaki" Hemmings. By 1975, the band was gigging regularly, their music with its soul, blues, and even rock influences putting a uniquely British spin on the Jamaican "roots reggae" style, which articulated socio-political concerns while exploring themes of spirituality, Black pride, and racial oppression over deep, throbbing, bass-heavy grooves.
Aswad's self-titled debut is available on vinyl via the Black Story initiative. Order it now.
As no solidified British reggae scene existed at that point, Aswad offered something unique, but getting their music heard – especially by record companies – wasn't easy. They decided to target Island Records because, as Drummie Zeb put it in 2009 to Blues & Soul, the label "had Bob Marley, and no other major label back then had any reggae artists."
Island Records, founded by a visionary entrepreneur-turned-record producer Chris Blackwell in 1959, had established close musical links between the Caribbean and the UK since the label's inception, introducing the world to Jamaican artists like Millie Small, Toots and the Maytals, and, of course, Bob Marley & The Wailers. Aswad took an unconventional route in getting Blackwell and Island's attention. Drummie Zeb: "What was funny is we didn't even organize a meeting with them. We just went there, sat in reception, and demanded to see somebody."
Rather than being ejected from the premises, the group piqued Blackwell's interest, who listened to the band's music, liked them, and added Aswad to his label's decidedly eclectic roster, making them the first British reggae band to sign with a major record company. Blackwell recalled the band with pride in his 2022 memoir, The Islander: My Life in Music and Beyond, writing: "Signing them to Island, with its reputation as the home of reggae, was proof that British Jamaican reggae was authentic."
Aswad debuted for Island in 1976 with the infectious single "Back To Africa," defined by Drummie Zeb's soulful lead vocal, supported by lush harmonized backgrounds and flutey keyboard lines. Though it didn't trouble the UK Top 50, the track topped the reggae singles charts in Britain's cities and became the centerpiece of the band's self-titled debut album, released later that year.
For the album, Blackwell put Aswad in the studio with his trusted producer and engineer Tony Platt, who had mixed Bob Marley & The Wailers' Catch A Fire album and its follow-up Burnin' for Island. Aswad recorded eight tracks with Platt at the helm, mostly message songs that blended revolutionary militancy ("I A Rebel Soul") with withering critiques of slavery ("Concrete Slaveship") and African colonialism ("Natural Progression"). There were also expressions of Rastafarian mysticism, represented by the dub-style soundscape "Ethiopian Rhapsody," featuring guest artist Bunny McKenzie's breezy harmonica.
Presented in a vividly colored front cover depicting the Ethiopian flag alongside a crowned black Zion lion, symbolic of Emperor Haile Selassie, the figurehead of Rastafarianism, Aswad proved an eye-catching sight in record stores. Musically, the album was largely well-received, but as Brinsley Forde observed, some reggae aficionados were snobbish about the band. "Back then, a lot of British reggae music wasn't considered to be authentic," he told Jamaica Gleaner in 2009. "It was often seen as a lukewarm copy of what was coming out of Jamaica. But we didn't listen to Jamaican tracks or try to copy them. We told our own story, so it was original."
Drummie Zeb concurs. "The social problems that we have in the UK are very different from what they have in Jamaica," he said in 2009. "So, from the start, our messages have always pertained to what we've seen and experienced here in England."
Aswad's eponymous debut album marked the first small step in what would eventually become a glorious career defined by a No. 1 UK single and three Grammy nominations. Profoundly influencing many other young Black British reggae musicians, Aswad proved a landmark release that sparked a musical revolution.
Aswad's self-titled debut is available on vinyl via the Black Story initiative. Order it now.