'Eve of Destruction': Barry McGuire's Fiery Protest Anthem
The song delivered a jolt of reality to pop music listeners all around the world.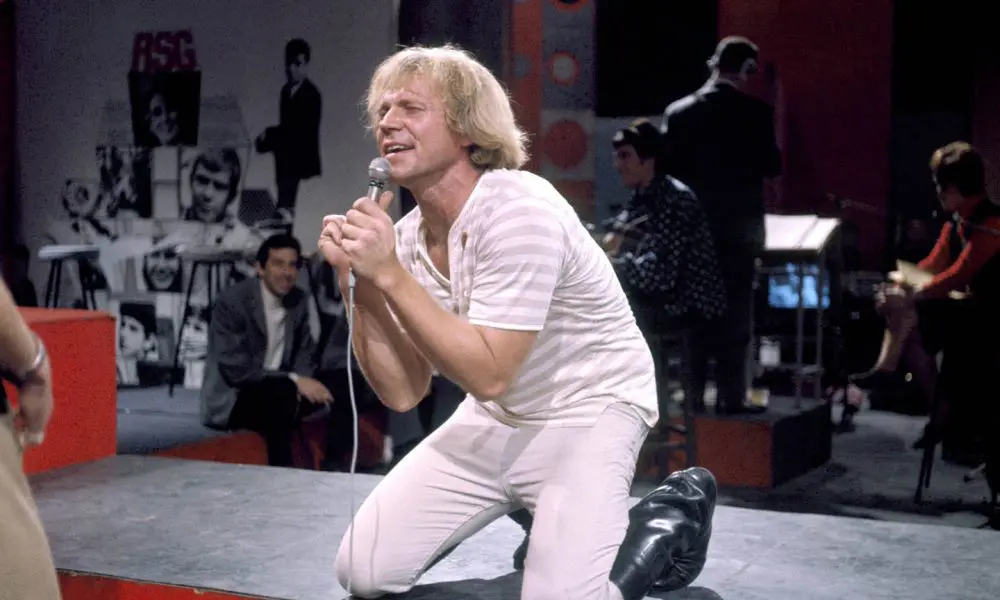 It was 1965: A year in which Malcolm X was assassinated, American combat troops were sent to Vietnam, anti-war protests erupted, and civil rights demonstrators were attacked by Alabama State Troopers. A collective sense of uncertainty and doom hung in the air. But that July, as "Unchained Melody" by The Righteous Brothers and "Do You Believe in Magic" by The Lovin' Spoonful were rising in the charts, "Eve of Destruction," a missive written by P.F. Sloan and recorded by Barry McGuire, delivered a jolt of reality to pop music listeners all around the world.
P.F. Sloan was a session musician and producer at Dunhill Records who had become enamored with folk music. One evening, he wrote five songs in a burst of inspiration. Among them was a grim analysis of the consequences of war and hatred called "Eve of Destruction," culled from the headlines and rooted in his intensive study of Jewish mysticism. "The song was a divine gift," he said in 2009. "I was given information about the history of the world through that song – not that that's unusual in mystical Judaism. It was quite a wonderful gift at age 19 to be given that. I knew it was special and knew it would change things."
Listen to "Eve of Destruction" now.
Barry McGuire happened upon folk music while he was working in construction in the early 1960s. By chance, he'd attended a hootenanny, picked up someone's guitar, and sang a song one evening. Within months, he was performing in folk clubs. He was asked to join the New Christy Minstrels, a folk music ensemble signed to Columbia Records, beginning his career as a recording and touring artist. But, by 1965, McGuire desired more. As he explained to the New Musical Express, "I left to be myself. I felt there were better things to be said. The Christies have a definite image. I have no image."
McGuire signed with Dunhill Records as a solo artist. Intended to be the b-side of his first single, "Eve" was recorded during his first session for the label in June and debuted on Los Angeles' KFWB the next day. It quickly became a hit. But the song was also controversial. Billboard complained that the "controversial message lyric…leaves a lot to be desired." The single was banned by the BBC as well as radio stations in Chicago, Washington, Baltimore, and Memphis who deemed it "leftist propaganda." Aided by the controversy, the song climbed its way to the #1 spot on the Hot 100 in September. Beyond the charts, a key lyric – "you're old enough to kill, but not for votin'" – was employed by activists who succeeded in getting the voting age in the United States lowered from 21 to 18.
The song's success, however, proved to be complicated. McGuire recalled in 1974, "It was kind of funny after I released that song. [It was] strictly from the headlines. There was not an original lyric in the song and all of a sudden I'm a subversive and the FBI is checking me out." He continued recording and in 1968 starred in the original Broadway cast of the groundbreaking rock musical Hair, but by 1970, was having an existential crisis.
He converted to Christianity during the Jesus Movement and by 1971, was at the vanguard of the first generation of contemporary Christian music. He performed "Eve of Destruction" at Explo '72, remembered as the Christian Woodstock, and earned a Grammy nomination for his 1978 release Cosmic Cowboy. Almost two decades later, he returned to folk and continued to tour internationally until he retired at eighty-five. He said in 2015, "[Eve of Destruction]" is more real now than it was then. There's more social unrest, there's more racial tension, there's more political mistrust. It's grinding down rather than building up."