Best Rock Music Gifts For Christmas
From classic rock to grunge, reissues to stunning returns from legendary icons, the best rock gifts have something for everyone this Christmas.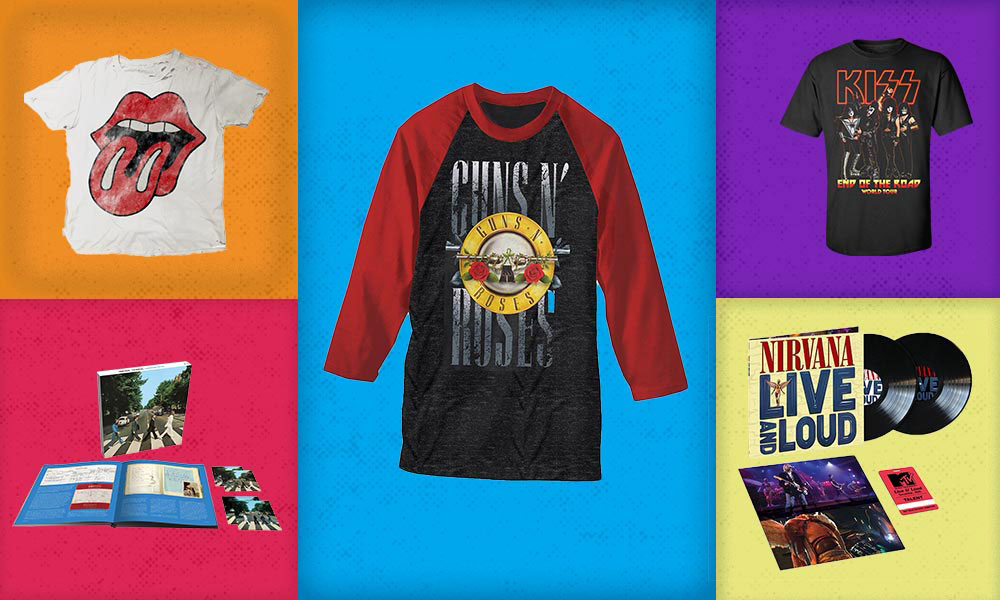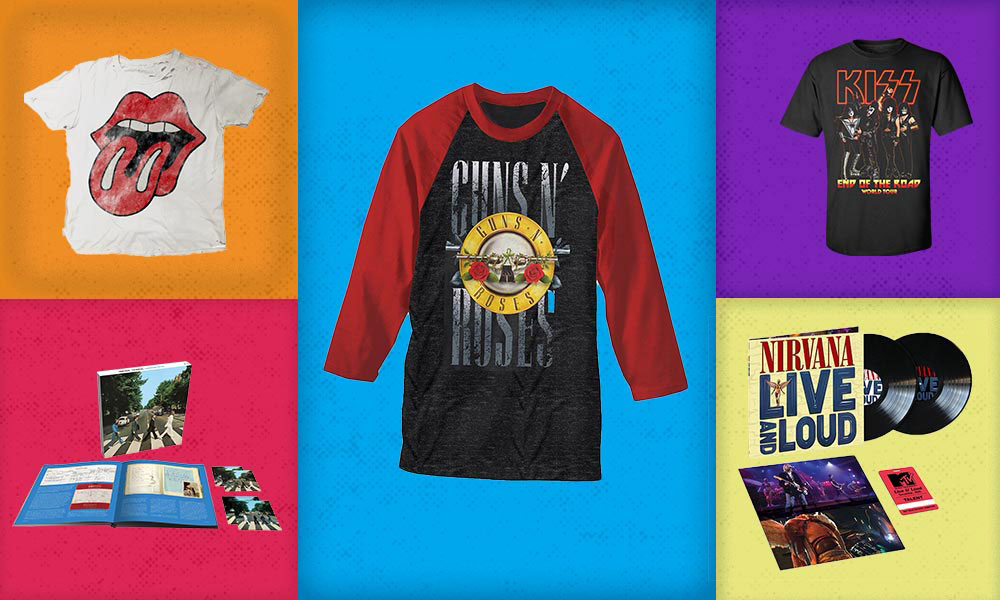 Rock music taps into something tribal in us, so what more could a fan want than a piece of merch that literally allows them to wear their allegiance on their sleeves? KISS, Guns N' Roses and The Rolling Stones have the market cornered – after all, they have the coolest logos. When it comes to the music itself, however, there are a plethora of Christmas gifts to choose from this year, including box set reissues of classic albums, and stunning returns from time-honoured artists. Overwhelmed by choice? Let us help with our pick of the best rock gifts this Christmas.
The Beatles
Abbey Road: Anniversary Super Deluxe Edition
Like Sgt Pepper's Lonely Hearts Club Band and "The White Album" – intimately familiar works in rock music history – the newly expanded 50th-anniversary edition of Abbey Road reveals fresh insights into The Beatles' masterpiece. Along with the newly mixed album in stereo, surround sound and Dolby Atmos, the super deluxe edition features 23 outtakes and demos that capture the group perfecting their craft, all in startling detail.
The Singles Collection
The Beatles may have made the long-playing album an art form, but they also elevated the humble three-minute single to new heights of artistry. Featuring all 22 singles released in the UK between 1962 and 1970, along with an exclusive double-A-side 7" of the group's surprise 90s releases, 'Free As A Bird' and 'Real Love', this box set traces yet another arc of creativity in The Beatles' boundlessly inventive career.
The Rolling Stones
No Filter tie-dye pullover hoodie
After more than half a century at the top of the music business, The Rolling Stones are still capable of a first-rate live performance – you need look no further than this year's acclaimed No Filter US tour for proof. This three-colour tie-dye hoodie commemorates those shows, and features the band's iconic symbol across its front.
US tour 1978 Tee
This classic T-shirt was designed to accompany the Stones' 1978 tour of the US, where they were promoting their album Some Girls. Made from soft white fabric, the timeless tee boasts a print of the band's famous tongue-and-lips logo on the front, while each item is individually stressed to make it look like you were there back in the day, even if you weren't.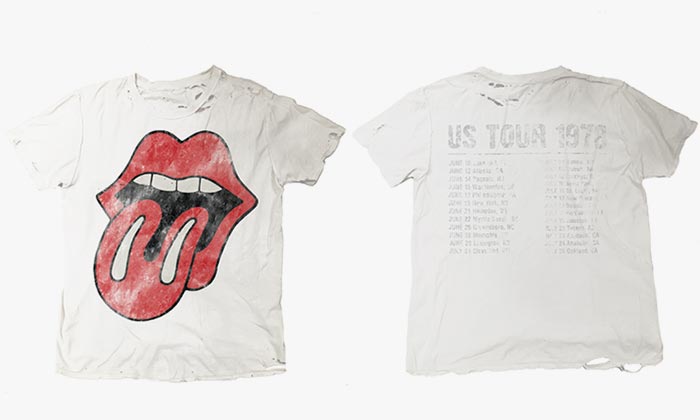 Honk, Let It Bleed, The Rolling Stones Rock And Roll Circus, Bridges To Buenos Aires, Bridges To Bremen
For the Stones fan who's been really good this year, there's a plethora of releases to choose from. Previously unreleased concert films – 1998's Bridges To Bremen and Bridges To Buenos Aires – capture the group at their stadium-filling best, while the ambitious extravaganza of The Rolling Stones Rock And Roll Circus finds them lording it up as rock royalty in their late 60s pomp.
Buy Bridges To Buenos Aires here.
Buy The Rolling Stones Rock And Roll Circus here.
For those looking to find out how the Stones earned their reputation as The Greatest Rock And Roll Band In The World, the 50th-anniversary reissue of Let It Bleed captures the group as they soundtracked the death of the 60s, with classics songs like 'Midnight Rambler' and 'Gimme Shelter'. The 36-track collection Honk, meanwhile, picks the story up in 1971, tracing their history from Sticky Fingers, up to their 2016 tribute to the blues, Blue & Lonesome.
Mick Jagger: She's The Boss, Primitive Cool, Wandering Spirit, Goddess In The Doorway
He'll always be best known as the peacocking, charismatic frontman for The Rolling Stones, but, starting in 1985, Mick Jagger took a number of solo outings that found him traversing new sonic avenues. Now all four of his solo releases are available on half-speed remastered vinyl, as overseen by Miles Showell in Abbey Road Studios.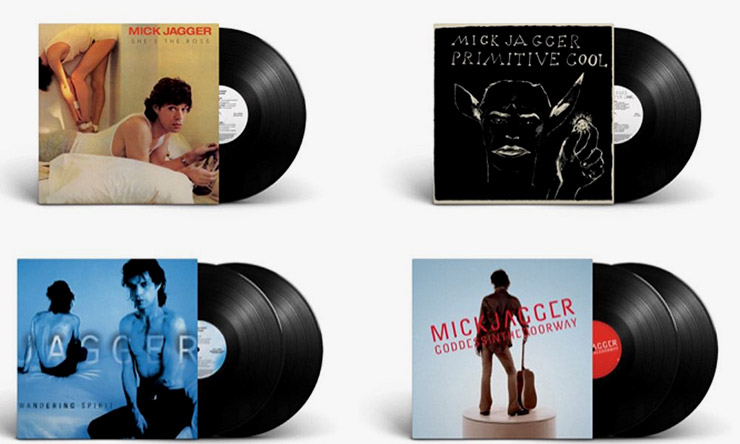 The Who
WHO
With their impressive discography, The Who could tour forever and still bring out the crowds, but Roger Daltrey and Pete Townshend always have something to say. Back with their first record in 13 years, The Who's new 11-track set delivers plenty of grit and biting lyricism.
Pete Townshend: Age Of Anxiety: A Novel
The driving force behind rock operas like Tommy and Quadrophenia, Pete Townshend clearly has a mind for compelling characters. The Who guitarist further explores this in his first rock novel, an "extended meditation on manic genius and the dark art of creativity".
Roger Daltrey: The Who's Tommy Orchestral
As Tommy, frontman Roger Daltrey brought one of Townshend's most enduring characters to live, both on stage and on film. Revisiting that epic with a full orchestra, he proves that string ensembles can have as great an impact as the traditional rock-band set up.
Guns N' Roses
Cross zip hoodie
This comfortable black zip-up hoodie has the band's name printed across its chest. On the reverse, there is a print of their iconic "skulls on a cross" image, which was based on one of Axl Rose's tattoos and used for the design of GN'R's seminal album, Appetite For Destruction.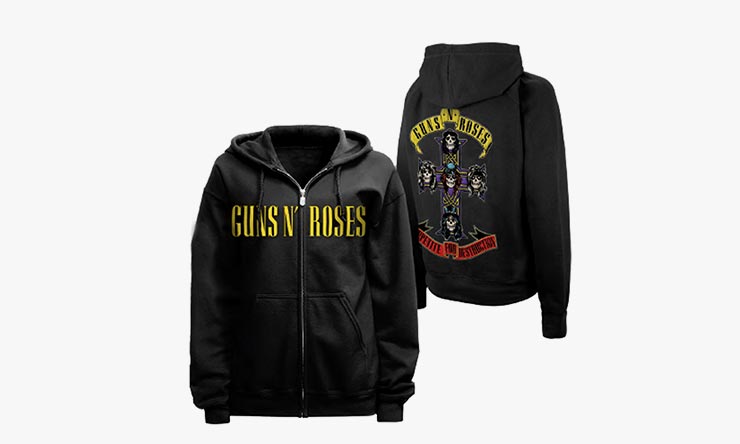 Raglan T-shirt
This cool raglan-style T-shirt features the famous GN'R image of sideways-facing revolvers tied together by roses. With red sleeves and the band's name printed large on its front, this black shirt perfectly evokes the band that were once declared the most dangerous group on earth.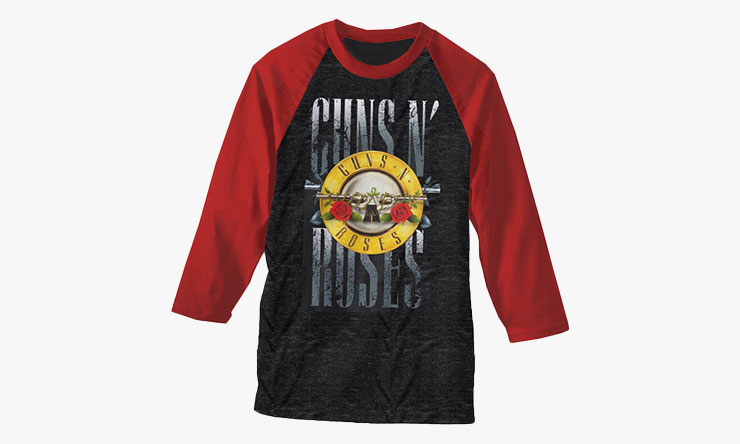 Slash Featuring Myles Kennedy And The Conspirators: Living The Dream Tour
Living The Dream Tour captures Slash and co blazing through a two-hour set that spans all four of the guitarist's solo albums at the legendary Hammersmith Apollo in London. The DVD also features a behind-the-scenes mini-doc, while those who prefer to look at cool spinning vinyl instead of moving images can get the 3LP red vinyl edition.
KISS
Neon tour tee
After nearly half a century in the music industry, theatrical rockers KISS are hanging up their guitars and face paint – but not before taking one final, epic bow. Celebrating their marathon End Of The World tour, this casual black T-shirt features a picture of the band's current line-up – founding members Gene Simmons and Paul Stanley, plus Eric Singer and Tommy Thayer – standing underneath the iconic KISS lettering.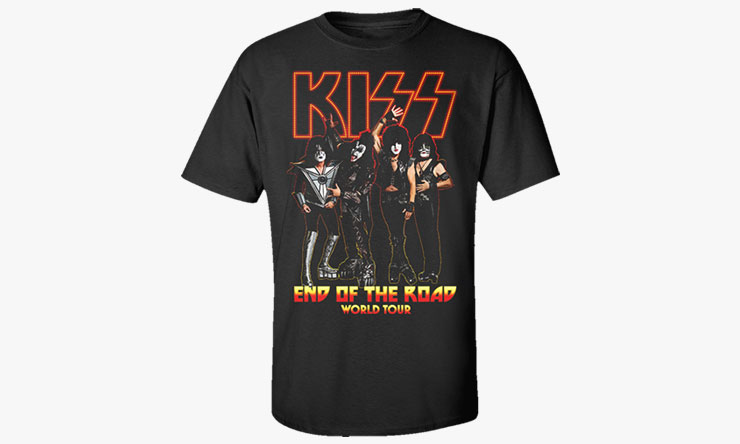 KISS hoodie
Few bands in history have had a logo as instantly recognisable as KISS. This comfortable unisex hoodie features the logo in large red print across the front – making it the perfect way to show your love for the band that changed the (painted) face of rock music forever.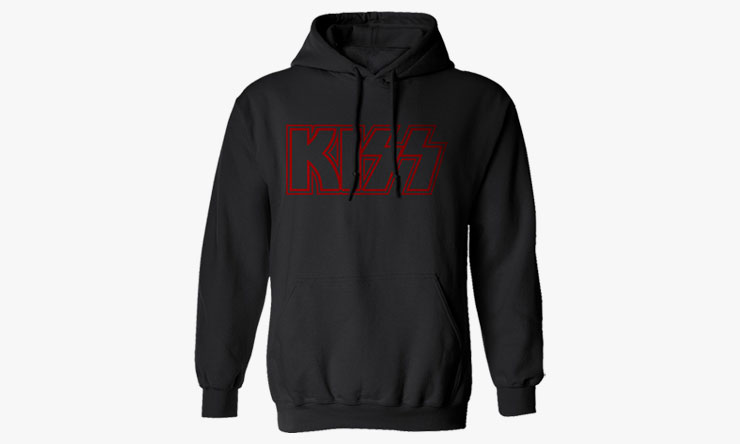 KISS: Hot In The Shade, Hotter Than Hell coloured vinyl
For those active duty service members of the KISS Army, two of the group's classic albums – Hotter Than Hell and Hot In The Shade – are back on wax in limited edition coloured vinyl pressings.
Imagine Dragons
Origins lotus hoodie
Nevada-based rock band Imagine Dragons' fourth studio album, Origins, made use of some cerebral elements, so it's fitting that much of its tie-in merchandise focuses on the symbolism of the lotus flower. This stylish black hoodie has two lotuses printed on its back, and a three-tone emblem on one side of its chest.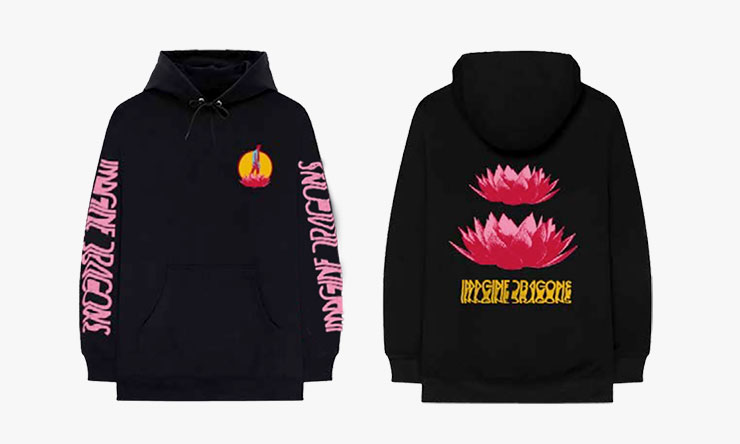 Origins lotus inverted long-sleeved T-shirt
For rock band merchandise, this comfortable hooded sweater boasts an especially chic colour palette. Taking images from the cover of Imagine Dragons' recent Origins album, the hoodie features a stylish pink picture print, plus the band's name in large lettering across its arms.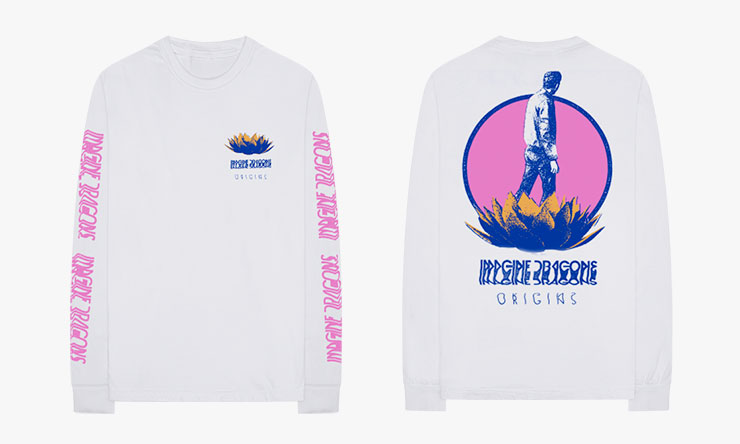 Aerosmith
Exclusive band photo tee
Aerosmith's triple-platinum-selling second album, Get Your Wings, is a 70s rock classic. This casual black T-shirt features a photo of the band, printed above gold-coloured text commemorating theit hugely successful 1974 Get Your Wings tour of America.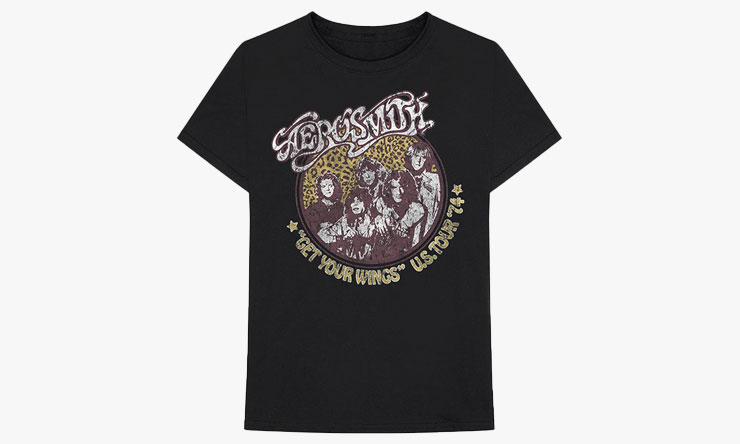 Permanent Vacation coloured vinyl
Aerosmith made one of the most impressive career comebacks in rock history with the all killer, no filler Permanent Vacation, featuring the hits 'Rag Doll', 'Dude (Looks Like A Lady)' and 'Angel'. Now it's on black-and-red coloured vinyl.
The best of the rest
Nirvana: Live And Loud, MTV Unplugged Live In New York
Nirvana's mythology sometimes threatens to overshadow the music they made, so it's easy to forget that they staged some of the most unforgettable live performances of the 90s. Two MTV performances capture the group at opposite extremes: Live And Loud, their historic 1993 hometown show, more than lives up to its title, while their MTV Unplugged performance hints at a whole new path the band could have taken.
Buy MTV Unplugged Live In New York here.
Soundgarden: Louder Than Love, Badmotorfinger, Superunknown, Down On The Upside, King Animal coloured vinyl; Live From The Artists Den
In 1984, Soundgarden helped catalyse a musical movement that would change rock'n'roll forever. Thirty-five years later, their career-defining albums have been reissued on limited edition coloured vinyl, both individually and as a collectors' bundle.
Though the group's studio recordings remain unparalleled, Soundgarden really shined in a live setting. The 29-track Live At The Artists Den captures the band's historic 2013 performance in front of a rapturous crowd. You'll feel like you're right there at the Wiltern in Los Angeles.
Queens Of The Stone Age: Rated R, Songs For The Deaf, Lullabies To Paralyze, Era Vulgaris coloured vinyl
When QOTSA announced they were reissuing their four landmark Interscope albums on coloured vinyl, they shot the top of everyone's wishlists. From their breakthrough album, Rated R, to the prized Songs For The Deaf and albums that capture later incarnations of the group, these are essential examples of modern hard rock at its best.
Eagles Of Death Metal: EODM Presents Boots Electric Performing The Best Songs We Never Wrote
As promised, frontman Jesse Hughes covers a selection of cuts in the EODM style. The result is more surprising than you may expect: along with expected rock anthems, Hughes also throws in a few curveballs with George Michael's 'Careless Whisper' and Mary J Blige's 'Family Affair'.
INXS: Live Baby Live, Mystify soundtrack
On 13 July 1991, INXS played the show of a lifetime to over 74,000 ecstatic fans at London's Wembley Stadium. Now the magic of that evening is captured for all to hear on deluxe vinyl and CD formats, with newly remixed audio by Giles Martin and Sam Okell at Abbey Road Studios.
With their scripted narratives, biopics can capture all the drama of the rock'n'roll lifestyle, but documentaries often get closer to the true artist beneath the persona. The Michael Hutchence documentary Mystify made its premiere at Tribeca in 2019, and the Mystify: A Musical Journey With Michael Hutchence soundtrack offers another take on one of the most enigmatic frontmen in rock history.
Buy the Mystify soundtrack here.
Def Leppard: Volume Two
Off the back of their Rock And Roll Hall Of Fame induction, Def Leppard revealed the second volume of their career-retrospective box sets. Available as both a 10LP, 180g vinyl box and a limited edition 7CD set featuring all their 90s albums, along with rare cuts, B-sides and more, Volume Two shines a much deserved light on some of the band's lesser-known work.
Down'n'Outz: This Is How We Roll
When he's not touring the world with Def Leppard, Joe Elliott is exploring his eclectic musical influences with his side group, Down'n'Outz, whose third record boasts their first run at original songs, while also paying tribute to the rock icons that inspired them.
The Police: Every Move You Make: The Studio Recordings
Following the success of last year's definitive 11LP box set celebrating The Police, a 6CD version offers another chance to revisit the post-punk-pop greatness of Sting, Summers and Copeland. A bonus disc of non-album recordings and B-sides rounds out the picture.
Andrew WK: I Get Wet
It's been almost 20 years since perpetual partier and rock prankster Andrew WK pulled off the inconceivable feat of creating one of the best hair metal albums in… 2001? All this time later, we're still raging to 'Party Hard' and 'She Is Beautiful'.
Cream: BBC Sessions
Even during their brief time together, Cream were one of the most influential power trios in rock history, thanks to the combined talents of Eric Clapton, Jack Bruce and Ginger Baker. Recorded at the BBC between 1966 and 1968, these 22 tracks (with four interviews added for good measure) capture the group at their incendiary live best on a limited edition coloured-vinyl 2LP set.
Blind Faith: Blind Faith
The dissolution of Cream and Traffic was Blind Faith's gain, as the supergroup formed in wake of both groups. They only released one album, but that's all they needed to show off the incredible chemistry between members, eventually topping the charts worldwide.
Traffic: The Studio Albums 1967-74
Honouring the musical legacy of the pioneering British prog-rock-pop outfit Traffic, this 6LP box set collects all six of their genre-hopping studio albums released on Island Records. Remastered from the original tapes, the package also includes a promo poster for each disc.
Ronnie Lane: Just For A Moment (Music 1973-1997)
A much-deserved 6CD box set highlights the career of Small Faces/Faces legend Ronnie Lane. Along with his four solo albums, the set also includes singles, B-sides and tracks from Ronnie's Mahoney's Last Stand album, recorded with Ron Wood, and Rough Mix, recorded with Pete Townshend.
Mott The Hoople: Mott The Hoople, Mad Shadows, Wildlife, Brain Capers
Before they blew up with the Bowie-penned glam anthem 'All The Young Dudes', Mott The Hoople established themselves as one of UK's finest hard rockers, delivering psych-prog platters with a heavy metal attitude across these four albums, all been remastered on vinyl.
Creedence Clearwater Revival: Willy And The Poor Boys, Green River
The veteran swamp-rockers see two of their landmark releases – Willy And The Poor Boys and Green River – reissued on half-speed mastered vinyl by award-winning engineer Miles Showell at Abbey Road Studios.
Status Quo: 12 Gold Bars
From one of Britain's longest-lasting rock bands, the chart-topping compilation and ultimate primer to the band's glory years, 12 Gold Bars is also back on wax, and includes essential Quo classics, from the party anthem 'Rockin' All Over The World' to the blues-tinged rock hit 'Whatever You Want'.
Bob Seger & The Silver Bullet Band: Against The Wind
Even after Night Moves made him a rock star in the 70s, Seger still strove for more. In 1980 he scored a No.1 album with the quintuple-platinum Against The Wind, which is now reissued on both black and blue vinyl.
Creed: Human Clay vinyl
This turn-of-the-century, post-grunge classic turns 20 in style with a 2LP reissue. Almost overnight, Human Clay made Creed the biggest band in the world, thanks to the breakout singles 'Higher' and the power ballad 'With Arms Wide Open'.
Amelia Davis: Jim Marshall: Show Me The Picture book
Just as influential as the artists he immortalised on film, legendary photographer Jim Marshall has created countless iconic images of rock stars, jazz greats and civil-rights leaders. This career-spanning collection showcases hundreds of photographs that capture the sights and sounds of the 60s and 70s.
Format:
UK English