Best Velvet Underground Songs: 20 Tracks That Dare You To Think Differently
Their tenure was short-lived, but their influence is unmeasurable, and the best Velvet Underground songs still dare you to think differently.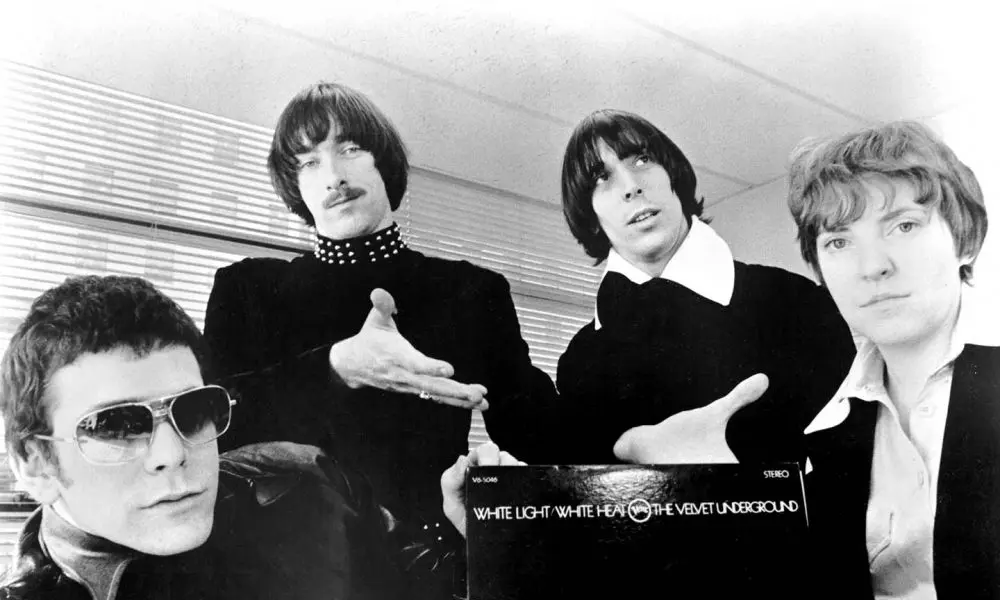 Our hats are forever off to Brian Eno, who observed in a 1982 interview that The Velvet Underground's debut album only sold 30,000 records, but everybody who bought one started a band. Eno was referring to the countless up-and-coming groups who were, at that time, either covering the Velvets' songs or copping their sound, but there's a deeper meaning to his observation as well: The Velvet Underground's music dared you to start thinking differently; to approach your life in a more creative way. To that end, there are some truly transgressive songs in their catalogue, but there are also some of rock's most beautiful love ballads and celebratory rockers. Since the main VU line-up was only together for less than five years (The Velvet Underground was christened in late 1965; Lou Reed left in August 1970), the 20 best Velvet Underground songs on our list include more than half their core catalogue – which didn't make it any harder to narrow it down.
Listen to the best of The Velvet Underground on Apple Music and Spotify.
20: Coyote (live)
In 1993 the original quartet staged a reunion tour that imploded before it ever got to the US, but their double-live album Live MCMXCIII gave a fascinating glimpse of what might have been. There are two particular moments when the magic kicks in: "Hey Mr Rain," an old outtake stretched to 16 minutes, and "Coyote," the one new song of the reunion – a mysterious mini-epic and a rare John Cale and Lou Reed co-write.
19: I'm Sticking With You
The only time Lou Reed would write something this simple and sweet was when he did something for Maureen Tucker to sing. One of only two leads she did with the group, "I'm Sticking With You" is a romantic duet that takes some surprise musical turns, but never loses its sweetness. Originally recorded but not used for Loaded (to give her a track on an album she otherwise missed due to pregnancy), it became a fan favorite and also appears on Live MCMXCIII.
18: Foggy Notion
With Doug Yule taking John Cale's bass slot, The Velvet Underground spent most of 1969 working on an unfinished album that moved toward straight-ahead, melodic territory; they also moved part-time to Yule's homebase in Boston. A swaggering garage rocker, "Foggy Notion" was a highlight of their live sets at the time, though it didn't see release until the 80s compilation VU. Boston-based fans The Modern Lovers were already covering it in 1972.
The Velvet Underground - Foggy Notion (Audio)
17: Here She Comes Now
The outlier on the White Light/White Heat album, this is a brief, beautiful song with a mantra-like quality – the only notable Eastern influence among the many Velvet Underground songs. Reed broke another taboo by playing on the meanings of "come" in the lyric. No coincidence that The Cars, who covered this tune in their early days, would later have a hit called "Tonight She Comes."
16: We're Gonna Have A Real Good Time Together (live at The Matrix)
Also originating from the aborted 1969 sessions is this joyful rocker with its can't-miss "na-na-na" chorus. It's essentially one of their more good-natured Velvet Underground songs, though Reed darkened it considerably when he remade it on Street Hassle. "We're Gonna Have A Real Good Time Together" was also a favorite concert-opener for Patti Smith in the early days.
We're Gonna Have A Real Good Time Together (Version 2 / Live At The Matrix, San Francis...
15: Candy Says
Inspired by an encounter with the transsexual actress Candy Darling, this was Reed writing about gender dysphoria before there was a name for it. Doug Yule gets the opening vocal on his first album with the band, giving it an innocence (and a falsetto) that Reed might not have managed.
14: What Goes On
"What Goes On" is the closest thing to a straight-ahead pop song among all The Velvet Underground's songs, featuring wall-to-wall hooks with the Yule-era band doing a friendlier version of the Cale-era line-up's sound (with Tucker's primal groove and the Vox Continental organ). Maybe not the deepest Velvets song, but arguably the single catchiest one, and thus one of the most often covered. Bryan Ferry of Roxy Music perhaps did it best.
What Goes On (Mono Version)
13: Femme Fatale
Andy Warhol's greatest contribution to The Velvet Underground may have been his suggestion that Reed write a song about Edie Sedgwick and call it "Femme Fatale." Reed responded with a song that perfectly combined two of his obsessions: sexual jealousy and New York doo-wop. Nico sang it as if she knew nothing about the latter and everything about the former.
12: All Tomorrow's Parties
Lou Reed was resistant to Andy Warhol's efforts to install model/actress Nico as part-time lead singer for the band's debut album. But it's hard to imagine this song, effectively a dramatic monologue about the allure and emptiness of Warhol-era party culture, without her. It's even more evocative than Reed's later, more famous song about that demimonde, "Walk On The Wild Side."
11: New Age
The Loaded album was designed to be loaded with hits, but there was still room for one of Reed's darker musings. Delivered almost as a doo-wop ballad, "New Age" tells of an encounter between a fading actress and a besotted fan; as usual, Reed makes the story more compelling by virtue of what he leaves out. "New Age" is the perfect vehicle for Doug Yule's fresher-faced vocal delivery.
New Age (Full Length Version) (2015 Remastered)
10: White Light/White Heat
The second Velvet Underground album was by far their most extreme, and its title track, "White Light/White Heat," was Reed's ode to what was then his drug of choice. The rush of amphetamines is pretty well captured by a band performance that anticipates punk rock, with Cale's bass drowning everyone else out by the end. The song is remarkably catchy considering its inspiration, and was David Bowie's preferred Velvets cover during his Ziggy years.
9: I'm Waiting For The Man
On the other hand, most of Reed's drug songs were in this coolly observed vein. Even if you never intended to score heroin on the shadier streets of New York, now you'd know how it felt and even how much it cost. And, once again, the song is perversely catchy. After the first album's gentle opener, "Sunday Morning," this is the first rocker among Velvet Underground songs.
The Velvet Underground - I'm Waiting For The Man (Live At The Matrix)
8: Rock & Roll
"Rock & Roll" is one of the only Velvet Underground songs that's in danger of sounding overplayed by now. But this Loaded track is still one of the most irresistible rock anthems around, and anyone can relate to the story of five-year-old Jenny who's already old enough to realize that her town is boring and that a New York radio station holds the answer. It boggles the mind that it didn't hit in 1970, but of course the New York stations (on the FM dial) loved it.
Rock And Roll (Full Length Version) (2015 Remastered)
7: Venus In Furs
Since the Velvets took their name from a book about sadomasochism, it makes sense that bondage would be the subject of the band's most sexual song. Pulsing and intense, "Venus In Furs" is above all about the intimacy between the two characters; it's a song that makes you feel like a voyeur.
6: Pale Blue Eyes
The most heartbreaking of all Velvet Underground songs, "Pale Blue Eyes" is about a long-ended love affair that the singer isn't close to getting over and, according to Anthony DeCurtis' biography on Reed, a true thing in the songwriter's life at the time. The Yule-era band's tendency towards understatement works especially well here; though Reed also did a worthy version of the song with his jazzy 70s band on Take No Prisoners.
5: Beginning To See the Light
So you thought Velvet Underground songs were nothing but dark and dangerous? Try explaining how they came up with something this life-affirming, with just the right cynical undertone between the lines. Words to live by: "There are problems in these times/But whoo! None of them are mine."
Beginning To See The Light
4: I'll Be Your Mirror
Another triumph for Nico and, though nobody noticed at the time, the A-side of the first Velvet Underground single. Her icy elegance is exactly right for one of Reed's most beautiful love songs – and one of the more haunting melodies of his career. Whether the lyric is endlessly generous or just plain obsessive is, of course, up to you.
3: Sister Ray
After all these years, this one is still guaranteed to drive squares out of the room. The centrepiece of White Light/White Heat is a mesmerizing, 17-minute noise jam, over which Reed coolly observes one hell of a decedent scenario. Rock was supposed to be daring in 1968, but this song made almost everyone else sound timid.
2: Sweet Jane
"Sweet Jane" is certainly a contender for one the best Velvet Underground song, but we couldn't in good conscience put a song without Cale or Tucker in that slot. As the key track from Loaded, it was written and produced to be a rock classic – it's got the indelible guitar lick, the shout-along chorus and the love-affirming lyric (with a nod to the "evil mothers" who try to deny it). We're especially partial to the reissue version with the glorious "wine and roses" coda restored.
Sweet Jane (Full Length Version) (2015 Remastered)
1: Heroin
A visionary track on a few levels. For one thing, the sound of the band – with Cale's viola circling around Reed and Sterling Morrison's guitars, and Tucker adding the right percussive accents – was unlike anything else around, and the song builds to a frenetic peak three times. Reed's lyrics here are more poetic than anything in rock, capturing junkie-dom as a search for transcendence (and somehow making a lacerating putdown out of "Jim-Jims"). It shows you a different reality, just like the greatest rock'n'roll is supposed to.
Think we've missed one of your best Velvet Underground songs? Let us know in the comments section below.
The Velvet Underground's Complete Matrix Tapes is now available as a limited edition, 8LP, 43-track box set. Buy it here.