'Stronger Than Dirt': A Stunning Showcase Of Big Mama Thornton's Earthy Blues Style
The record is one of Big Mama Thornton's go-to albums, a defiant celebration of African American perseverance in an unjust society.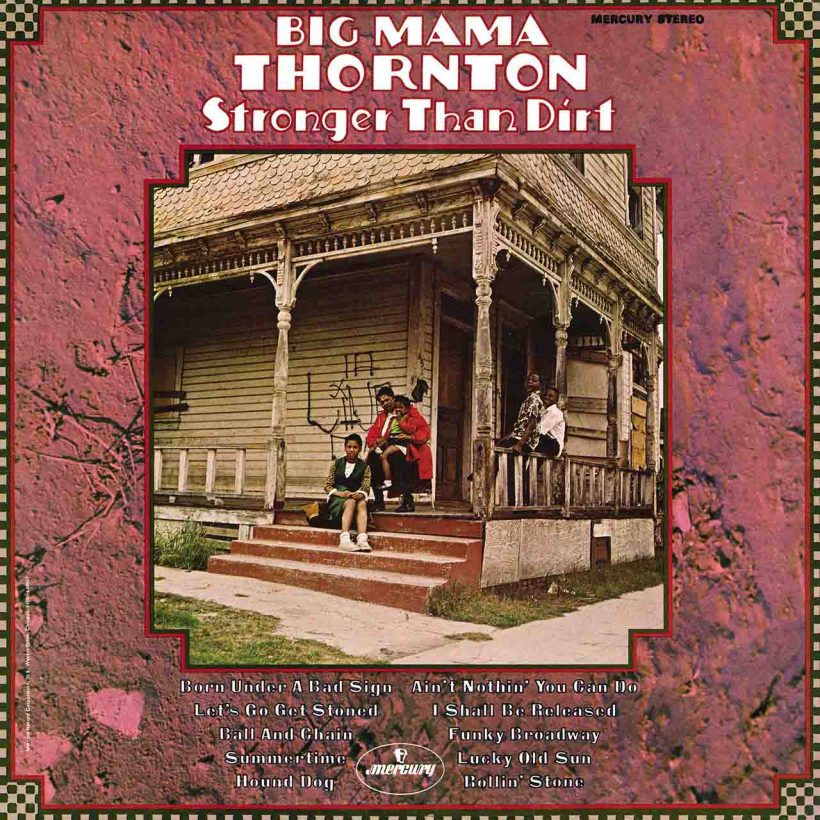 In 1969, when the Alabama blues pioneer Big Mama Thornton inked a deal with Chicago's Mercury Records to record her third album, Stronger Than Dirt, she was 42 years old and trying to revive a career that had seemingly peaked a quarter-of-a-century earlier.
Back in 1953, the singer – a minister's daughter who was born Willie Mae Thornton and dubbed "Big Mama" because of her powerful voice and imposing physique – had spent seven heady weeks at the summit of the US R&B singles chart with "Hound Dog." A rowdy rhythm and blues number about a no-good man, "Hound Dog" was specially written for her by Jerry Leiber and Mike Stoller. In the wake of the record's phenomenal success, she recorded a clutch of similar-sounding follow-up singles, though none of them charted. But the singer's career seemed set for a revival in 1956 when the rock and roll sensation Elvis Presley famously topped the US Hot 100 with his rock and roll take on "Hound Dog." Sadly, the profile-raising boost Thornton had hoped for never materialized.
Listen to Big Mama Thornton's Stronger Than Dirt now.
When the 1960s arrived, Thornton was still active, regularly performing live and recording the occasional independently released single. But in 1966, her career received a welcome uptick when she performed in a San Francisco bar where a young, white blues singer named Janis Joplin saw her. Joplin, then fronting the West Coast psych-blues-rock band Big Brother & The Holding Company, was purportedly mesmerized by one song in particular, a Thornton original called "Ball and Chain." Given permission by Thornton to cover it, Joplin and the group debuted the song at the 1967 Monterey Pop Festival and later included it on their second album, the following year's chart-topping Cheap Thrills.
After many years in the doldrums, Thornton's half-dormant career began to come alive again. She recorded her own version of "Ball and Chain" as a single for the Arhoolie label in 1968 and although it wasn't a hit, the interest in her music drummed up by Big Brother And The Holding Company's version was enough to send Mercury Records her way. She also did some gigs opening for Joplin, who went solo in 1968 and frequently acknowledged Thornton's influence to her audience and in interviews.
The Chicago label put Thornton in the studio with noted West Coast producer Al Schmitt, whose credits then ranged from Duane Eddy to Jefferson Airplane. What resulted was Stronger Than Dirt, released in 1969, which showcased Thornton's distinctive voice in a range of settings. Besides updated versions of "Hound Dog" and "Ball and Chain," Schmitt persuaded Thornton to tackle contemporary material. She roared her way through Wilson Pickett's "Funky Broadway," transformed Albert King's "Born Under A Bad Sign" into a slow after-hours jam, and injected Ray Charles' 1966 R&B hit "Let's Go Get Stoned" with a deep blues sensuality.
Schmitt also allowed Thornton to show her gospel music roots via her stirring renditions of Bob Dylan's "I Shall Be Released" and Muddy Waters' "Rollin' Stone," the latter transformed into a high-octane Baptist rave-up. The album's piece de resistance, though, was her surprisingly sensitive reading of George Gershwin's jazz standard "Summertime," her voice shifting from a fierce low growl to an eerie high falsetto.
In August 1969, Stronger Than Dirt peaked at No. 198 on The Billboard 200, putting Big Mama Thornton's name into the consciousness of the American mainstream public for the first time in her life. The recognition it brought her resulted in Mercury bankrolling a second album, 1970's The Way It Is, a recording that captured her in concert. It wasn't as successful as her Mercury debut, prompting the label and singer to part company soon after. Thornton only made three more albums after that, dying in 1984 from alcoholism at the age of 57.
A spirited woman armed with a big personality and formidable stage presence, Big Mama Thornton, like her idol Bessie Smith before her, brought to the blues – so often a male preserve – a female perspective. Her music touched not only Janis Joplin but also several blues singers who followed the trail she blazed, like Etta James, Sandra Hall, and, more recently, Shemekia Copeland.
Stronger Than Dirt remains one of the blues singer's go-to albums, its title a testament not only to Thornton's own resilience in a career with more downs than ups but also a defiant celebration of African American perseverance in an unjust society.