Black Music Reframed: An Introduction
Our new editorial series centers Black writers writing about Black music, taking a new look at music and moments that have previously either been overlooked or not properly contextualized.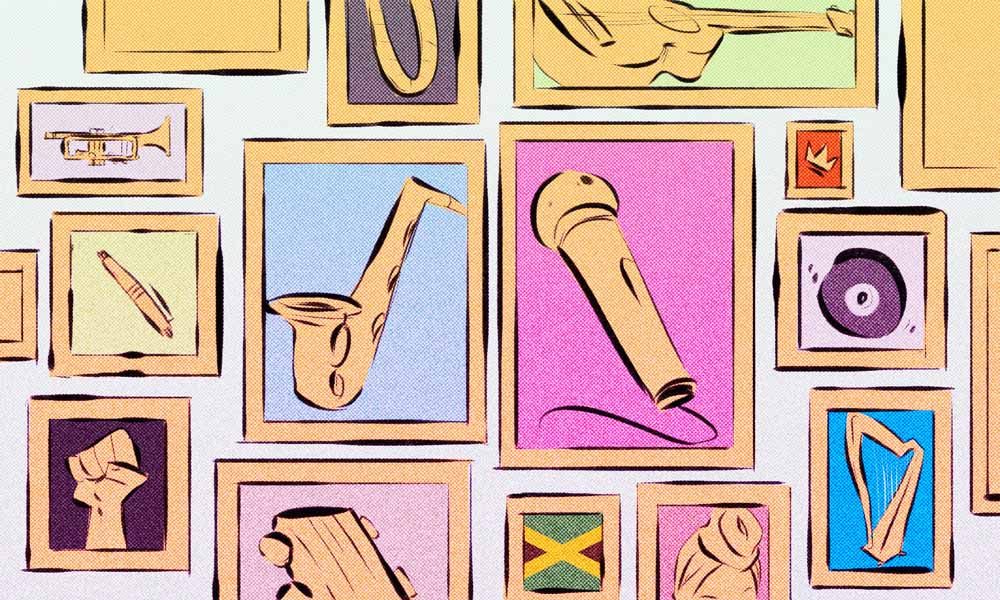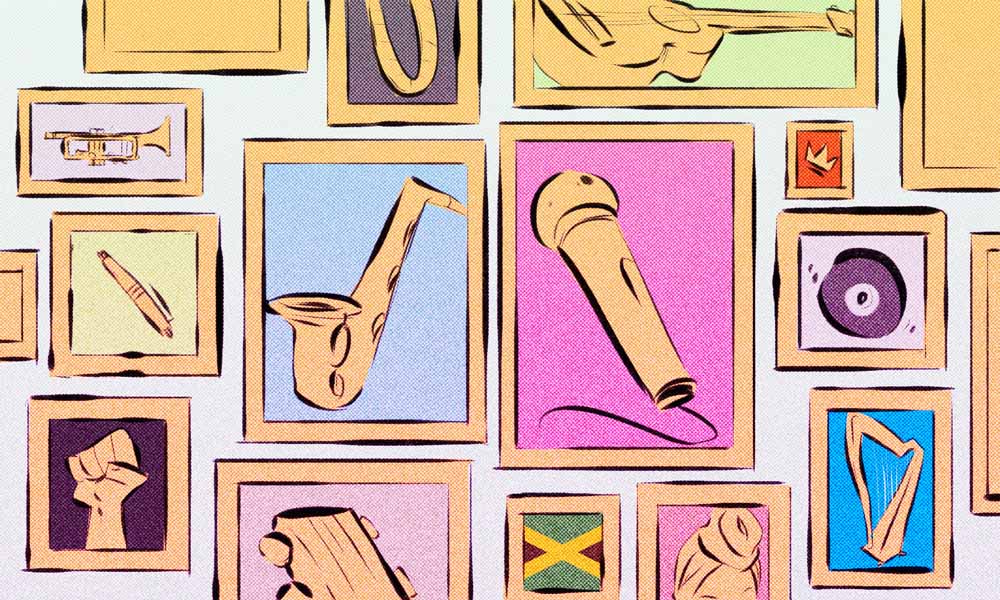 Black Music Reframed is an ongoing editorial series on uDiscover Music that seeks to encourage a different lens, a wider lens, a new lens, when considering Black music; one not defined by genre parameters or labels, but by the creators. Sales and charts and firsts and rarities are important. But artists, music, and moments that shape culture aren't always best-sellers, chart-toppers, or immediate successes. This series, which centers Black writers writing about Black music, takes a new look at music and moments that have previously either been overlooked or not had their stories told with the proper context. In this introduction to the series, one of the editors behind the project, Naima Cochrane, explains why such an ongoing commitment to presenting stories about Black music is important and, ultimately, necessary.
Black Music Reframed: An Introduction
Since the earliest days of recorded music, Black performers' contribution and influence has been a tangled and winding history of erasure, theft, marginalization, and appropriation. Since the early days of commercial blues and rock'n'roll, non-Black artists have been credited with songs and styles originated by Black artists who weren't in a position to stake their claim and be heard. Black music – like other elements of Black culture including fashion and beauty – has always proved commercially viable, but not necessarily valuable.
The parameters of Black music have been in debate for years; in America, "Black music" usually means blues, gospel, soul/R&B, or hip-hop. But Black music is the foundation for arguably every genre in American music, and there are Black artists to be found in every genre of music. All of which leaves Black artists and the legacy of their contributions in a dual battle: both fighting limited definitions based on a devalued perception of Black music, as held to standards set by non-Black people; and broadening the definition of Black music and the perception of Black artists outside of gospel, R&B and hip-hop.
Decision makers in the music industry, over the years, have applied what they thought were palatable terms to make the artists and music more marketable. But from race records – the genre name under which jazz and blues artists were marketed in the segregated 1920s – to rhythm & blues, R&B, soul, Quiet Storm, and urban, everyone has avoided directly acknowledging the "Black" part of Black music. Even the US Congress-declared annual celebration of Black artists and contributions, African-American Music Month in June, started as Black Music Month… but changed by the time the formal bill was written. In the end, genre labels have boxed Black musicians and performers into a limited space, holding all but a relative few from mainstream success. Artists who manage to transcend genres and labels reserved for Black music to the wider, whiter audiences of rock and pop, are the Black music stories most often told and widely shared.
In fairness to the industry, genre names are created in an attempt to accurately represent not just the sound, but the source. In the 1970's, NYC Radio DJ Frankie Crocker created Urban radio – a distinctive format that played, at the time, a mix of funk, disco, and dance music, and R&B that was popular on the dancefloors of NYC. The popularization of the format and a growing post-Civil Rights Era Black middle class spurred major labels to create Urban divisions with Black executives, form joint ventures as pipelines for Black talent, or buy existing Black labels to absorb their catalogue.
But these genre names don't always age well, and can carry unintended implications. The term "race records" hardly needs to be dissected. Urban, while well-meaning, came under fire basically from the moment it took hold. Even "Black music" is ill-fitting. Not only are there Black artists across every genre of music, but across the globe. Black people aren't a monolith, nor are Black entertainers and creators, yet those who don't fit the American sonic boxes of R&B, hip-hop, or new-soul (neo-soul, alternative-soul, trap-soul, etc.), have been largely left out of Black music conversations, usually referenced only within their select niches and subgenres.
As part of current conversations around justice, equity and parity for Black people, the music business is reexamining its relationship with the creators and executives that have powered culture for so many decades. In a similar spirit, this ongoing editorial series will aim to reframe some of the artists, moments, and executives whose contributions, significance, or mere existence has previously either been overlooked altogether, or not had their stories told with full context. We want to illustrate why artists, songs, and albums aren't just notable based on mainstream consumption, but because of their impact, influence and artistic achievements not widely known.
Black Music Reframed: The Series
The impact of overlooked and/or undercredited artists of their respective eras is at the narrative forefront of these pieces; such as Miles Davis and John Coltrane contemporary "Cannonball" Adderly, who swept into New York's mid-century jazz scene as the heir apparent to Charlie "Bird" Parker and broke mainstream ground for Black jazz musicians with his 1967 single "Mercy, Mercy, Mercy." Or Kurtis Blow, rap's first true solo star and the first rapper to garner a major label deal. The combination of Blow's performance energy, charisma, and style created a blueprint for rap swag.
There are stories to uncover even with known superstars like MC Hammer, infamous for tearing down the rap-to-pop barrier with 1990's multi-platinum Please, Hammer Don't Hurt 'Em. Few remember that at the time of his massive hit, Hammer was already an enterprising executive, with his label and production company Bust It Records, selling 60,000 albums independently before Capitol Records came looking to partner up. Queen Latifah is widely known as part of the first class of rappers to successfully cross over into TV and film, but she also traversed a wide sonic expanse, garnering both Grammy accolades and a No.1 album as a jazz artist.
Black American artists aren't the only ones who have been relegated to niche conversations in the past. In the 60s, King Sunny Adé declined his ancestral crown as part of an actual Nigerian royal family, to instead crown himself musically. Island Records hoped he'd pick up the mantle of the also regal and recently deceased Bob Marley when they signed him, but Adé remained true to himself, and opened the doors for more music from the African continent to be heard by the Western world. Cuban rapper Mellow Man Ace broke cultural barriers of his own when he dropped Escape From Havana in 1987, which featured the first single from a Latin rapper to crack the Billboard Top 40.
This series encompasses artists that have pushed musical convention, like Dorothy Ashby, who introduced the harp to jazz, soul, African, and Brazilian music. You've likely closed your eyes and floated to her playing on Stevie Wonder's "If It's Magic," but didn't know her name. We will also feature folks further behind-the-scenes, like the vanguard of Black label heads who created space and opportunity to nurture Black talent and let it thrive; executives who intimately understood and connected to the artists and their stories.
Ultimately, Black Music Reframed seeks to encourage a different lens, a wider lens, a new lens when considering Black music; one undefined by genre parameters or labels, but instead by the creators. We also encourage you to adjust your ideas of impact: sales and charts and firsts and rarities are important. But Black artists, creators and music have shaped culture in ways that can't only be measured by systems and barometers not created with them in mind. It's time to take another look at the impact of Black music.
Check out the Black Music Reframed series here