'Iron Lion Zion': Behind Bob Marley's Rasta On The Run
Raw and alluring, 'Iron Lion Zion' brought Bob Marley's message to the world in a fresh guise, with lyrics that were open to interpretation.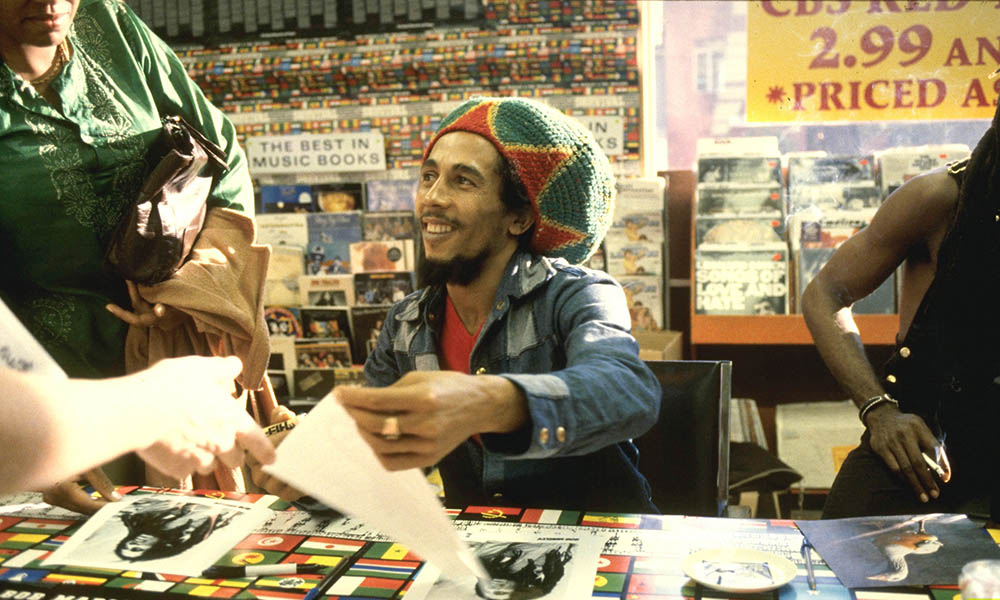 It has long been assumed that Bob Marley was more than just a singer; many friends, family, and fans considered him to be a messenger for Rastafari, bringing his religion to the world. When he moved from this existence to the next one, at the age of 36, many felt sure his work was not done; some feared it would not be completed, and wondered who would carry on this task. They need not have worried. There was room for further messengers, but Bob's songs continued to resonate after his passing. Even when he was no longer with us, his music still did the work. And "Iron Lion Zion" brought his message to the world in a fresh guise: nobody heard the song until 1992.
Bob Marley & The Wailers - Iron Lion Zion (7" Edit / Audio)
Beginnings of a gem
Written in the early 70s and recorded either in 1973 or 1974, "Iron Lion Zion" was raw but alluring. The manifestation that was the singer's voice and the elegantly grooving rhythm The Wailers had laid had been shelved, apparently unfinished. It was left for others to complete it, to continue Bob's mission.
Sources date the first recording of "Iron Lion Zion" to April 1973 at Harry J's studio, the facility Marley and The Wailers used most at this time. There was certainly the beginnings of a gem here, but the original tape made it clear the group was still working on it; this song was not ready to take its place on the Natty Dread album it was probably intended for. Things had changed; Eric Clapton recorded Bob's "I Shot The Sheriff" and enjoyed a massive hit with it. The "original Wailers," Bunny Wailer and Peter Tosh, left Bob's side permanently to follow their own paths. Bob recruited his wife, Rita, along with Marcia Griffiths and Judy Mowatt, to become The I-Threes, his harmony singers and lyrical foils.
The stakes were higher: Bob now had an international profile, thanks to Clapton's unexpected intervention, and he had to prove he could live up to a burgeoning reputation without the support of his long-standing cohorts. As we now know, he did so – big style. But in the making of the magnificent Natty Dread and the building of a career that became a legend, some things were set aside, and "Iron Lion Zion" was among them.
Rasta on the run
Why was this? Perhaps Bob regarded "Iron Lion Zion" as in need of work. Perhaps he felt other songs were more important. Maybe his message needed to be especially clear at this point, when he was building a global audience that was not au fait with Rastafari and the spirituality he sang about; "Iron Lion Zion" was not as easy to understand as, say, "Natty Dread" or "So Jah Seh." For whatever reason, we did not hear the song for the best part of two decades.
Island Records had been diligent in building their greatest artist's fame, ensuring that Marley would have a status for all time, and they applied the same care to maintaining his legacy. The company carefully curated the Legend album, which still sells thousands of copies each week, 36 years after its release. Further material appeared with the thoughtfully assembled Rebel Music collection in 1986, but there was clearly a demand for more, so the company put together the Songs Of Freedom box set in 1992, a mixture of rare tracks, unheard demos, uncompiled album cuts, and Jamaican single releases. It saw the release of the original "Iron Lion Zion," which had added vocals from the I-Threes behind Bob's arresting lead.
Iron Lion Zion (1992) - Bob Marley & The Wailers
Feeling the song had more potential, and with the full consent of the Marley estate, Trevor Wyatt at Island, along with the company's engineering stalwart Ingmar Klang, remixed the song. Errol Brown's original Jamaican engineering proved its lasting worth by standing up brilliantly alongside overdubs which included the work of the superb jazz saxophonist Courtney Pine. The song acquired a floor-filling patina of a kind that might have graced the classic album Uprising or the second half of Exodus. Importantly, its story of a Rasta on the run continued to come through loud and clear.
Deeper interpretations
"Iron Lion Zion" can be taken at face value: I'm on the run, I've got to move to save my life; it's a lyrical theme that Bob had utilized before in "I Shot The Sheriff" and The Wailers' thrilling 1972 cover of Curtis Mayfield's "Keep On Moving." But it can also be interpreted a deeper way: iron refers to strength; lion represents Emperor Haile Selassie of Ethiopia, the living God of Rastafarianism known as the Lion Of Judah; and Zion represents the Rastas' holy land of Ethiopia. You can find hints of the country's struggle against an invasion by Benito Mussolini's Italian fascist regime, which began in 1935. You can take it as a catchy pop hit (it made No.5 in the UK in 1992) or seek a more profound meaning; like most of Marley's music, "Iron Lion Zion" worked on more than one level. Bob's message continued to be delivered, fresh and profound, long after his physical presence had moved on.
Listen to the best Bob Marley songs on Apple Music and Spotify.