'Let The Rhythm Hit 'Em': Eric B & Rakim's Statement Of Purpose
An album that set the stage for an entire generation of hardcore New York street rap.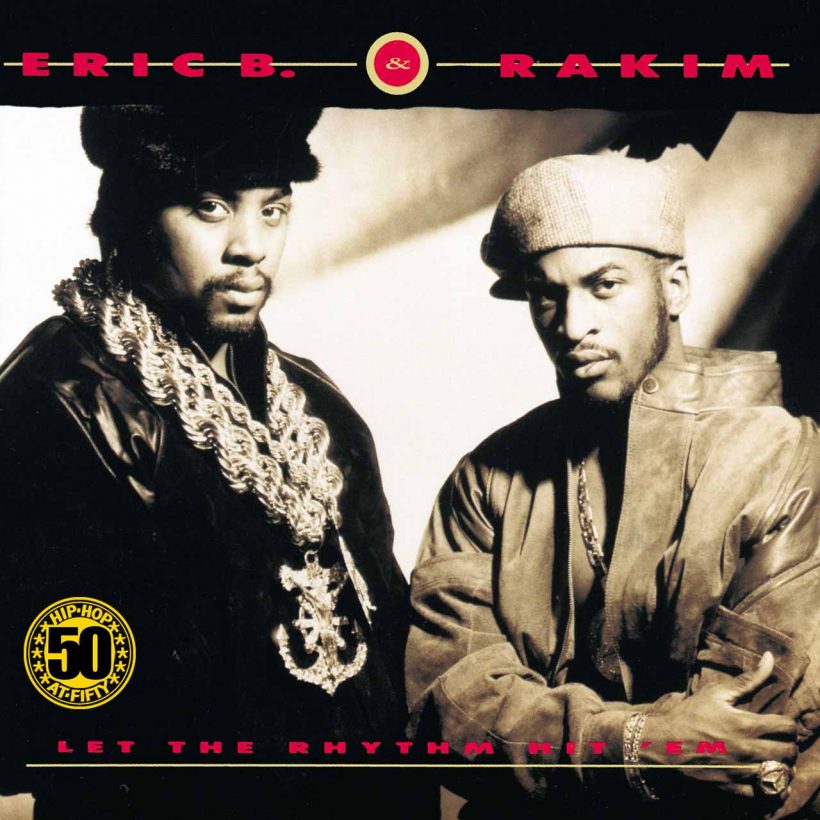 Let The Rhythm Hit 'Em, the third album from Eric B. & Rakim, finds the duo in the lane they'd steadfastly occupied for almost five years: no-frills hip-hop. This is significant considering how much was changing in rap music at the dawn of the 1990s: N.W.A. had thrust gangsta rap into the national spotlight circa 1988, with Public Enemy's brand of fiery political rap also hitting the mainstream around the same time. Quirky masterpieces like De La Soul's 3 Feet High & Rising and Beastie Boys' Paul's Boutique also dropped in 1989, making hip-hop more diversified than ever. So, Eric B. & Rakim could've been forgiven if they'd decided to switch gears, hopped on D.A.I.S.Y. Age trendiness or even got more explicit in their subject matter. Instead, the duo leaned into what they do best.
Make no mistake: Let The Rhythm Hit 'Em is not a formulaic exercise. Quite the contrary, the album is the work of master craftsmen, the product of having sharpened their tools across two previous classics. And there were differences: Namely the producer Paul C. Born Paul McKasty, he revolutionized hip-hop production via his work with the SP-1200. Having made his name on tracks with artists like Ultramagnetic MCs, Paul C was tapped to produce tracks for Let The Rhythm Hit 'Em before his tragic murder in the summer of 1989. He only finished two tracks ("Run For Cover" and "Untouchables") before his young protege was recruited to finish what he'd started. Large Professor, a young producer out of Queens, had come under Paul's tutelage and they were working together on music for Boston-based Almighty RSO when Paul was killed. Now, Large Professor was working on the new Eric B. & Rakim album.
Listen to Eric B & Rakim's Let The Rhythm Hit 'Em now.
The one constant, of course, is Ra and his lyricism, which is stronger than ever as he rhymes about everything from romantic entanglements ("Mahogany") to Black consciousness ("In the Ghetto.") "Let The Rhythm Hit 'Em" is a tour-de-force, as Ra's distinct baritone rips line-after-line over an inspired sample of "Nautilus." With flips of Al Green, Bob James, 24 Karat Black, the production from Large Pro and others is inspired throughout. Pro helmed tracks like the standout single "In the Ghetto," while also using leftover studio time to record a few demo tracks for an up-and-coming rapper out of Queens named Nasty Nas.
Let The Rhythm Hit 'Em's jazzy backdrops provide a cohesiveness that makes this arguably Eric B. & Rakim's most consistently gripping album. The duo was still at their peak here, despite changing times and changing tastes. They would release one more album (1992's underrated Don't Sweat The Technique) before business and personal differences led to their acrimonious split. But in 1990, Rakim was still as untouchable as ever. And this album set the stage for an entire generation of hardcore New York street rap.
Listen to Eric B & Rakim's Let The Rhythm Hit 'Em now.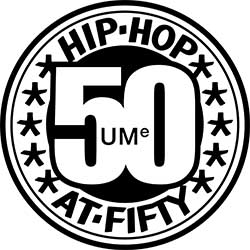 In celebration of hip-hop's 50th anniversary, uDiscover Music is publishing 50 album reviews throughout 2023 that highlight the breadth and depth of the genre. The Hip-Hop 50 logo was designed by Eric Haze, the mind behind iconic graphics for EPMD and LL Cool J.