Hemispheres: Prog Rock From Around The World
Saluting some of the finest, most out-there prog rock artists from outside the UK: long may their Mellotrons resonate down the years.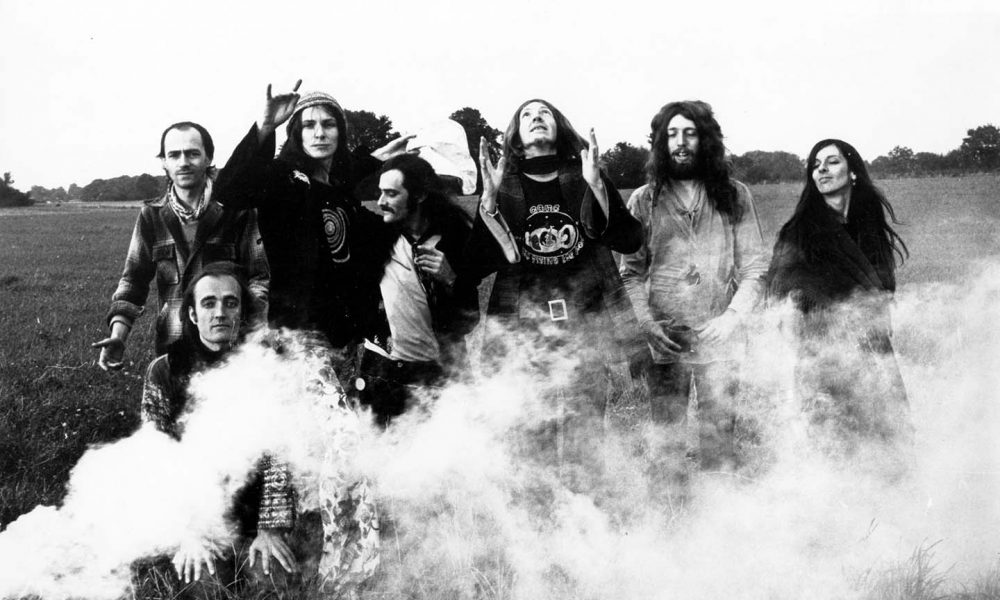 It is generally believed, for any number of reasons, that prog rock is a definitively British initiative. Its studiousness, seriousness, silliness and dreaminess all adhere to certain British archetypes, allied to the assumption that prog rock drew its inspiration from the European classical tradition as opposed to the American R&B and soul influences which had predominated in Western rock music.
While it remains a given that the key artifacts in establishing prog's large-canvas modus operandi were almost entirely British – Days Of Future Passed by The Moody Blues, In The Court Of The Crimson King by King Crimson, Five Bridges by The Nice, plus the questing, long-form example set by the likes of Genesis, Yes, Van Der Graaf Generator, ELP, Pink Floyd and Jethro Tull – many other territories had active prog rock scenes of their own. This list salutes some of our favorite prog rock artists from outside the UK: long may their Mellotrons resonate down the years.
Australia
Ariel
Chiefly remembered in their native country for debut album A Strange Fantastic Dream, which stalled just outside the Australian Top 10 in 1974, Ariel purveyed a fine line in melodic, wryly jocular progressive pop, like a more dissolute Supertramp ("Garden Of The Frenzied Cortinas," "Confessions Of A Psychopathic Cowpoke"). To their credit, they attempted to follow up their debut album with a sci-fi concept piece called The Jellabad Mutant – which was so confusing that it was turned down flat by EMI, and would not see a release until 2002.
Austria
Eela Craig
Basing their sound upon the layered keyboards of Hubert Bognermayr, Eela Craig bravely went up against the Grease soundtrack in the 1978 Austrian album charts with their Christian concept piece Missa Universalis, but 1976's One Niter is arguably the best showcase for their particular brand of intense, elemental symphonic rock. Bognermayr, a keen proponent of electronic music, pioneered the use of Fairlight CMI sampling synths in the early 80s.
Belgium
Waterloo
With only one album to their name, 1970's First Battle, Waterloo at their best were a formidable, flute-toting, heavy-prog furnace, like early Jethro Tull eating raw chillies, but harboring a teeth-baring Hammond at their core ("Why May I Not Know," "Life"). Cosmic contemplation wasn't for them, but it's safe to assume that they would have torn the roof off any club lucky enough to have hosted them during their brief existence.
Brazil
Os Mutantes
Formerly prime movers and arch-provocateurs in Brazil's authority-baiting Tropicália movement, Os Mutantes started edging towards prog rock with 1970's A Divina Comédia Ou Ando Meio Desligado, and had evolved into a fully-fledged prog rock entity by the time of O a e O Z, recorded in 1973 but (criminally) unreleased until 1992. They were clearly besotted by the Mk I Yes – cue the growly Hammond and saber-rattling bass – but their prankster souls twisted the form into enticing misshapes.
Canada
Rush
Well, obviously, but Rush's lifelong devotion to the prog rock cause merits a knighthood apiece for Geddy Lee, Alex Lifeson, and Neil Peart. Prog never sounded more bright and crisp than it did on 2112, A Farewell To Kings and Hemispheres – while the stamina and memory retention required to play this stuff ("La Villa Strangiato," "Xanadu") still beggars belief.
Rush - Xanadu (Official Music Video)
Denmark
Burnin Red Ivanhoe
Championed in the UK by John Peel, the Ivanhoes layered incantatory vocals and jazzy soloing (alto and soprano saxophones, flute and bassoon) over a churning, visceral rhythmic base, heard to best advantage on 1971's W.W.W ("Cucumber Porcupine," "2nd Floor, Croydon").
Finland
Wigwam
An often devastating ensemble, tackling unpredictable, stirring chord sequences and textural about-turns with muscularity and elegance, Wigwam were fronted by British ex-pat Jim Pembroke, and made a tiny stir in the UK when Virgin issued Nuclear Nightclub in 1975. However, you need to track back to 1971's Fairyport and 1974's Being to hear them at their inimitable, undiluted peak.
France
Gong
Fair enough, they were fronted by an Australian (the impish Daevid Allen) and boasted more than their fair share of genuinely international line-ups over the years – but they were founded in France. The Radio Gnome Invisible trilogy (Flying Teapot, Angels Egg, You) is essential fare for those who like their prog rock to be deeply rooted in psychedelia – and who also like their transcendence to be tempered with contagious interludes of stoned giggling.
Magma
Formed by drummer/firebrand Christian Vander in 1969, Magma are the sound of delectable damnation: choral prog rock at its darkest, most Wagnerian and least personable. Sufficiently fanatical as to have devised their own language (Kobaïan), Magma's incomparable din is a crushing, pitiless but ultimately redemptive creation. The 17-minute "De Futura" from 1976's Üdü Ẁüdü exemplifies their baleful majesty.
Germany
Eloy
The most celebrated German bands of the 70s (Can, Faust, NEU!, Kraftwerk, etc) were undeniably progressive, but hardly "prog." Nevertheless, bands such as Eloy fitted the latter bill perfectly, with their melodious, solemn drift and expertly-deployed dynamics. Inside (1973) and Floating (1974) should appeal to fans of Camel, Pink Floyd, and even Deep Purple, at a pinch.
Jane
Perched at the rockier end of prog rock, Jane nevertheless went the whole prog hog on 1976's Fire, Water, Earth And Air, essentially a 33-minute suite with the tracks subdivided into elements, topped and tailed with an overture and a climactic flourish.
Greece
Aphrodite's Child
Largely best known for mournful balladry, Aphrodite's Child went deep with the weighty concept piece 666, a double-album released in 1972, long after the band had split. Keyboardist Vangelis Papathanassiou went on to become, you know, Vangelis, while vocalist/bassist Demis Roussos surfed the mid-70s European package holiday wave with the unavoidably evocative "Forever And Ever." Nevertheless, the haunted heaviosity of 666's "The Four Horsemen" represents both men's Greek peak.
Italy
Area
Quite brilliant on any and every level, Area combined intimidating jazz-rock chops with anarchic experimentalism and revolutionary socialist rhetoric. Their vocalist, Demetrio Stratos, deployed a startling, semi-abstract approach, and would undoubtedly have been a much-sought collaborator in international art-rock projects had he not died shockingly prematurely, aged 34, in 1979. Go with 1974's Caution Radiation Area as a representative primer.
Premiata Forneria Marconi (PFM)
The most famous Italian prog rock band by some distance, the passionate, expansive PFM were snapped up by Emerson, Lake & Palmer's Manticore label and released several albums on said imprint: Photos Of Ghosts (1973), The World Became The World (1974), Chocolate Kings (1975) and Jet Lag (1977). Of these, Chocolate Kings is a recommended point of entry, featuring as it does the rich vocals of new singer Bernardo Lanzetti, formerly of rival Italian proggers Acqua Fragile.
Japan
Acid Mothers Temple
Fronted by guitarist Kawabata Makoto, Acid Mothers Temple & The Melting Paraiso UFO coalesced in the mid-90s, pursuing a heady, trippy, psych-prog catharsis with rabid fervor, and birthing several related offshoots – not unlike their spiritual allies Gong, with whom they collaborated (on the latter's 2004 album, Acid Motherhood). With a staggering discography – well in excess of 70 albums, counting all of the side projects – finding a way in can be a tad forbidding, but 2008's Pink Lady Lemonade ~ You're From Outer Space (by Acid Mothers Temple & The Cosmic Inferno) is an accessible entry point into the collective's swirling sound world.
Netherlands
Focus
The reductive shorthand is that Focus brought yodeling to the UK charts when "Hocus Pocus" made The top 20 in January 1973. However, less well remembered is the devastating impact of their Old Grey Whistle Test appearance the previous month, which reportedly sent Polydor's pressing plants into overdrive in order to get sufficient copies of Moving Waves into the shops. That album, 1973's Focus 3 and 1974's Hamburger Concerto are highly recommended sources of boiling, exultant ensemble performances: guitarist Jan Akkerman in particular is a universe-class instrumentalist.
Supersister
Subversive geniuses with a broad, dark seam of cynical, Zappa-esque humor running right through the middle of pretty much everything they did, Supersister majored in algebraic time signatures, hyperventilating flute passages and Hugh Hopper-indebted fuzz bass runs. Track down A Present From Nancy (1970), To The Highest Bidder (1971) and Pudding En Gisteren (1972) with confidence.
Sweden
Bo Hansson
After recording in the 60s as a duo with Janne Carlsson, keyboardist Bo Hansson was briefly de rigueur in British student bedsits and common rooms circa 1972, when his instrumental Sagan Om Ringen (known as Music Inspired By Lord Of The Rings upon its Charisma label release in the UK) was fast-tracked to ubiquity not merely because of its Tolkein connection, but also because of its dreamy, absorbing vibe. His follow-up album, Ur Trollkarlens Hatt, released in the UK in 1973 as Magician's Hat, boasted a similarly transportive effect.
USA
Pavlov's Dog
Hailing from St Louis and headed up by the polarising vocals of David Surkamp and stirring violin of Siegfried Carver, Pavlov's Dog prompted much-heated discussion with the dramatic fare found on their 1975 debut album, Pampered Menial. First-call prog rock drummer Bill Bruford (Yes, King Crimson, Genesis) was pressed into service on the 1976 follow-up, At The Sound Of The Bell.
Utopia
Not content with writing some of the most immaculate soul-pop songs of the 70s, Todd Rundgren also flexed his not-inconsiderable synth and guitar chops with Utopia, who developed over time into a seamless pop-rock ensemble. Their full-fat prog rock past, however, is there for all to admire on Todd Rundgren's Utopia (1974), Another Live (1975) and Ra (1977).