Happy Music: More Than 200 Songs To Lift Your Mood
Happy songs can lift your spirits and make you forget your troubles. Here's a list of some of the best.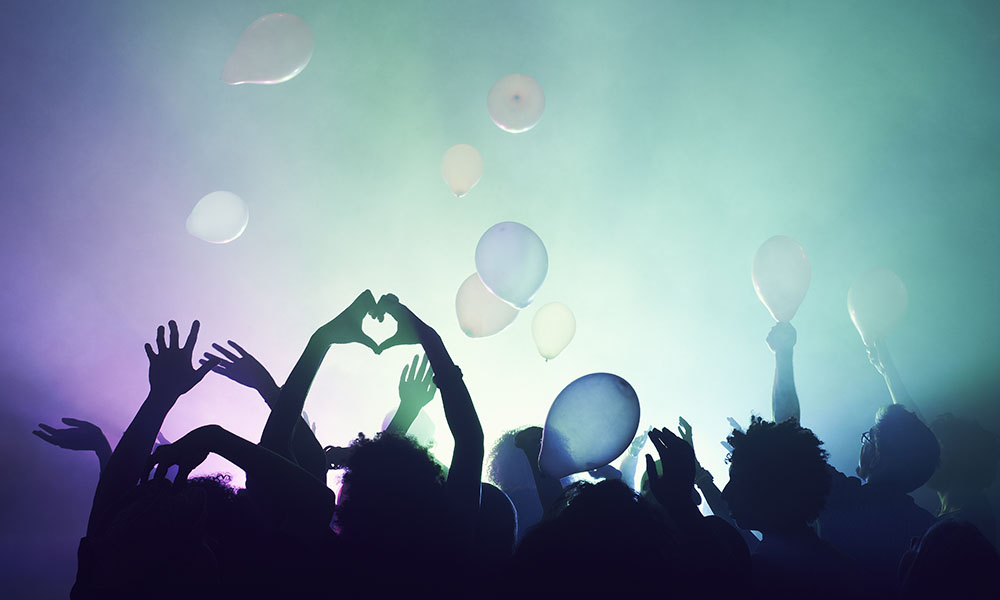 Looking for happy music? We've got you covered. Because we believe that music is universal and transformative. It can change your mood instantly and take you back in time to people, places, and things. Most importantly, it can make you smile. Happy songs can lift your spirits and make you forget your troubles. So, with that in mind, we compiled a list of tunes that will provide comfort and joy, no matter the circumstances.
Disco
Happy music? Well, disco is quite possibly the happiest music ever created. A musical genre all about getting on the dance floor, taking a chance and finding that special someone. When all else fails, the infectious grooves will put a smile on your face.
Diana Ross – Love Hangover
Thelma Houston – Don't Leave Me This Way
Amii Stewart – Knock On Wood
Sylvester – You Make Me Feel (Mighty Real)
Donna Summer – I Feel Love
Chic – Good Times
Sister Sledge – We Are Family
Michael Jackson – Don't Stop Till You Get Enough
KC & The Sunshine Band – Get Down Tonight
Chic – Le Freak
Gloria Gaynor – I Will Survive
Bee Gees – Stayin' Alive
Frankie Vallie & The Four Seasons – December 1963 (Oh What a Night)
France Jolie – Feel Like Dancing
McFadden & Whitehead – Ain't No Stoppin' Us Now
Stargard – Theme from "Which Way is Up"
Jimmy "Bo" Horne – Spank
ABBA – Dancing Queen
Abba - Dancing Queen (Official Music Video Remastered)
Electronic Muisic
There's also plenty of happy music when it comes to electronic music. This music is made to dance to and lose yourself in the captivating and pulsating energy of the shimmering synthesized beats and rhythms. Whether listening to New Wave, 90's house or today's diverse array of artists, these songs urge you to escape simply by turning the volume up.
New Order – Bizarre Love Triangle
Black Box – Everybody, Everybody
The Bucketheads – The Bomb (These Sounds Fall Into My Mind)
Deee-Lite – Groove Is In The Heart
Madonna – Vogue
Technotronic – Pump Up The Jam
Hardrive – Deep Inside
Basement Jaxx – Red Alert
LCD Soundsystem – Dance Yrself Clean
CeCe Peniston – Finally
Robin S. – Show Me Love
Crystal Waters – 100% Pure Love
Fatboy Slim – Sho Nuff
Technotronic – Get Up (Before the Night is Over)
Alex Gopher – Party People
Duck Sauce – Barbra Streisand
Fedde Le Grand – Put Your Hands Up For Detroit
Shamir – On The Regular
Borns – Electric Love (Oliver Remix)
Disclosure – Energy
Hip-Hop / R&B
Imagine being at a house party. You're kicking back, having a good time with friends while grooving to happy music. Maybe you're learning a new dance or praising the DJ for spinning your favorite song. These classics will make you feel good in no time.
Arrested Development – People Everyday (Metamorphosis Mix)
Father MC – Everything's Gonna Be Alright
DJ Jazzy Jeff & The Fresh Prince – Summertime
Digital Underground – The Humpty Dance
Snoop Dogg, Pharrell Williams – Beautiful
Bruno Mars – 24K Magic
Beyonce – Get Me Bodied (Extended Mix)
Missy Elliott, Ciara, Fatman Scoop – Lose Control
Mary J. Blige – Family Affair
Zhane – Hey Mr. DJ
Rob Base and DJ EZ-Rock – It Takes Two
Kid-N-Play – Ain't Gonna Hurt Nobody
Young MC – Bust a Move
Naughty By Nature – Feel Me Flow
Snoop Dogg – Crazy
Ant Banks, Mac Mall, Too $hort – Players Holiday
Ice Cube – Today Was a Good Day
2 Pac – I Get Around
D'Angelo – Chicken Grease
Leikeli47 – Mulita
Lion Babe – Hit The Ceiling
BJ the Chicago Kid – Turnin' Me Up
Snoop Dogg, Pharrell Williams – Drop It Like It's Hot
Janelle Monae feat. Big Boi – Tightrope
Outkast – Hey Ya!
Zhane – Groove Thang
Jazz
Without a doubt, jazz has some of the happiest songs ever written. This list of songs is at times peaceful and calming while other times celebratory and playful.
Louis Armstrong – Sunny Side of the Street
Lionel Hampton – Hey! Ba- Ba-Re-Bop
Edith Piaf – Milord
Sam Butera – La Vie En Rose
Cole Porter – Anything Goes
Nina Simone – Jelly Roll
Erroll Garner – How High the Moon
Ahmad Jamal – Poinciana (Live at the Pershing Lounge, Chicago 1958)
Ella Fitzgerald and Louis Armstrong – Dream a Little Dream Of Me
Billie Holiday & Teddy Wilson & His Orchestra – Easy Living
Grant Green – Sookie Sookie Live
The Jazz Crusaders – The Young Rabbits
Lionel Hampton – Hamp's Boogie Woogie
Erroll Garner – My Blue Heaven
Louis Prima – When The Saints Go In
Rosemary Clooney – Mambo Italiano
Erroll Garner – Long Ago and Far Away
Tony Bennett & Lady Gaga – Cheek to Cheek
John Mathis – All the Things You Are
John Coltrane – My Favorite Things
Latin Music
Latin music has many different styles. From mambo to boogaloo, cha cha to salsa, rhumba to merengue and bachata, rhythm is the key element in all of these forms of music. The lively and animated delivery of the horns, keys, and drums makes it nearly impossible not to dance along to this happy music.
Willie Bobo – Spanish Grease
Ramsey Lewis – 1-2-3
Joe Cuba – Bang Bang
The Champs – Tequila
Two Man Sound – Capitol Tropical
Gipsy Kings – Medley
Quantic, Nickodemus, Temp, Candela All Stars – Mi Swing Es Tropical
Malo – Suavecito
Willie Rosario – Watusi Boogaloo
Mongo Santamaria – Watermelon Man
Pete Rodriguez – I Like It Like That
Brazilian Music
Brazilian music, especially bossa nova, is often sultry, smooth, and sways from note to note. The easy-breezy vocals of Astrud Gilberto could lull almost any listener into a pure state of bliss. Even so, there are plenty of harder-edged Brazilian artists that showcase the breadth of the country's musical output. Enjoy this list of happy music from Brazil.
Sergio Mendes – Magalenha
Sergio Mendes & Brasil '66 – Mais Que Nada
Vinicius Cantuaria – Batucada
Stan Getz, Joao Gilberto, Astrud Gilberto – The Girl from Ipanema
Astrud Gilberto – Stay
Elis Regina – Aquarela Do Brasil
Stan Getz, Joao Gilberto, Astrud Gilberto – Corcovado
Walter Wanderley & Astrud Gilberto – So Nice (Summer Samba)
Barbatuques – Baiao Destemperado
Stan Getz, Joao Gilberto, Antonio Carlos Jobim – Desafinado
Reggae
This list of happy music from Jamaica focuses on the softer side of reggae: Sunny, laid back,, and fun, reggae can be like taking a vacation away from your daily life. These songs give an immediate burst of light, calm, and ease to anyone in need.
Bob Marley – Three Little Birds
Toots & the Maytals – 54-46 Was My Number
Althea & Donna – Uptown Ranking
Sister Nancy – Bam Bam
Gregory Isaacs – Oh What a Feeling
King Tubby – Dub You Can Feel
J Boog, Stephen Marley – Good Good Feeling
The Wailers – Sun is Shining
Party Time – The Heptones – Party Time
Gregory Isaacs – Tune In
Bullwackies All Stars – Dub To Jah
Half Pint – Level the Vibes
Bob Marley – Stir It Up
Stir It Up (Jamaican Version)
Pop
Whether listening to music on the radio in the car with friends or hearing it out at a club, these instantly recognizable songs are the epitome of happy music.
Bobby McFerrin – Don't Worry Be Happy
Madonna – Holiday
Janet Jackson – Escapade
Len – Steal My Sunshine
Mariah Carey – Fantasy
Whitney Houston – I Wanna Dance With Somebody
Prince – 1999
George Michael – Freedom
Lionel Richie – All Night Long
Dee-Lite – Groove Is in the Heart
OMC – How Bizarre
Marky Mark & The Funky Bunch – Good Vibrations
Men Without Hats – Safety Dance
Katrina & The Waves – Walking on Sunshine
Taylor Swift – Shake It Off
Spice Girls – Spice Up Your Life
Nena – 99 Red Balloons
A-Ha – Take On Me
Miley Cyrus – Party in the USA
Miley Cyrus - Party In The U.S.A. (Official Video)
Classic Pop and Rock
Whether you lived through the classic rock age or simply found your way into its sound later, the best classic rock definitely puts a smile on your face. This list is happy music for any classic rock, new or old.
Joe Cocker – Feelin' Alright
David Bowie – Young Americans
Steppenwolf – Magic Carpet Ride
Beach Boys – Good Vibrations
George Michael – Faith
Journey – Don't Stop Believin'
Fleetwood Mac – Don't Stop
Paul Simon – Late in the Evening
John Mellencamp – Cherry Bomb
The Rolling Stones – Happy
Blood, Sweat, and Tears – You've Made Me So Very Happy
10,000 Maniacs – These Are the Days
Talking Heads – This Must Be the Place (Naive Melody)
Queen – Don't Stop Me Now
Queen - Don't Stop Me Now (Official Video)
Rock & Roll / Punk
The following songs are for headbanging, jumping around, blasting out of car windows, and singing at the top of your lungs. Some of these songs are punk, some are 80's classics and some are fairly new, but it's all happy music that rocks in one way or another. Do yourself a favor and crank these to 11!
Violent Femmes – Blister in the Sun
The Ramones – Blitzkrieg Bop
Billy Idol – Dancing With Myself
Joan Jett – I Love Rock-N-Roll
The Strokes – Last Nite
Alabama Shakes – Always Alright
Florence and the Machine – Dog Days Are Over
Queen – We Will Rock You
4 Non Blondes – What's Up
REM – Shiny Happy People
The Ramones – I Wanna Be Sedated
Iggy Pop – Lust For Life
New Order – Bizarre Love Triangle
Guns-N-Roses – Sweet Child O' Mine
INXS – Need You Tonight
The Breeders – Cannonball
Sheryl Crow – All I Wanna Do
Sublime – What I Got
Bon Jovi – Livin' on a Prayer
Siouxsie and the Banshees – Happy House
blink-182 – Happy Days
Chumbawamba – Tubthumping
Chumbawamba - Tubthumping (Official Music Video)
Country
Country and western is often thought of as a genre that focuses on love lost. But that's forgetting about all the great songs about kicking back and relaxing with your friends. This selection of tunes is happy music through and through.
Johnny Cash & June Carter – Jackson
Garth Brooks – Friends in Low Places
Alan Jackson – Chattahoochee
Gretchen Wilson – Redneck Woman
Brooks & Dunn – Boot Scootin' Boogie
Ray Stevens – Everything is Beautiful
Travis Tritt – It's a Great Day To Be Alive
Shania Twain – Man! I Feel Like a Woman
Maren Morris – My Church
Sara Evans – Suds in the Bucket
Tim McGraw – I Like It, I Love It
George Strait – Blue Clear Sky
Soul / Funk
Is there anything better than hearing Stevie Wonder or James Brown enjoying themselves on record? The best soul and funk tunes are the epitome of happy music, ecstatic feelings somehow captured onto tape.
Stevie Wonder – Sir Duke
Marvin Gaye – Got To Give It Up
Sly & the Family Stone – Dance to the Music
Brick – Dazz
Parliament – Flashlight
Luther Vandross – Never Too Much
Staple Singers – I'll Take You There
Johnny Nash – I Can See Clearly Now
Bill Withers – Lovely Day
Central Line – Walking Into Sunshine
Sly & the Family Stone – Sing a Simple Song
Ray Charles – What'd I Say (Parts 1 & 2)
The Isley Brothers – Shout
Staple Singers – If You're Ready (Come Go With Me)
Smokey Robinson – Cruisin'
War – Low Rider
The Gap Band – You Dropped the Bomb on Me
Pointer Sisters – I'm So Excited
James Brown – (I Got You) I Feel Good