'Big Tyme': Heavy D And The Boyz's Triumphant Creative Leap
The album took Heavy D from a novelty act to a full-fledged star.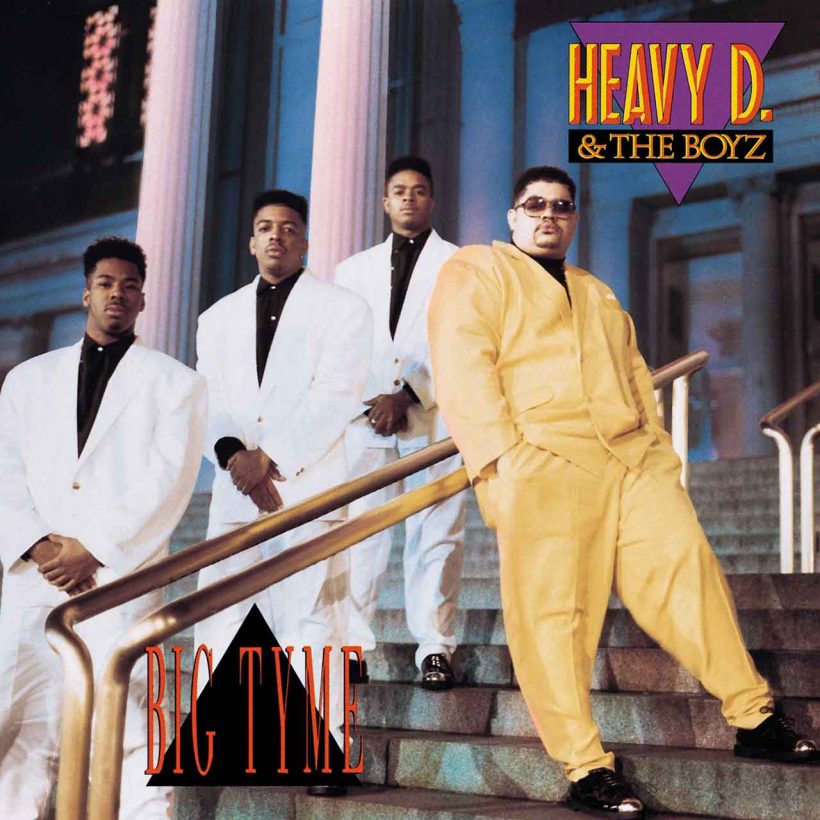 Uptown Records' legacy is synonymous with historic hip-hop/R&B hybrid movements. Specifically, the hyperactive bounce of late '80s New Jack Swing (as exemplified by Guy and Al B. Sure!), and its boom-bap adjacent cousin, '90s hip-hop soul (as perfected by its queen, Mary J. Blige, and princes, Jodeci). But more broadly Uptown – as conceived by its visionary founder, the late Andre Harrell – represented aspirational flyness and panache: records beloved on the block that openly courted commercial success via a seamless synthesis of styles. No figure represented this convergence of sensibilities better than Uptown's flagship artist, Heavy D.
Listen to the Heavy D and the Boyz's album Big Tyme now.
Born Dwight Errington Myers in Jamaica and raised in Bronx-neighboring Mount Vernon, NY, Heavy D scored his initial hits as a lovable plus-sized smooth talker on singles like "Mr. Big Stuff" and "The Overweight Lover's in the House." He realized, however, that novelty would only take him so far. "I remember early on goin', I can't keep doin' this," he recalled to D-Nice for the latter's True Hip-Hop Stories series. "I can't keep making records like 'Mr. Big Stuff' and 'Chunky But Funky,' you know, focusing just on [being] a big rapper. And by the time we got to the second album, Big Tyme, I was more into making full on records with concepts and direction and purpose."
Heavy D & The Boyz - We Got Our Own Thang
Most vitally he possessed the necessary talent and collaborators (New Jack Swing architect Teddy Riley; legendary production innovator Marley Marl; the Boyz's own in-house tracktician Eddie F) to realize these ambitions. 1989's platinum Big Tyme announced as much with its jubilant lead single, the appropriately titled, "We Got Our Own Thang." An infectious Riley-helmed merging of rap, R&B, dancehall, and house, it summarily reset Heavy's creative template. The album's additional hits – the Al B. Sure! featuring "Somebody For Me"; the Marley-produced "Gyrlz, They Love Me" – solidified Heavy's surprisingly convincing image as a romantic lead, paving the way for the "Big Poppa" persona the briefly Uptown-signed The Notorious B.I.G. would later enjoy.
Heavy D & The Boyz - Somebody For Me
No mere collection of singles, Big Tyme is also embedded with deep cut pleasures. Some (e.g. the lovely hip-hop-dancehall chune, "Mood For Love"; a snapshot of the era's prevalent social consciousness, "A Better Land") feature the first co-production credits of Heavy's cousin and protégé, Pete Rock, whose work would define the sound of hip-hop in the years to follow. Simplest and best, though, may be the Eddie F-produced "You Ain't Heard Nuttin Yet." A showcase for Heavy's effortless cadence (whether elongating syllables or playfully rhyming "pleasin'," "squeezin'," and "skeezin'") over expertly arranged samples from Grover Washington Jr.'s breakbeat classic "Mister Magic," it's as joyously nimble as the choreography the rapper regularly exhibited onstage and in music videos. Heavy D's career would see many more hits (including collaborations with both Michael and Janet Jackson) and a successful acting career before his too-soon passing in 2011 at age 44. Big Tyme's triumphant creative leap was a sign of huge things ahead.