Uptown Records Reissues Albums From Jodeci, Guy, Heavy D & The Boyz, And Christopher Williams
All five reissues are available to stream now.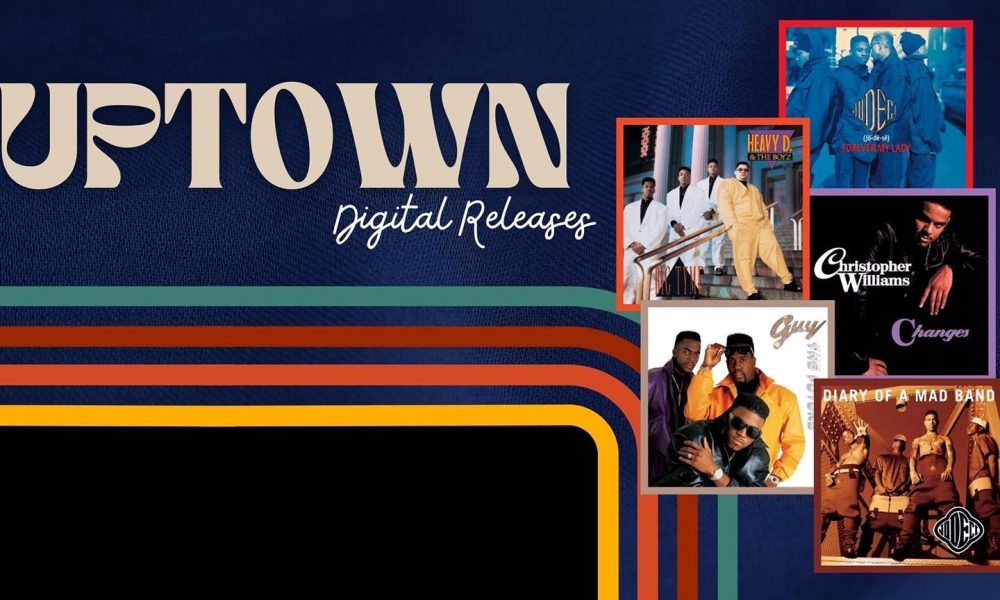 Celebrating one of the most storied labels in R&B and hip-hop, UMe has reissued a suite of five classics from Uptown Records. The digital rollout includes the definitive versions of Guy's The Future (Expanded Edition), Heavy D & The Boyz's Big Tyme (Expanded Edition), Jodeci's Forever My Lady, Jodeci's Diary of a Mad Band (Expanded Edition), and Christopher Williams' Changes (Expanded Edition). All titles are available today.
Embodying the spirit of the "New Jack Swing" movement, New York R&B phenomenon Guy—Teddy Riley, Aaron Hall, and Damion Hall—shined on their second full-length offering, The Future. After landing on November 13, 1990, it captured No.1 on the Billboard R&B Albums Chart and scaled the Top 20 of the Top 200.
Meanwhile, New York hip-hop juggernaut Heavy D & The Boyz catapulted into the Top 20 of the Billboard Top 200 and seized No.1 on the Top R&B/Hip-Hop Albums Chart after hitting the streets on June 12, 1989. It went platinum off the strength of timeless East Coast bangers such as "We Got Our Own Thang," "Somebody For Me," and "Gyrlz, They Love Me." It would be the swan song for late bandmate Trouble T Roy. The Expanded Edition touts seven additional tracks.
Jodeci introduced themselves with their earth-shaking debut Forever My Lady on May 28, 1991. Upon release, it soared to No.1 on the Billboard Top R&B Albums Chart and Top 20 at Top 200 at No.17. Out of three Hot 100 singles, "Come and Talk To Me" climbed into the Top 15.
Diary of a Mad Band remains an American R&B classic from Jodeci. Uptown Records unveiled the record just before Christmas 1993 on December 21, and it gifted the world the historic first appearances from Timbaland, Missy Elliott, and Sista, while Redman also pulled up for a feature.
Christopher Williams first shared his second album, Changes, on December 29, 1992. Beyond peaking at No.63 on the Billboard Top 200, it vaulted to No.12 on the R&B Albums Chart. The single "I'm Dreamin" climbed to No.1 on the Billboard US R&B Songs Chart and soundtracked the end credits of New Jack City.
These stand out as just a snapshot of Uptown Records' legacy. Founded by the late Andre Harrell in 1986, the label served as the first home to everyone from Mary J. Blige, Father MC, and Soul for Real to The Notorious B.I.G. It invariably set the blueprint for nineties R&B and hip-hop, and its influence grows stronger with each decade as evidenced by these reissues.
To listen to any of the expanded Uptown Records albums, click on titles above.