The Best Jodeci Songs: Groundbreaking Tunes Serving Sex and Soul
An introduction to one of the great R&B groups of the 90s.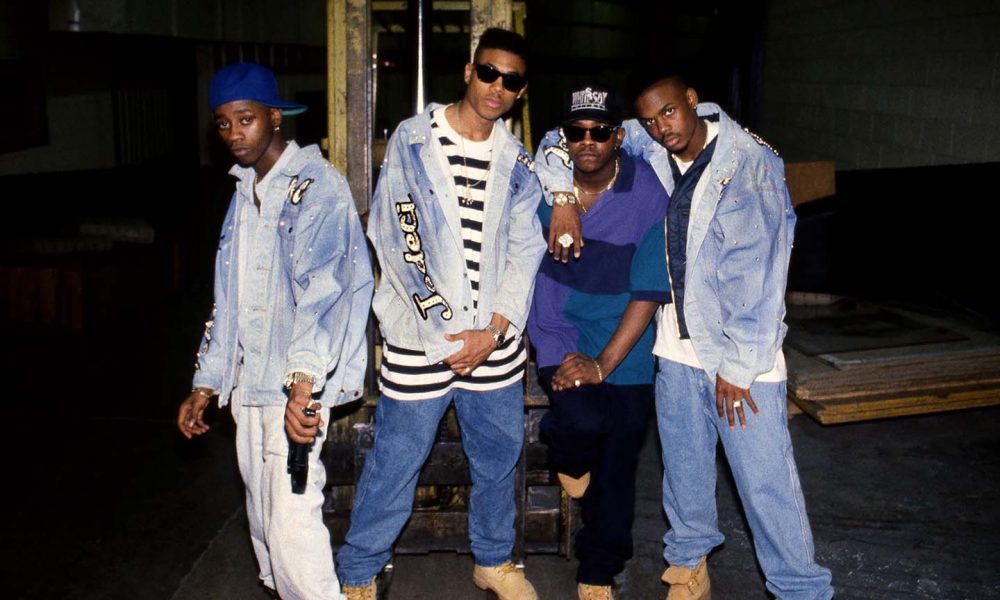 Jodeci wasn't the first soul singing R&B group to turn tales of lust and love into music. Their innovation was adding sinewy gospel-tinged harmonies and raunch unlike any R&B previously recorded, and trading in the usual coordinated tailored suits for leather vests, baggy jeans, and combat boots. Their message was clear from the beginning: They were not the typical straight-laced R&B group. While Boyz II Men were careful to be not too hard and not too soft, Jodeci had their shirts off and were ready for anything.
Jodeci, comprising two sets of brothers – Donald "DeVante" DeGrate Jr. and Dalvin "Mr. Dalvin" DeGrate, and Cedric "K-Ci" Hailey, and Joel "JoJo" Hailey" – got their respective starts singing in southern churches and touring on the gospel music circuit. The North Carolina boys eventually found each other and formed Jodeci – an amalgamation of their names – and made their way to New York City to pursue secular music. The rest is history.
Listen to the expanded editions of Forever My Lady and Diary of a Mad Band now.
Andre Harrell signed them to Uptown Records, where Al B. Sure helped to finesse their songwriting and production, and Sean "Puff Daddy" Combs helped them engineer what became their signature aesthetic – R&B with a hip-hop edge. They released their 1991 debut album, Forever My Lady to critical acclaim. Their sophomore album, Diary of a Mad Band followed in 1993. Their third album, The Show, The After Party, The Hotel came out in 1995, and their fourth album, The Past, The Present, The Future came out in 2015.
They achieved multi-platinum success during their run and established themselves as the fathers of modern R&B. They also inspired generations of groups who followed, including Dru Hill, Jagged Edge, and more. Now, decades later, it's clear their formula has withstood the test of time.
Here, we celebrate Jodeci in the name of the woo-yeah with a breakdown of 15 of their best songs.
The New R&B
Producer savant DeVante Swing worked with Al B. Sure to craft the sultry, groundbreaking sound of Jodeci's debut album. On "Come and Talk to Me," they flipped the beat from EPMD's "You're a Customer" to make it more R&B and added lyrics that have become the hallmark of beckoning a crush. The hook, specifically, gave lots of lotharios the courage (and words) they needed to woo potential paramours.
"Stay" begins with DeVante talking in the intro, setting up what was to come as K-Ci and Jojo warbled about resetting a broken love affair. Think of it as a sexy apology in the key of G with lots of oh-ho's and woo-yeah's. The album's title track, meanwhile, found the bad boys of R&B showcasing their softer side. They toned down the raunch to croon about the preciousness of family and bringing new life into the world.
Hot Sex on a Platter
Jodeci was highly skilled at singing about sex and, by their third studio album, they turned it up even more. Their album, The Show, The After Party, The Hotel was about life on the road, and "Freek'N You" was the type of song that could make any steadfast Jodeci fan feel like the group was singing specifically about them. It's also a good contender for one of the sexiest songs of all time. They come in hot in the beginning of the song with a bold, straight to the point opener: "Every time I close my eyes, I wake up feeling so horny, I can't get you out of my mind, cuz sexing you is all I see."
The only thing steamier than the original "Freek'N You" is "Freek'N You (Remix)," which featured Wu-Tang. Raekwon tops the opening line of the original song with a new way to describe a curvy body: "You got stacks like the international house of pancakes." It's poetic and erotic, it's hip-hop and R&B.
"Feenin," from their sophomore album, took the popular slang at the time and applied it to sex. Colloquially speaking, "feening" typically means to yearn for something intensely or to be addicted to something, and was often used in describing drug addicts. In Jodeci-speak, feenin refers to being addicted to someone sexually. The lyrics make it clear that they'd give up money, houses, and cars for one hit (of her).
The Classics
There's a popular internet meme that reads, "If the love doesn't feel like 90s R&B then I don't want it." Whoever created that phrase was probably listening to "Love U 4 Life." It's another DeVante Swing ballad that still gets lots of play as a wedding song. The robust four-part harmony in the chorus screams passion and makes promises of a love that will last forever.
Most of Jodeci's works were original compositions but they borrowed "Lately" from Stevie Wonder's canon and remade it their own image. 90s TV fans may also remember that moment from Martin when Martin Lawrence hilariously crashes Jodeci's performance of this song on the fictional Varnell Hill Show.
"Cry For You" is some high-powered melodic begging. The title makes it clear that they are pining for a lover who has been gone for way too long. (An hour to be exact.) The ending of the song is capped with one of the most classic lines in R&B – "Baby, I'm begging, baby I"m begging, begging, begging" – sung in four-part harmony. Rivaling that level of epic is the music video set in a desert, which sees most of the group in some variation of a leather jacket, leather vests, and combat boots.
"Gotta Love," meanwhile, fits into Uptown Records' signature new jack swing sound. It's one of Jodeci's more uptempo songs and proved they could switch up from ballads to a more hip-hop sound. "Alone" almost sounds like a four-minute interlude. It's all about, you guessed it, sex, but the sound was a blueprint that many male-led 90s R&B groups would follow. Mr. Dalvin even raps at the end, showcasing yet another talent.
"My Heart Belongs to U" opens with DeVante delivering a sexy intro speech, something he did often, before the group kicks into high gear. Here, K-Ci and Jojo pick up the metaphorical mic to profess their love for a special lady. Most of Jodeci's classic songs are timeless but "Play Thang" is distinctly New Jack Swing. Blending funky singing and rapping, it closely follows the template of the genre to great effect.
Motivational Melodies
"Get On Up" is a rarity in Jodeci's catalog: It's a song that's rated E for everyone, simply celebrating having a good time. Crank up this motivational bop at the next cookout and watch everyone two-step.
"Nobody Wins," from their 2015 album, not only marked a comeback for Jodeci after years of not putting out new material, it was also an evolution. DeVante's production was more mature and they ditched sex this go-round to denounce domestic violence. It was still Jodeci, but with all they had been through in their respective personal lives, it made sense that they wanted to release a song on a more positive note.
Listen to the expanded editions of Forever My Lady and Diary of a Mad Band now.