Hugh Masekela: The Politics Of South Africa's Famed Trumpeter
The South African trumpeter is an international icon, with a legend earned through decades of creativity, outspoken advocacy, and activism.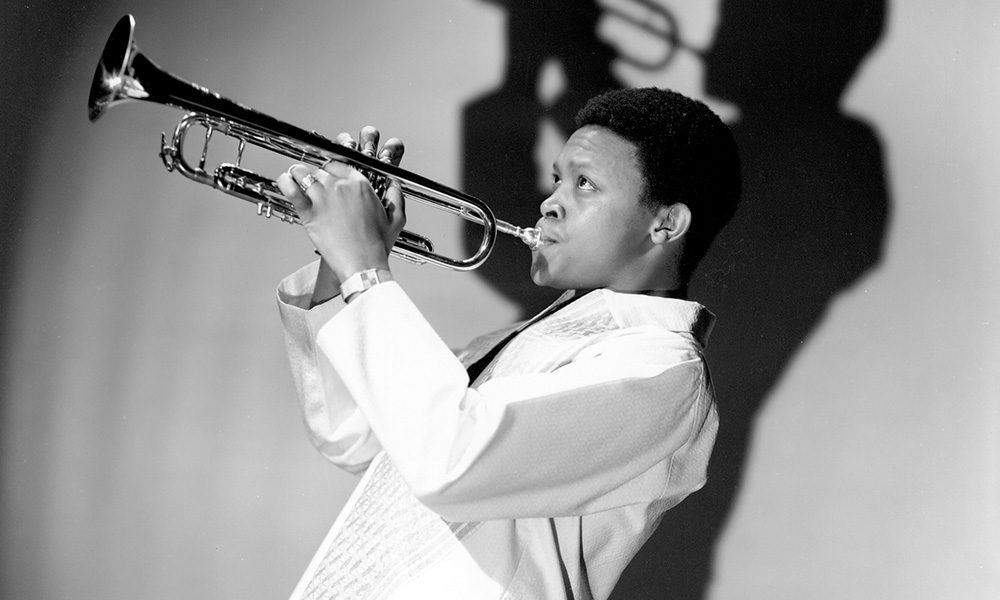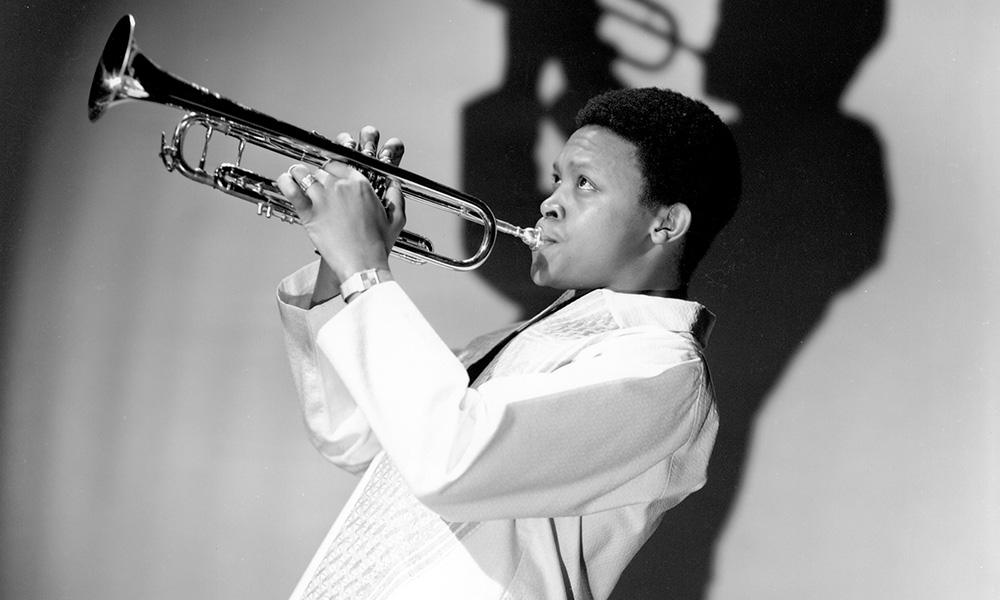 Hugh Masekela is a giant of South African music, with a legend more than earned through decades of creativity, outspoken advocacy, and activism. The musician's distinctive style and prominent crusading against apartheid made him both a global musical icon and a pillar of South African culture. Growing up, the trumpeter "merely" wanted to become a bebop star. What he became is a titan of art and a voice for the people.
Listen to Hugh Masekela on Apple Music and Spotify.
At a young age, Masekela picked up piano and showed an affinity for singing. But while a student at South Africa's St. Martin's school, Hugh met anti-apartheid activist Trevor Huddleston, who forever impacted his life by giving the young musician his first trumpet (from Louis Armstrong, no less). Masekela started teaching himself how to play, along with lessons from Uncle Sauda, the leader of Johannesburg Native Municipal Brass Band, at the request of Reverend Huddleston. Soon after, the teenage prodigy plus a few others formed the "Huddleston Jazz Band," and played for their namesake's farewell concert in 1955, when the priest's vocal crusade against apartheid led to his deportation back to England.
Huddleston's politics formed a bedrock for who Masekela would become, and his expulsion from South Africa prompted the closing of Masekela's school, leaving him free to start his touring career. The trumpeter would join Alfred Herbert's Jazz Revue and Variety Show in 1959 before moving on to the landmark jazz musical King Kong, where he'd meet his soon-to-be wife, Miriam Makeba. Alongside pianist Abdullah Ibrahim and trombonist Jonas Gwangwa, Masekela also enjoyed a stint in the Jazz Epistles, who recorded the first all-Black jazz album in South African history.
Hugh Masekela, international star
After the Sharpeville Massacre in 1960, Masekela was among those who found themselves exiled from South Africa, and initially relocated to London. He studied in England, then – with assistance from singer, actor, and activist Harry Belafonte, who was active in the anti-apartheid movement and serving as a patron for exiled South African artists coming to America – he landed in the US at the Manhattan School Of Music. Masekela aspired to follow the bebop greats that New York City had fostered. Recording for a string of labels including Mercury and Verve, Masekela's career came into full focus – but relocating to Los Angeles shifted his visibility into another gear. Once in LA, Masekela collaborated with folk rock stars The Byrds, scored a pop hit with his 1967 cover of The 5th Dimension's "Up, Up and Away" from his album Hugh Masekela Is Alive and Well At the Whisky, and appeared at the Monterey Pop Festival.
The following year would prove to be a pivotal one for Masekela. His effervescent single "Grazing In the Grass" shot to the No.1 spot on Billboard in May of 1968, en route to selling four million copies. A trip to Zambia served as a creative catalyst, further informing the cultural lens of his music going forward. While he was in Zambia, Hugh reconnected with a deteriorating Todd Matshikiza, the composer of King Kong. Witnessing Matshikiza's last days as an exile in Zambia further galvanized Masekela against South African apartheid and oppression across Africa.
"Exiled from his country of birth, [Matshikiza] was waiting to die in a foreign land, far from his friends," Masekela recalled in his autobiography, Still Grazing: The Journey Of Hugh Masekela. "Once again I was filled with contempt for the apartheid government. It was galling that such great talents as Todd had to leave South Africa and struggle to achieve recognition abroad when they came from an environment that would have given them the glory and good life they deserved."
A year later, Hugh released Masekela, the most politically themed work he'd done up to that point. "It was the time of civil rights, Vietnam, black power," he wrote in Still Grazing. "I used the time for leverage as far as screaming about South Africa was concerned. My first really angry song was 'Coincidence' on a live album of 1967. I just got mad around that time, mad and philosophical and idealistic without plans…. At Uni [Records], they couldn't understand why we made the militant Masekela album. They wanted us to change some of the titles, like 'Riot.' We just said f–k you."
A focus on Africa
Masekela's early 70s output walked the line between contemporary Black American styles and the sounds of South Africa. He formed Hugh Masekela and the Union Of South Africa with Jonas Gwangwa and Caiphus Semenya and released the acclaimed album of the same name in 1971, followed by the poignantly titled Home Is Where the Music Is in 1972. He would work with Fela Kuti and Cameroonian star Manu DiBango in 1972, and toured with Hedzoleh Soundz in Ghana, and OJAH soon thereafter. Masekela had already co-founded Chisa Records with producer Stewart Levine in the late 60s. The label's name was inspired by a dance band from Benoni (the Chisa Ramblers) and would function as record label, promotion agency, and, upon the launch of Chisa International in 2006, artist and event management. After traveling through Africa with Kuti in 1972, Masekela returned to New York with a focus on maintaining and sustaining the legacy of African music's visibility in North America.
In 1974, he combined South African and Black American music in a never-before-done way with the Zaire 74 Festival, a three-night-long live music event produced with Stewart Levine, meant to be a precursor to the famed "Rumble In The Jungle" bout between Muhammad Ali and George Foreman in 1974. Despite the Ali Foreman match being postponed by a month due to injury, the festival went forward as planned, with notables like Miriam Makeba, Congolese legends Tabu Ley Rochereau and Franco; alongside Afro-Cuban icon Celia Cruz and American superstars like James Brown, The Spinners, and B.B. King; it was the largest concert African audiences had seen and connected Black performers and fans from across the diaspora in a transcendent cultural moment. It positioned Masekela as an African musical ambassador for the world and a prominent international figure in the fight against apartheid.
Masekela's own music became more staunchly and unapologetically political. He would pen "Soweto Blues" in 1976, a lament for the massacre that followed school uprisings in the wake of the apartheid government's decree that Afrikaans become the language of instruction in schools. Miriam Makeba, an activist herself known by this time as "Mother Africa," released the song in 1977, and it has endured as one both hers and Masekela's most famous pieces and a classic protest song.
The end of Apartheid
By the mid-1980s, apartheid had become a major issue for notables in the U.S., and Masekela had done much to raise awareness about the oppressive regime that had kept him away from South Africa for decades. He would famously pen the anthem "Bring Him Back Home (Nelson Mandela)" after receiving a birthday card from the political prisoner that was smuggled out of prison.
In 1986, singer Paul Simon broke the anti-apartheid, UN-approved cultural boycott of South Africa to collaborate with South African musicians for his hit album Graceland. Masekela supported the decision and suggested Simon tour with South African musicians including himself, Makeba, and Ladysmith Black Mambazo. "South African music has been in limbo because of apartheid," he told The Guardian in 2012. "Exile and the laws have parted us and caused a lack of growth. If we'd been free and together all these years, who knows what we could have done?"
Masekela wouldn't return to South Africa until its conversion into a democratic state upon the release of Nelson Mandela in 1990. The legendary musician was named South Africa's Deputy Director of the Performing Arts Council in the early 1990s. Even as times changed and apartheid died, Masekela never wavered in his commitment to oppressed peoples or his love of South Africa. And he never let anyone forget the work to be done. He didn't necessarily believe that change had happened because of ethics, but argued it was due to economics. In 2010, he told Jazzwise's Marcus O'Dair: "South Africa during apartheid got to a stage where it couldn't do business anywhere in the world. So the international industrial community, who were making business there, just said to the South African government, 'Sorry, we can't be your partners in racism any more, we've got to change. And hey, we'll make more money'."
It's an incisive analysis, one rooted in a lifetime of activism. Sometimes the right changes can be made for what feel like the wrong reasons. That trade-off is impossible to measure. So is Masekela's legacy as a musical and cultural figure. He announced South Africa to a world that hadn't been paying attention, and in doing so shed light on not only a rich musical heritage and a creative hotbed; he also made the world face the ugliness of a racist system. Even as his star rose around the world, his heart and his focus was always tied to the liberation of his homeland.
Black Music Reframed is an ongoing editorial series on uDiscover Music that seeks to encourage a different lens, a wider lens, a new lens, when considering Black music; one not defined by genre parameters or labels, but by the creators. Sales and charts and firsts and rarities are important. But artists, music, and moments that shape culture aren't always best-sellers, chart-toppers, or immediate successes. This series, which centers Black writers writing about Black music, takes a new look at music and moments that have previously either been overlooked or not had their stories told with the proper context. This article was first published in 2020. We are re-publishing it today in celebration of the Hugh Masekela's birth on this day in 1939.