The Best Mala Rodríguez Songs: Latin Hip-Hop Classics
The versatile Spanish rapper is both local and universal in her music.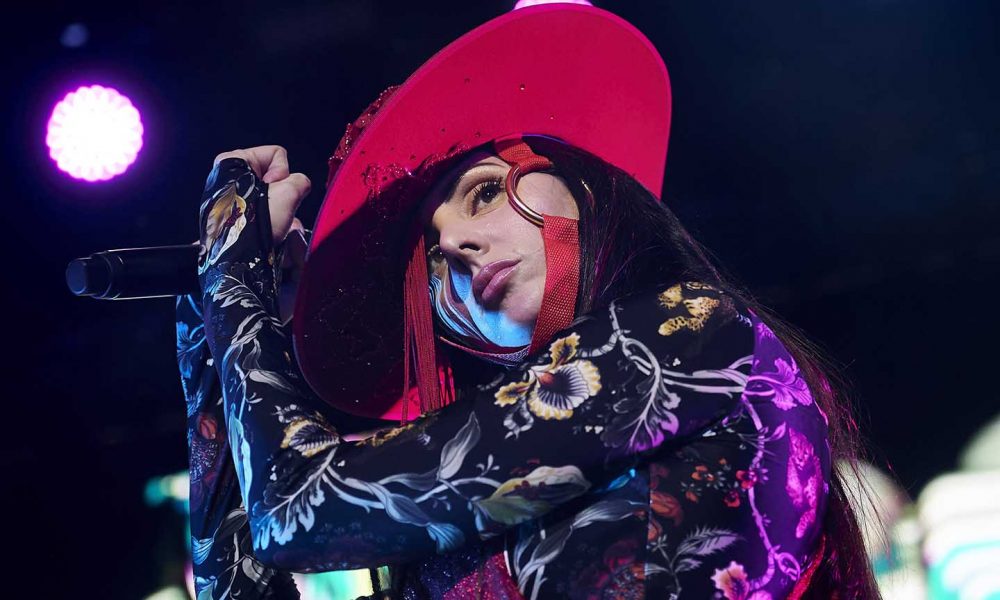 Mala Rodríguez's 2000 debut album, Lujo Ibérico, was a milestone for Spanish-language hip-hop. The songs were instantly embraced by female artists – and fans – in Spain. "I love the idea of maintaining my accent, of telling my own story," Mala later wrote in her 2021 memoir, Como Ser Mala. "Stepping into different genres and crossing the line between personal [experience] and fantasy, local traditions and what's universal."
Her accent, vocally and culturally, retains the Andalusian inflection of her youth. María Rodríguez Garrido first rapped publicly at a flamenco club, or peña, in Seville. Her aunt gave her the nickname Mala; she is also referred to as La Mala (the bad one). After moving to Madrid in her late teens, she fell in with musicians and producers who were creating a home-grown hip-hop scene. "At that time, rappers were in the minority, so we were very united to create connections and discover ourselves," Mala writes. "There was no difference between men and women, because if you had the best style, the most original, you owned it."
Listen to Mala Rodriguez's best songs now.
Now a landmark album for Spanish-language hip-hop, Lujo Ibérico was collaboratively produced and written with a cohort of Spanish rap pioneers, including Jota Mayúscula and Supernafamacho; all of them men. Punctuated by sampled castanet clicks and crackling vinyl, as heard on the song "Especias y Especies," it infuses an international urban sound with a distinctly Spanish street style.
"Tengo un trato," a funk-tinged old school hip-hop song shaded with echoes of flamenco rock, was an instant classic. (In 2015, it would make it onto President Obama's list of favorite summer songs.) The song is a challenge to the music industry, and more universally, invokes workers, women's and human rights, making clear from the start that neither her inexperience nor gender would make Mala a target for exploitation. As she lays it out in the song "Tambalea": "Since I was a girl, I've studied the profession of being the one in charge."
Tengo Un Trato (Remastered 2015)
Lujo Iberico went gold in Spain, setting the trendsetting tone for Mala Rodríguez's iconoclastic career. Read on for more of her best songs.
Social realism and tropical sounds
Commercial success didn't soften Mala Rodríguez. Just listen to the 2003 song "La Niña," from her second album, Alevosia. The track's controversial video features her six-year-old cousin as a neighborhood drug runner. The disturbing clip was banned by some TV stations. Mala, who would become a mother multiple times, has said that the song is symbolic, a reminder of the importance of setting a good example for the children in our lives.
Mala has described Alevosia as "a sonic map of diverse places that complement one another." The dancehall track "Como el ruido del mar," evokes Jamaica, where she went to so many parties "that my ass hurt from dancing."
The album was informed by her touring and traveling in Latin America; to a hip hop festival in Cuba, to Colombia and Chile, and by her introduction to the eventually-ubiquitous reggaeton in Puerto Rico.
A world of colors
Mala Rodríguez's 2010 album Dirty Bailarina brought her a Latin Grammy for the song "No Pidas Perdón."
Mala Rodríguez - No Pidas Perdón
The album was produced in Atlanta by Focus, known for his work with American artists including Beyoncé, Jennifer Lopez, and Eminem. The result pumped up the commercial volume of Mala's sound and image for the US Latin market.
The album was conceived after the birth of her first son, for whom, she writes in her memoir, she wanted to "paint a world of colors." It's a desire expressed in "Patito Feo": "A song about giving and growing," she explains. A duet with the acclaimed flamenco singer Estrella Morente, "Patito Feo," ("The Ugly Duckling") references the next generation. It also brought Mala back to her own childhood in Southern Spain. "I'm told that I sang flamenco when I was young; pure, deep flamenco," Mala writes in her book. "I didn't have a great voice, but I had balls. You don't need anything more than that to show the truth."
A liberated woman
Mala Rodríguez has frequently taken on prejudice and repression in her songs. Her biting 2013 album La Bruja deftly displays her gift for social criticism and for provocation in every sense of the word. The record's title, to start, disarms the word "witch," turning it, in La Mala's mind, as she explained in one interview, into a description of "a free and connected woman."
Produced with a cast of collaborators, songs like "La Rata" and the furious "33" spit at politics and scorn the puppeteers of class inequality. "Quién Manda," ("Who is in Charge" ) is a power-to-the-people anthem bobbing to a Caribbean beat.
In 2019 La Mala reprised the theme of the demonic "witchy woman," guesting on Spanish singer Lola Indigo's track "Mujer Bruja." A forbidden love song with Arabic musical invocations, it includes the lines "Bruja porque arde, bruja porque sabe, Bruja porque hace lo que le da la gana." ("The witch burns, witch because she knows, witch because she does what she feels like doing.")
Lola Indigo, Mala Rodríguez - Mujer Bruja (Official Video)
Yo También
Mala Rodríguez has said that she was influenced by the #MeToo movement to write a confrontational female empowerment anthem, spotlighting women of the Gypsy (Roma) population, a target of racism and marginalization in Spain for centuries. In the video for the title track of her 2018 album Gitanas, Mala holds a penetrating gaze with the viewer while displaying her own flamenco moves. At the same time, a bar full of women show their strength in both a celebration of sisterhood and an act of protest.
My music, my body
With her step-off attitude, Mala Rodríguez has always invoked the right to freely switch musical styles. That declaration of freedom also applies to her own body, something that she makes clear in the playful video for the song "Dame Bien," a collaboration with Puerto Rican artist Guaynaa featuring New Orleans bounce rapper Big Freedia.
On 2022's "Plata y Plomo," Mala joined with Mocho Chavea, known for his trap flamenco sound, on a ride around the streets of Miami, rapping, "Yo no tengo miedo, yo voa dar ruleta." ("I'm not afraid, I'm going to spin the roulette wheel") "I never lose," Mala wrote in her aforementioned book. "I just win by learning. That is success."
Moncho Chavea, Mala Rodríguez - Plata Y Plomo
Think we missed one of Mala Rodriguez's best songs? Let us know in the comments below.