Pictures In The Dark: The Best Mike Oldfield Soundtrack Appearances
Mike Oldfield's music has been on everything from movies to computer games. We trace some of the finest Mike Oldfield soundtrack appearances of all time.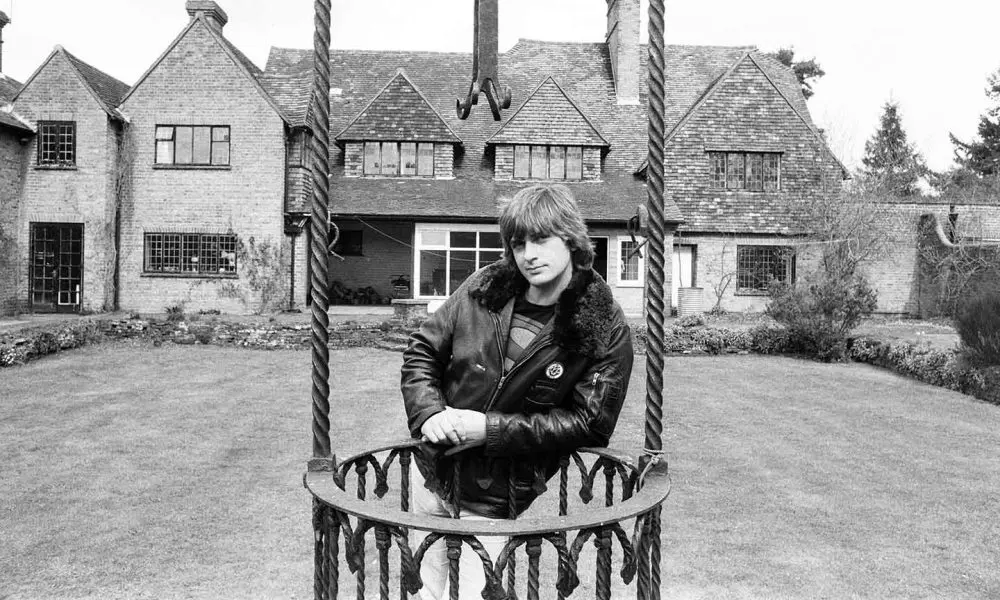 To the man on the street, Mike Oldfield, born on May 15, 1953, will forever remain synonymous with The Exorcist, William Friedkin's groundbreaking 1973 film that, decades after its release, remains a chilling watch – with no small thanks to its iconic use of "Tubular Bells," leading many to assume that the film boasted an entire Mike Oldfield soundtrack. That wasn't the case, but a decade after that film terrorized cinema-goers, the first bona fide Mike Oldfield soundtrack emerged when he scored The Killing Fields, the 1984 dramatization of two journalists' experiences in the Cambodian civil war. His moving soundtrack was the perfect accompaniment to director Roland Joffé's award-winning film and cemented Oldfield's reputation as a far-reaching composer whose music pushed the boundaries of technology while providing an undeniable emotional impact.
While The Killing Fields remains Oldfield's sole original feature film score, his work has long been used to soundtrack a wide array of projects, from French crime thrillers to compilations of NASA space footage, television comedies, and cutting-edge video games. In celebration of his wide-ranging work, we look at some of the finest Mike Oldfield soundtrack appearances of all time.
Listen to the best of Mike Oldfield on Apple Music and Spotify, and scroll down for our pick of the best Mike Oldfield soundtrack appearances.
Étude (from The Killing Fields, 1984)
The only single released from Oldfield's score to The Killing Fields, "Étude" was played over the film's closing credits.
Tubular Bells – Opening Theme (from Tubular Bells, 1973)
Originally composed for the iconic 1973 album of the same name, "Tubular Bells" was put to chilling use in William Friedkin's notorious horror classic, The Exorcist, released later the same year.
Ommadawn (Excerpt) (from Ommadawn, 1975)
Reflection: A Film About Time And Relatedness was created in 1976 for the UK Arts Council, and marks the first instance of Oldfield composing music specifically for soundtrack use. Featuring some then unreleased recordings and early versions of works that would later surface on albums such as 1978's Incantations, it also used excerpts from Oldfield's third album, Ommadawn.
Incantations Part One (from Incantations, 1978)
Compiled in 1979, The Space Movie was a collection of footage released to celebrate the 10th anniversary of the first moon landing. Fittingly, it made liberal use of many of Oldfield's otherworldly recordings, notably pieces taken from his 1978 album, Incantations.
Incantations Part One (Remastered Stereo Mix)
Portsmouth (non-album single, 1976)
The proposed soundtrack release for The Space Movie never came to fruition – a shame, as it featured Oldfield's non-album single, "Portsmouth," which reached No.3 in the UK singles chart in 1976 and is well worth revisiting.
Moonlight Shadow (from Crises, 1983)
Proof that Oldfield's music fits many moods, "Moonlight Shadow," a Top 5 UK single with vocals by Maggie Reilly, was used prominently as the theme tune for Simon Day's character Dave Angel – Eco Warrior, in 90s sketch show The Fast Show. More recently, and somewhat more obscurely, it has been used on Argentinian comedy drama Guapas.
Nuclear (from Man On The Rocks, 2014)
Oldfield broke a six-year silence when he released Man On The Rocks in 2014. The following year, one of its stand-out moments, "Nuclear" (with vocals by Luke Spiller from The Struts), was picked up for use in the fifth instalment of the Metal Gear Solid video game series, The Phantom Pain.
In High Places (from Crises, 1983)
The final single to be taken from Crises, "In High Places" was sampled by Kanye West on "Dark Fantasy" in 2010, a track that was later used in the 2013 comedy "threequel," The Hangover Part III.
In High Places (Remastered 2013)
Family Man (from Five Miles Out, 1982)
Later covered by Hall And Oates, "Family Man" was used prominently in Grand Theft Auto: Vice City Stories, the 10th release in the GTA video game series.
Hergest Ridge Part One (from Hergest Ridge, 1974)
Having made his mark with Tubular Bells, Oldfield caught the attention of French filmmaker Roger Vadim, who used music from that album, plus its follow-up, Hergest Ridge, in his 1974 crime thriller, Le Jeune Fille Assassinée.
Hergest Ridge Part One (1974 Stereo Mix)